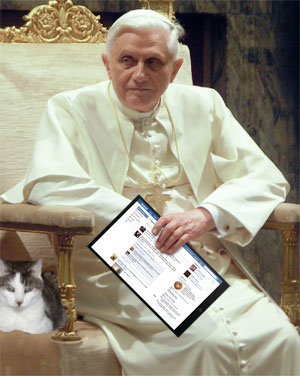 Today the Pope was very interested in catching up on the latest social media trends.  He had a lot of questions for me about Facebook because he knows that I chat with my Friends via The Tiniest Tiger's Facebook page.
I told him that we all care for cats big and small, and he reminded me that we must care for all earth's creatures.  I assured him that we do care for all living beings.  Then I got a nice scratch behind my ears.
You can also follow the Vatican News on twitter.  I don't know why but when I think about the Cardinals tweeting it makes me laugh.
The Pope has a lot of people offering up their advice. I don't know how he can sort it all out.  There is a lot of information in the digital world and in the printed material world too.  I was getting sleepy listening to so many different topics.  I was afraid that I was going to yawn and I didn't want to give off the appearance that I was bored or tired, but I really was tired. Here you can see me doing my best to hold back a yawn.  Did you yawn just now when you read that I was trying not to yawn?  That can happen.   Thankfully, shortly after this photo was taken, we made a break for it, I mean we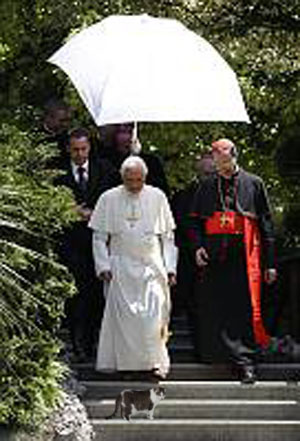 excused ourselves to go outside for a walk. Super Hurrah! Fresh air here I come.  I wonder if they have a fig tree in the Vatican gardens?
Whoops, I got too excited and got ahead of Pope Benedict.  He didn't get upset with me though.  He is really patient.
My story will continue on July 14!  xoxoxo Gracey