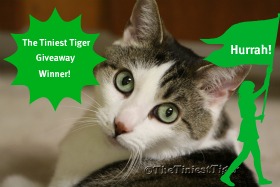 Super Hurrah for Lisa, our SafePaw Winner!
Winter has decided to stop by my habitat and according to Bad Kitty, we can plan on the cold and snow hanging out with us for quite some time. Except for the lack of sunshine on the grey winter days, I don't mind winter so much. I like to watch the  birds and squirells feasting at our back yard feeders and winter is when I see my friends the white tail deer most frequently.  I like you, love and care for all animals big and small.
That is why when Steve from Safe Paw asked if I would like  to give away a container of the Safe Paw Ice Melter to a member of The Tiniest Tiger's Conservation Cub Club I pounced on the offer. We use SafePaw at our habitat.  And here is why:
* I know you might be confused at first and wonder why I am showing you a Snow Leopard in the wild, but this is really me, Gracey, The Tiniest Tiger braving the elements.
Now back to the demonstration:
As you can see in the video, when we are out in the snow, our paws come into contact with not only the snow, but with anything else that might be under or on top of the snow.  This is why it is super important to use an  ice and snow melter that is guaranteed safe.
Here is why we use Safe Paw at our habitat:
Safe Paw is 100% salt/chloride free
Guaranteed Safe for pets
Guaranteed Safe for children
Guaranteed Safe is swallowed or ingested
Guaranteed Safe on paws, eyes and skin
Guaranteed Safe on concrete, asphalt, brick and pavers,and  decking materials
Guaranteed Safe on floors and rugs
Guaranteed environmentally safe
Safe Paw works even when the temperature dips down to -2°F and beyond.
I love that Safe Paw is 100% safe for the planet too. It will not pollute wells, water ways, streams or rivers.  In fact, Steve says that his ice melter is so safe, that even if a child or pet  were to consume large amounts of Safe Paw, there are no health risks.  This makes me super happy to know that my bird, squirrel and white tail deer friends are not at risk when we need to melt the ice to make our sidewalks safe.   Safe Paw has a 15 year history with no problems.
Here is all you need to do for your chance to win  Safe Paw  to try at your habitat and to win a 35 lb. Pail of Safe Paw for your Shelter.
Just leave a comment below this post here on our The Tiniest Tiger's Conservation Cub Club telling me:
If your pet gets snow on their paws and/or how you melt the ice around your house.
The Rules
This contest is now closed.  Thank you everyone!
This contest closes on December 14, 2011 at 7 pm Eastern.  I will put your names into Randomizer.com to choose one winner.  The winner will have 3 days to claim their prize or another winner will be chosen. Void where prohibited by law.
Don't forget to enter the Imperial Cat Scratch n' Shapes Giveaway for  You and Your Shelter.

Pounce here!