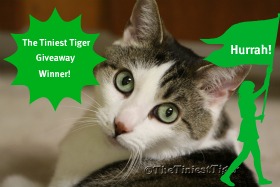 Super Hurrah and Congratulations to Elizabeth Flynn our winner of the Endangered Species Chocolate Giveaway!
Thank you for participating and for being members of  The Tiniest Tiger community.
Happy Super Sweet Saturday before Valentine's Day!
Bad Kitty, Lazy Leopard, and even Bossy Backyard Blue Jay agreed that we wanted to show appreciation for pet parents and what better way than with an  Endangered Species Chocolate Giveaway.
Endangered Species Chocolate company was created to spread awareness and make an impact on the growing number of plant and animal species disappearing from our Earth.   They began with a line of twelve all-natural chocolate bars that sold in small natural food stores across the northwest. Today, they are one of the leaders in natural and organic chocolate manufacturing.  They have more than 30 all-natural and organic products and their chocolates can be  found in large and small grocery stores throughout the United States and Canada.
About Endangered Species Chocolate
Endangered Species Chocolate is a mission-driven company that is passionate about chocolate and the environment.   We are fully committed to providing premium, all-natural, ethically traded, naturally shade grown chocolate products.  Endangered Species Chocolate confirms that all beans used in its products are purchased from family-owned properties where the income benefits the community.  10% of our net profits aredonated to fund species and habitat conservation efforts.  Savor chocolate.  Save our planet.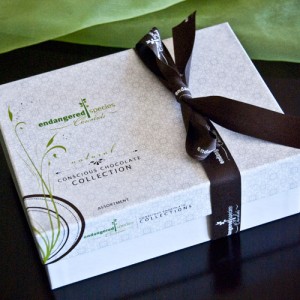 The folks at Endangered Species Chocolate are so nice, when I told them that I wanted to show appreciation to pet parents and that we too care about all animals big and small, they offered to give  one friend of The Tiniest Tiger a super delicious customized gift set featuring all of their big cat chocolate bars, including the Panther Bar, Lion, Tiger and they added a Wolf as a nod to the Canidae family.
To Enter:
This contest is now closed.  Thank you for participating!
Leave a comment telling me if you plan to eat chocolate on Valentine's Day and if you do, what type of chocolate is your favorite.
The Rules:
This contest closes on February 14, 2012 at  11 pm Eastern. I will enter all names in to Randomizer.com. The winner will be notified by email, so make sure you are watching for an email from me. It will say The Tiniest Tiger Chocolate Winner in the subject line.
This contest is open to US and Canadian habitats only.  I am super sorry.  Void where prohibited by law.
Don't forget to enter our Valentine's Pet Bundle of Love Giveaway too. Pounce here!