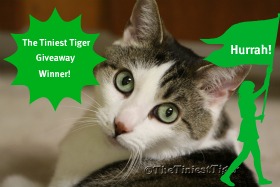 Super Hurrah and Congratulations to Barbara McIntosh the Winner of the Imperial Cat Hearts and Stripes Chaise Scratcher. Thank you everyone for participating and for being members of The Tiniest Tiger community.
I Would be "Lion" if I said I didn't
want you to be my Valentine!
I hope you want me to be your Valentine too!
Happy Valentine's Day!
xoxo  Gracey, The Tiniest Tiger
In honor of Valentines day and of both Lions and Lyin' Around,  I thought an Imperial Cat chaise lounge would be a perfect giveaway.
The Imperial Cat M.A.X. Hearts & Stripes Chaise Scratcher Giveaway!
This  M.A.X. Hearts & Stripes Chaise Scratcher is Purrfect because I  bet your cat is like me and  loves to scratch!  And when we get all of our scratching out  of our system, the Imperial Cat scratcher doubles as a Chaise lounge which is perfect for "Lyin" around!
Imperial Cat is so nice, they are giving one of the M.A.X. Hearts & STripes Chaise Scratcher to one member of our The Tiniest Tiger community.  And here is all you have to do:
To Enter:
Leave a comment telling me where your cat's favorite place is to lounge, and their favorite place to scratch.
The Rules:
This contest is now closed!  Thank you for participating.
This contest closes on Friday, February 17 at 1 pm Eastern.  I will enter all names in to Randomizer.com. The winner will be notified by email, so make sure you are watching for an email from me. It will say The Tiniest Tiger Winner in the subject line.
This contest is open to US habitats only.  I am super sorry. Void where prohibited by law.
Today February 14 is the last day to enter:
Valentine's Pet Bundle of Love Giveaway! Pounce here:
and
Endangered Species Chocolate Giveaway! Pounce here: