Petco's Star Wars Pets Collection is Unleashed at BarkWorld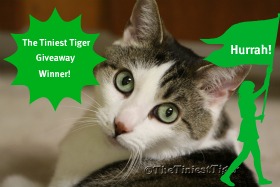 Super Hurrah and Congratulations to R King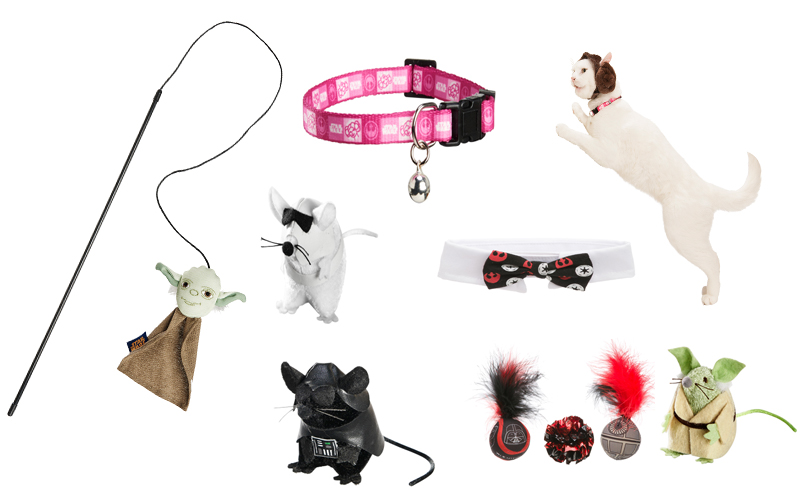 Petco announced the launch of the Star Wars Pet Fans collection at BarkWorld in Atlanta.  And this time,  cats have plenty of items to choose from too.  Everything from  Darth Vader and Yoda Mice Cat Toys to Cat Teaser Wand Toys to Star Wars Bow and Neck Ties and even Yoda and Princess Leia Headpieces.  The collection was designed by Petco and Lucasfilm, and is available in all Petco and Unleashed by Petco stores and online at petco.com.
"Star Wars is, and will always be, a cultural icon, and Petco is proud to be able to partner with Lucasfilm on co-developing such a unique line of products for pets that is only available at Petco," says Elisabeth Charles, Chief Marketing Officer from Petco Animal Supplies. "Many Star Wars fans have taken it upon themselves to create fantastic costumes for their pets, and now Petco offers products that are not only creative and fun, but also safe for pets."
Annie and Eddie Experience Petco's Star Wars Pets
After BarkWorld we went shopping to check out more of the Star Wars Pets line at Petco.  We chose the Princess Leia Headpiece for Annie and the Cat Bow Tie for Eddie. Annie's reaction to her headpiece was the polar opposite to Eddie's reaction to his bow tie.  Below you will see Annie in her Princess Leia buns. Well, Gracey never liked her ears to be restricted either.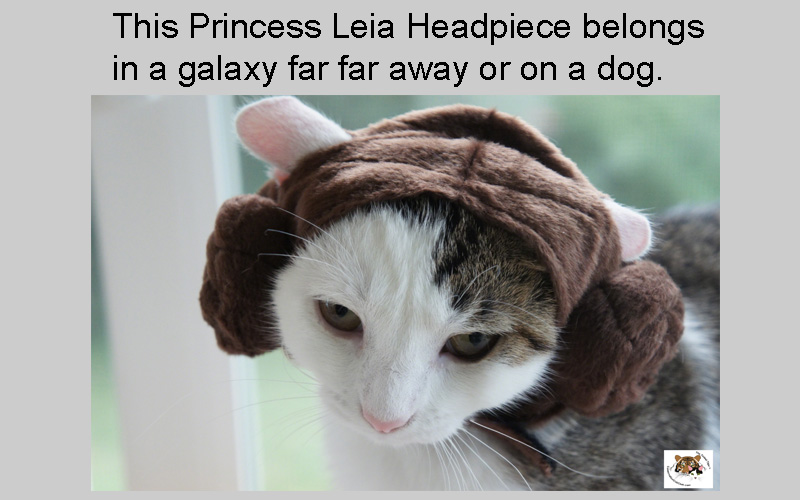 Now Eddie on the other hand, he really seemed to like his bow tie as you can see from his photo below.
BarkWorld Attendees Exclusive Petco Star Wars Pets Messenger Bag
and Yoda Ears Giveaway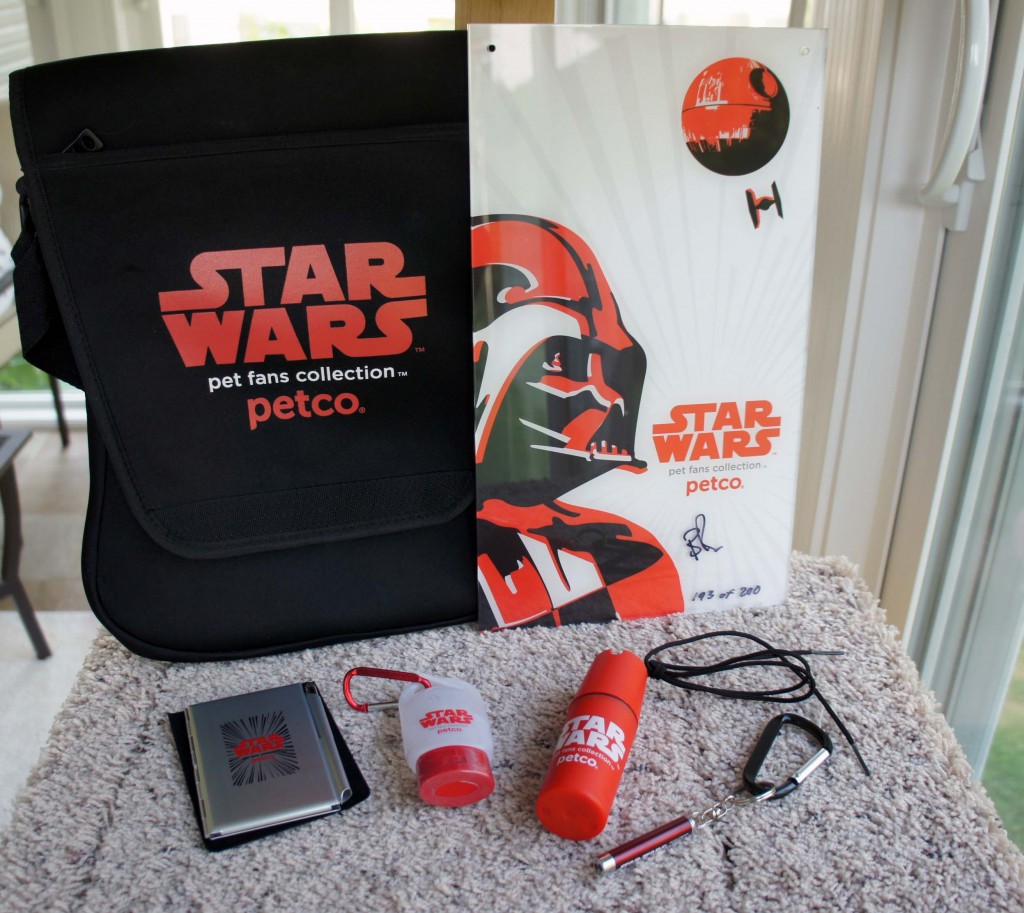 1 Lucky Winner Will Receive this Super Cool Star Wars Pet Fans Collection Messenger Bag
This awesome limited edition messenger bag is filled with Star Wars Pets items, including a commemorative acrylic graphic plaque, signed and numbers by Ben Foos, the Petco Art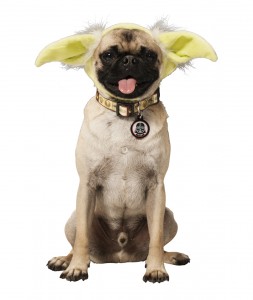 Director who designed the awesome Star Wars Pets line. The plaque in our giveaway is 193/200.  There is also a nifty Star Wars Pets note pad and business card keeper, hand sanitizer, a first aid kit on a string and a fun laser toy with a mini carabiner.
Two Lucky Winners Will Receive a Yoda Headpiece as modeled by the dog in this photo.  The Yoda Headpiece in our giveaway is for cats,  Annie was unwilling to model and Eddie was just too busy singing.
To Enter:
This contest is now closed!  Thank you for participating.
Leave a comment below telling us whether you think your cat is more like Annie, not one to dress up or Eddie, likely to ham it up.
The Rules:
This contest will end on September 20, 2013. Please one comment per person. I will enter all names in to Randomizer.com. The winner will be notified by email or through facebook depending on the contact information you provide. If you connect through facebook, check your Other messages not just your main messages. Make sure you are watching for an email from us. The subject line will say Star Wars Pet Winner Void where prohibited by law.
Other posts you might like