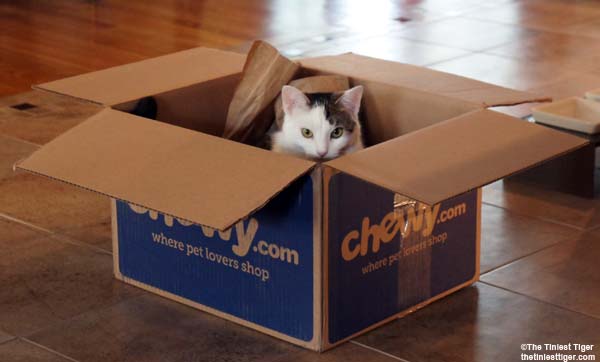 A Cardboard Box Full of Brown Paper
Just when we thought this rainy day was good for nothing but snoozing, the brown truck pulled into the drive and dropped off a box full of fun.  We waited patiently while our parents  prepared the box for us.  Then there it was, a cardboard box full of brown paper, on the floor ready for us to pounce and play.
Oh, it made such a loud rustling noise when I jumped inside.  I got super excited.  This is my box! Trespassers beware.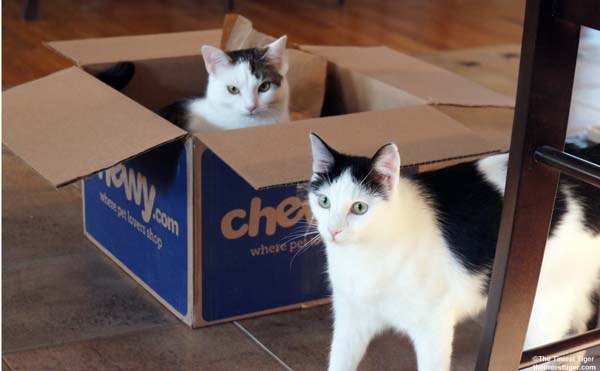 First Cat Gets The Box
Here comes Eddie.  He is looking all around to see if he can get our dad to feel sorry for him.  It is not my fault that he is the last to leap.  The early bird gets the worm and in this case, the first cat gets the box.
Finders Keepers Losers Weepers
Now Eddie is going to pout. Look at him just sitting there all innocent looking like he has been cheated out of his share of the fun.  Well, finders keepers, losers weepers!
Annie is Being a Box Hog
What's this? Eddie is such a kitten!  Now he is telling our dad that I am a box hog.  And it kind of looks bad for me too because here I am in the center of this big box and there Eddie is with his angelic face. Eddie is really good at looking sweet and innocent.  I think I can even see a halo around him….can you?
Sharing is Caring
What's that dad?  Oh, yes I am more than happy to share with Eddie.  Yes, I am lucky to have such a loving brother.  All Eddie had to do was ask me and I would have been happy to share this super fun box and rustling brown paper.  ~sigh~ It wasn't as much fun without him anyway.
Look at Eddie.  You probably can't tell but he is poking me in the paw and trying not to laugh.
Good Things Come To Those Who Wait
So Annie might be the first to leap but sometimes good things come to those who wait.  And as for her little Finders Keepers, Losers Weepers tease, well this is what I have to say. He who laughs last, laughs best. But you know what, it is kind of lonely in here without Annie.  I think I will invite her back to play.