Annie and Eddie were quite excited  when their personalized PetBox arrived. Annie took the lead and pounced immediately into the box of goodies while Eddie, being more reserved, sat back and watched making sure it was safe to approach the box.  Mercy stayed on the sofa birdwatching while the kittens picked their favorite items out of the PetBox.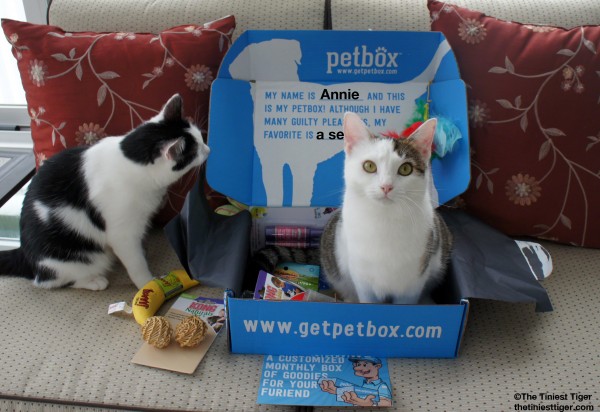 Annie quickly tried to take over the PetBox.  She was really excited about all the fun things packed inside.  Eddie decided the box must be safe and moved in for a closer look. Their PetBox contained SuperCat Catnip Markers, Zukes Natural Purrz treats, Kong refillables, Kong Naturals, Cloud Start Buddy Biscuits Grain Free cat treats, Yeoww! Stinkies Catnip Sardines and Yeowwwy Catnip Banana and more!
Eddie was having trouble convincing Annie to share.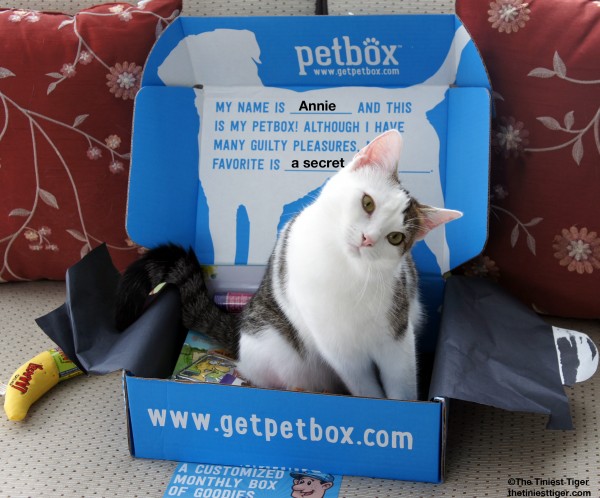 Here Annie contemplates whether it is really better to share.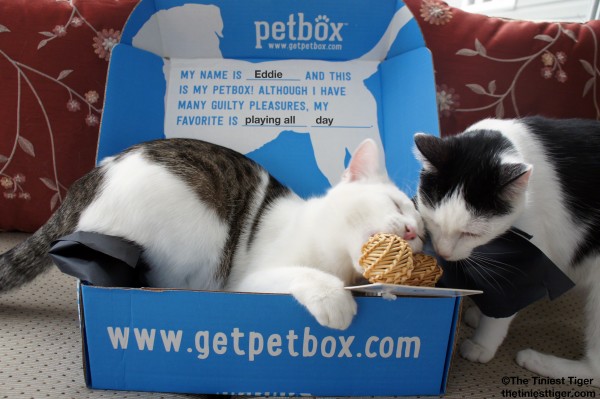 Well, progress was made.  Both Annie and Eddie loved all the items that came in their box. And as for Mercy, he took off with the Yeowwwy catnip banana while the kittens wrestled over the other items in the box.
 PetBox is Full of Carefully Curated Products
PetBox is more than just a monthly delivery service introducing its members to fun and healthy new pet products.  PetBox members are able to personalize their monthly subscription by  packing their own PetBox each month with products and supplies they want the most for their cats.
The PetBox  pet experts scour the planet looking for the best products to offer their members. You won't find thousands of products to choose from, but carefully curated products to make your cat's life more healthy and fun.
For Each PetBox Shipped, A Rescue Animal is Fed
PetBox is so dedicated to delivering joy and happiness with every box that's delivered they even feed a hungry rescue animal for every PetBox that is shipped.When you sign up for PetBox you're helping feed hungry rescue animals all over the United States. PetBox partners with shelters, rescues and volunteers to feed hungry animals each and every day.
If you would like to sign up to receive your own PetBox you can get a 20% discount by using the code "TINIESTTIGER"   Click here for PetBox
The PetBox Giveaway
The folks at PetBox  are giving away a PetBox to a member of our The Tiniest Tiger community.
To Enter:
To enter to win a PetBox, add your information in the contest widget.
Come back and leave a comment below telling us what your cat would like to receive in their PetBox.
Important!  To be fair, you must leave a comment to be eligible to win.  We do check the comments when a winner is drawn. If there is no comment, we draw another name.
The Rules:
This contest will end on February 17, 2014. Please one comment per person. I will enter all names in to Randomizer.com. The winner will be notified by email or through facebook depending on the contact information you provide. If you connect through facebook, check your Other messages not just your main messages. Make sure you are watching for an email from us. The subject line will say PetBox Winner.  Void where prohibited by law.