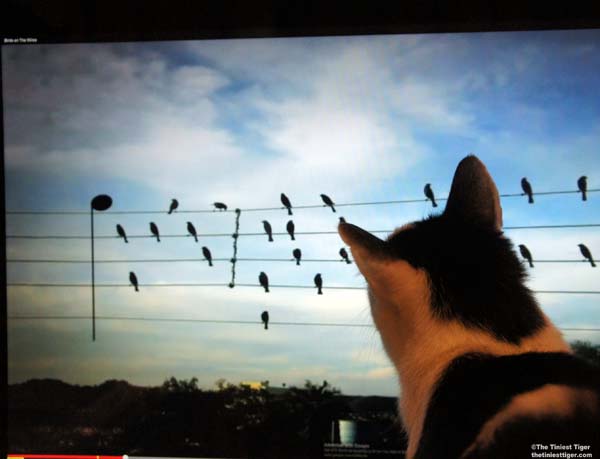 Cat Watching Birds on the Wires
When the video began to play on my computer, Eddie became fascinated and moved closer to the monitor.  The first time he watched and listened from a far but then when I replayed the video, he moved closer to the screen.  I played the video a third time for Eddie.  He just loved it and when it finished, he looked at me as if to say, "Play it again!"   And so I did.  We both watched Birds on the Wire a few more times.  The melody is mesmerizing and I love the idea that Jarbas Agnelli saw such beauty in what could have been just another ordinary day of seeing birds sitting on wires.
The Story of Birds on the Wire
Jarbas Agnelli was reading his newspaper when he saw a photo of birds on electric wires that fascinated him. He noticed the positions of the birds on the wire looked like a piece of musical notation and he recreated the melody based on where the birds were sitting.
Agnelli contacted the photographer who had taken the original photo who became interested in the idea too. The photographer's Editor liked the idea and it became a story in the newspaper. Agnelli created this animation with the photo, the music and the score.
No words, but music allowing the viewer to develop a deeper appreciation for birds on the wires. This has been around since 2009, a lifetime ago by internet standards, but I thought you might enjoy it as much as Eddie and I did.
Eddie and I hope that this video inspires all of us to slow down a bit and look for the extraordinary in the ordinary things that we see everyday.