The Cat and The Cactus
Today for the first time in a long while, the sun was shining brightly and came flooding into the office around Bad Kitty and the Office Cactus.  You might remember that Gracey could not control herself around this cactus.  She tried very hard but she just couldn't resist the  teasing of the cactus' appendages as they dangled just above her head.
Today Annie found herself in this same predicament.  She tried to be sly and slip into the office without being noticed but Annie is not light on her paws.  So when I  heard her little trot like cadence and saw her out of the corner of my eye, I couldn't help but laugh.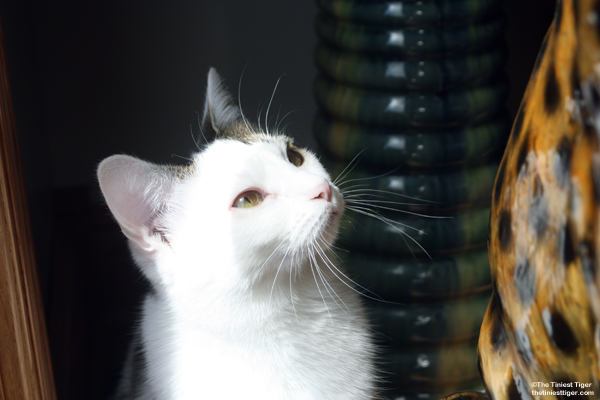 When I looked around, I saw her mesmerized trying to hide behind Bad Kitty.  She was staring at the dangling cactus and plotting an attack.  I turned back around so she would think I hadn't spotted her.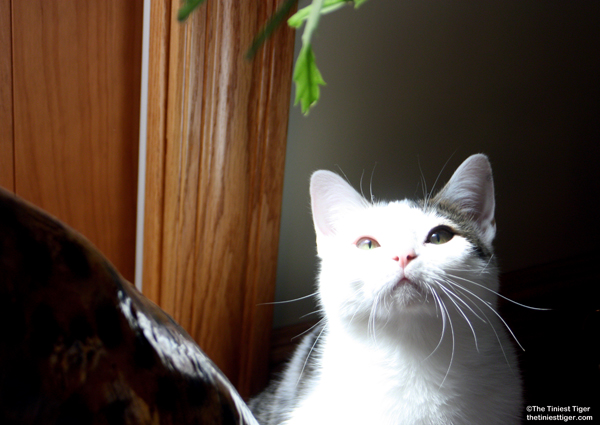 From my desk, I could see that she thought she had pulled one over on me.  She was pressed up against the jardiniere and solely focused on the cactus bathing in the sunlight.   I observed her quietly and when she began to stretch up I couldn't help but softly say, "Annie". She quickly turned her head and assumed a nonchalant posture looking out the door.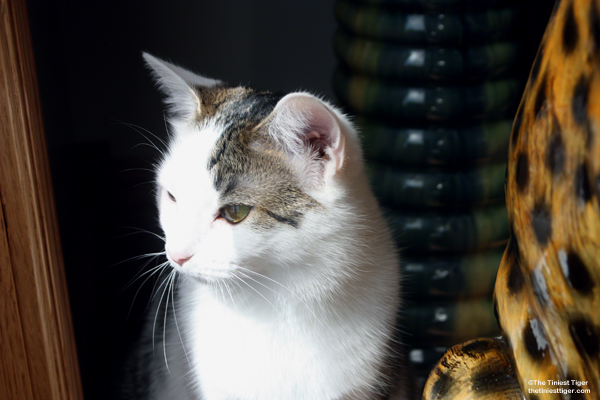 But how long would she be able to ignore the urge to swat at the dangling branches?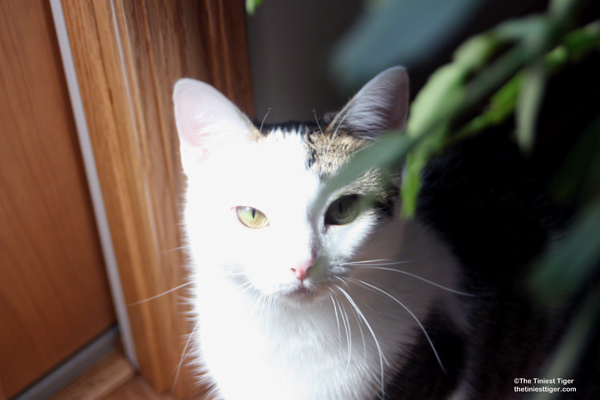 Not long.  Shortly after she sat up and fired off some rapid fire swatting that I wish I would have been able to capture on video.  But if she follows in Gracey's paws, I am sure this won't be her last encounter with the office cactus.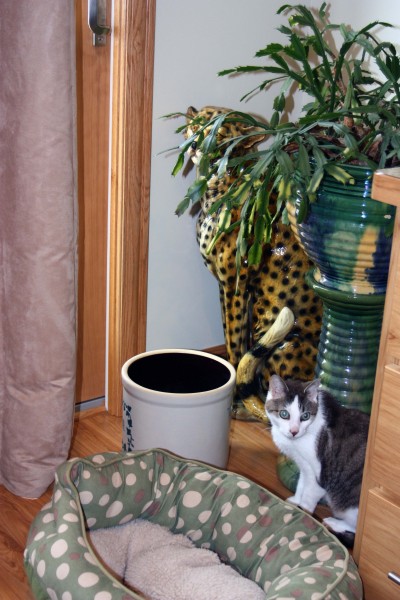 This is one of many times that Gracey attempted an attack on the office cactus.  She never got tired of planning  her next move.  In fact we made a short video of Gracey and the cactus a few years ago.  I hope you will join me  for a moment remembering Gracey.  Thank you so much.
The Cat and The Cactus