Cat Naps are Good!
Today the weather is perfect. Sunny and not too hot and not too cold.  We had a great morning watching rabbits, squirrels, the chipmunk, and birds. Our dad was even out in the yard for a while wrestling with weeds and cleaning up some of the remains of winter.
After a few hours, we cats were in need of a nap.  I looked all around and found Mercy and Eddie already fast asleep.  They didn't leave me much room to bask in the sun.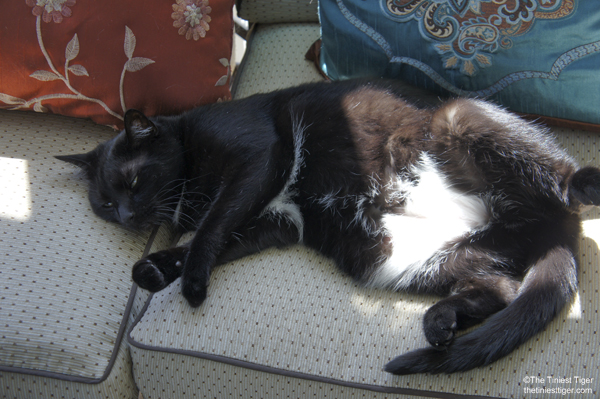 Mercy was so relaxed  he even exposed his tummy!  I have to tell you, this doesn't happen too much when Eddie and I are on the prowl.  So even Mercy is so tired he is sleeping sunny side up!
Look at Eddie!  He has turned into a bit of a bed hog.  Well, in this case, a Thinking Circle hog.   He is really in deep thought here.  I guess I won't wake him up to move over and make room for me.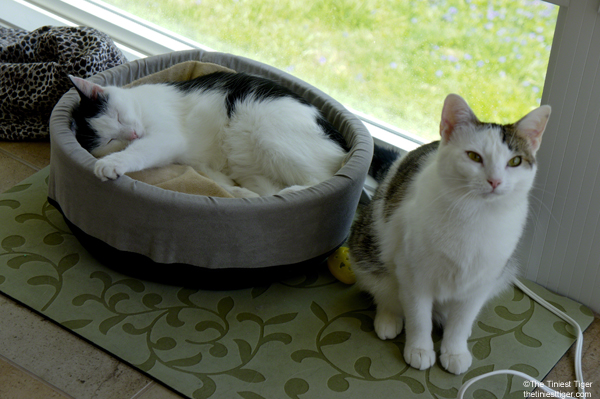 To be honest, I am a little perturbed.  Eddie used to move over so we could snooze together. But now he says it is too snug for both of us to fit comfortably in the Thinking Circle. I think we could make it work, but he isn't even going to try.  And if you look at him in this photo, he has his paw out to make sure he takes up the whole bed.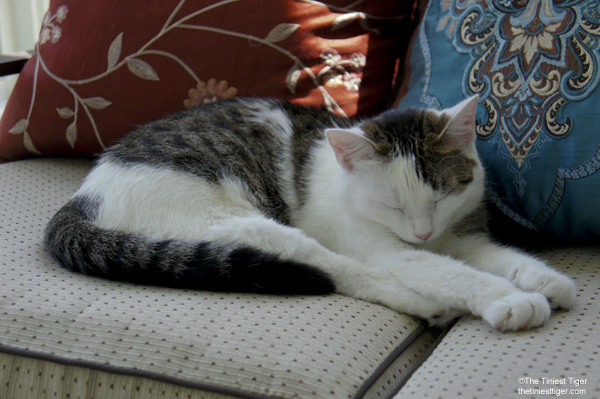 So, I  chose a sunny spot on the sofa and decided to nap there.  But tonight when Eddie wants to snuggle, I might just hog the bed and not share with him.  Or I might share with him anyway.  I will decide after my cat nap.  Happy Sunday to you. ~ Annie.