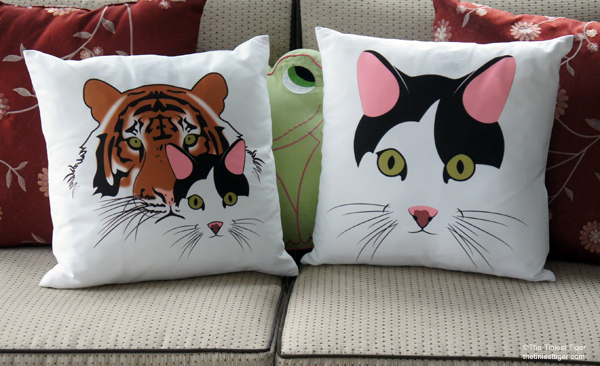 Now that we are spending more time in the sun room, we decided to add a couple new accent pillows to the room.  When we saw how great they turned out, we thought maybe you might like one for your home too.  So we decided to give one Gracey Pillow and one The Tiniest Tiger Pillow away to members of our community.
The Gracey Pillow
The Gracey Pillow has  our sweet Gracey face logo on the front.

The Tiniest Tiger Pillow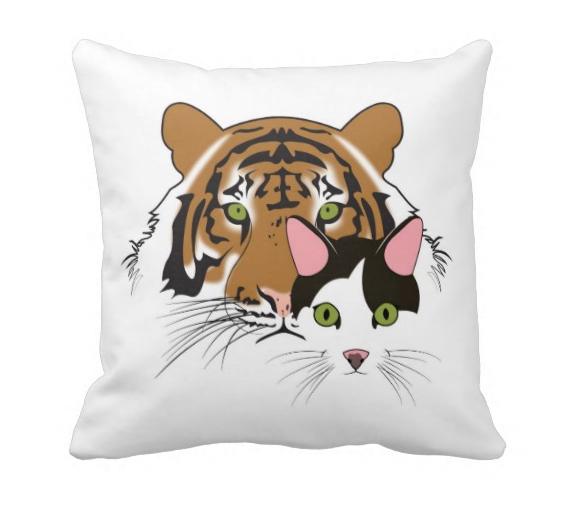 The Tiniest Tiger pillow has our Tiger with Gracey logo for those of us that love big cats too.
The Other Side of Both Pillows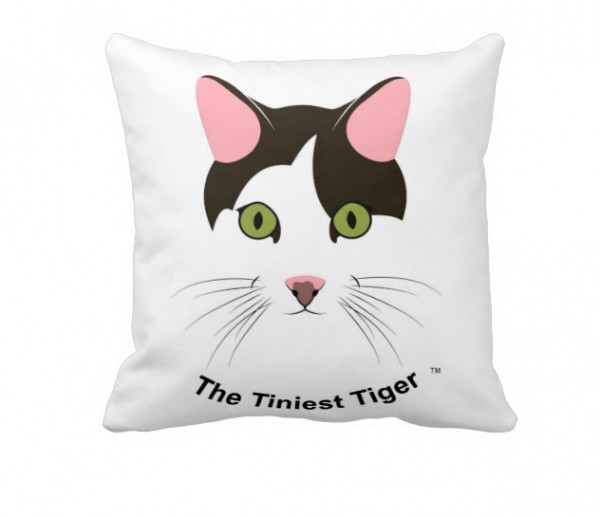 Both  the Gracey Pillow and The Tiniest Tiger pillow have the Gracey logo with The Tiniest Tiger below.
 The Tiniest Tiger Pillow Details.
Made of a high quality Simplex Knit fabric, these 100% Polyester pillows are soft and wrinkle free.  The perfect complement to your couch, chair or anywhere!
Size 16″x16" (square),
Hidden zipper enclosure; synthetic-filled insert included.
Simplex Knit Fabric; 100% Polyester; Wrinkle Free.
Made in the USA.
Machine washable.
The Gracey and The Tiniest Tiger Pillow Giveaway
Congratulations to Sue B and Jean S, the winners of our Gracey and The Tiniest Tiger Pillow Giveaway!
Enter to win your choice of the Gracey or The Tiniest Tiger pillow. This contest is open to everyone.
To Enter:
Enter your information in the contest widget so we know where to ship your prize if you win. Tell us in a comment below this post if you would choose the Gracey or The Tiniest Tiger Pillow and where you will place the pillow.
The comment below this post is important.  If your name is drawn and you didn't leave a comment, another winner will be chosen.
The Rules:
This contest will end on April 21 , 2014. Please one comment per person. I will enter all names in to Randomizer.com. The winner will be notified by email or through facebook depending on the contact information you provide. If you connect through facebook, check your Other messages not just your main messages. Make sure you are watching for an email from us. The subject line will say The Tiniest Tiger Pillow Winner!  Void where prohibited by law.