Happy Cinco de Mayo
In the Mexican city of Puebla and cities across the United States, there will be dancing, festivals, and parades. The smell of delicious  Mexican food will be wafting through the air while the sound of Mariachi bands fill town squares. Cinco de Mayo is fun and is sometimes referred to as a "Mexican St. Patrick's Day". On this day, we celebrate the Mexican way of life.
Today schoolchildren  might be celebrating the holiday by decorating their classrooms making their study units more interesting. The children might even try to prepare some basic Mexican foods in honor of the day.
Even with the current lime shortage, restaurants will be blending up Margaritas and serving up ice cold Corona. But what did we get in our habitat today? We got to pose with a Sombrero and Serape!   Annie, Mercy and I hope there is more activities planned for later today, because to be honest, we've had more fun.  I at least am a good sport, but as you will see, Annie and Mercy, well not so much.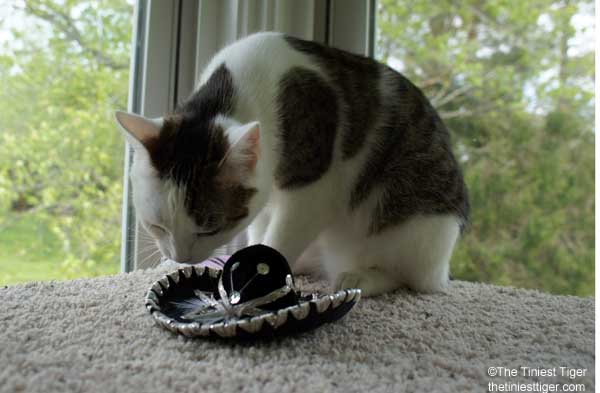 Annie Prepares for El Jarabe Tapatío
Annie prepares to perform  El Jarabe Tapatío (The Mexican Hat Dance). Well, that is what she said as she did her best to get out of wearing the sombrero. She danced all around the hat and I must admit, her performance was quite impressive.  And when our parents turned away to see if Mercy was up to participating in the sombrero wearing photos…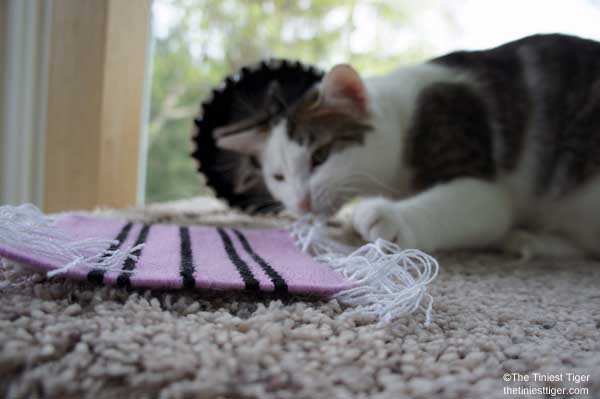 Annie tried to run off with the serape!    As you can see from the photo, she is quite determined.  You might have noticed that there is not a photo of Annie wearing the sombrero.  Annie is not a good sport.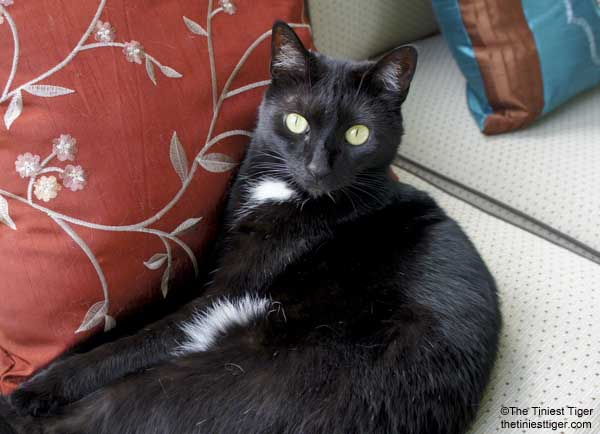 Mercy Says No to the Sombrero
And Mercy, all he has to do is give the look and that seems to suffice our parents urge  to get him to pose for any photos.  I would like to say that Mercy is not a good sport either, but I better not because he is Grandma's golden boy and I like to nap with Grandma in the afternoon so I don't want to upset her in any way.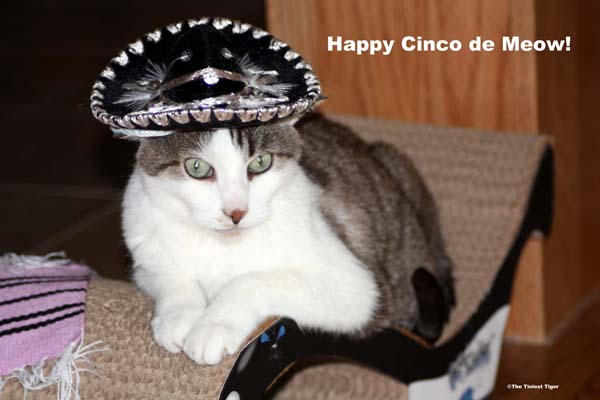 Happy Cinco de Meow!
Gracey was a very good sport as you can see from the photo above.  Annie says that I only think that because I don't know what she is thinking. Either way, we hope you have a super fun day!!!   Eddie.