I inherited from my dad the uncontrollable  raising of my left eyebrow when I see or hear something curious.  I can't seem to stop being sarcastic and love a good story.  I can tell you if a cow in a field is a Holstein, Jersey, Angus or  Brown Swiss and know that they are Canada Geese, not Canadian Geese from way back. I  love chocolate and am left handed.  I have my dad's curly hair, and a lot of it.  At times I can't seem to do anything with it and don't seem to care.  Sometimes I twirl my hair when I am reading,  My dad did this.  And so did his mother.
A Dog Named Elmer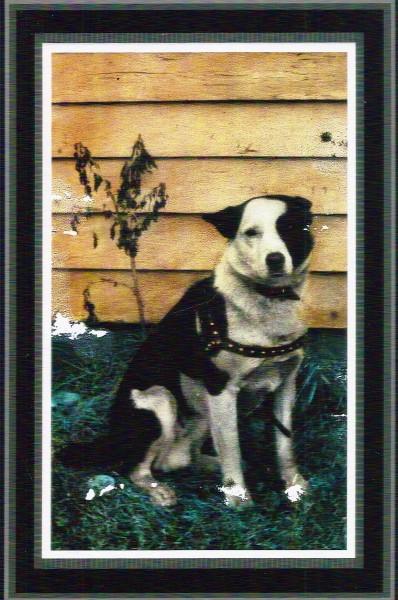 My dad had a dog named Elmer.  He loved this dog very much.  When the neighbors moved they took Elmer with them and my dad was broken hearted.  He talked about Elmer often and sometimes he would drift off and say, I wonder where Elmer is now? This would prompt the raising of the left eyebrow, but no words were spoken.
Family Vacations with the Dogs
When I was a kid, we went camping, we went to the ocean, we went to the theater and to museums.   We got to pack up in the truck camper and go on vacation. Sometimes we would head northeast to Maine. I remember being out way over my head in the ocean on a raft with my dad and not having a care in the world. We spent a couple of summers in Worcester, Massachusetts while my dad attended classes at Holy Cross.  I still love Boston and the surrounding area. We went lots of places, and we would buy a decal for the back of the camper to commemorate each location we visited. The whole back right side of the camper was covered with the decals.
One of our neighbors told me she used to watch us pack up and leave wondering where we were headed to that summer. She told me many years later how wonderful it was we were able to travel as a family. We had two dogs at the time, Maggie and Maxine.  They of course went with us.  We all piled in the back of the camper and off we went. And our neighbor was right, it was wonderful.
One of my childhood friends once asked me why I liked to travel and why I  liked being in school?   Good questions, I guess it is just in my blood.
Dogs Were Members of Our Family
We threw our dad a surprise 60th birthday party.  One of his gifts was a sweatshirt with a dachshund on the front.  Everyone knew how much he loved our dogs.  We had an exchange student from Japan live with us for a year.  Kana loved Hi-D so much that when she went home to Japan she said she would have a dog just like her someday.  And she did.  My dad and I got to visit Kana in Sendai and meet her dog she named Chubby Puppy.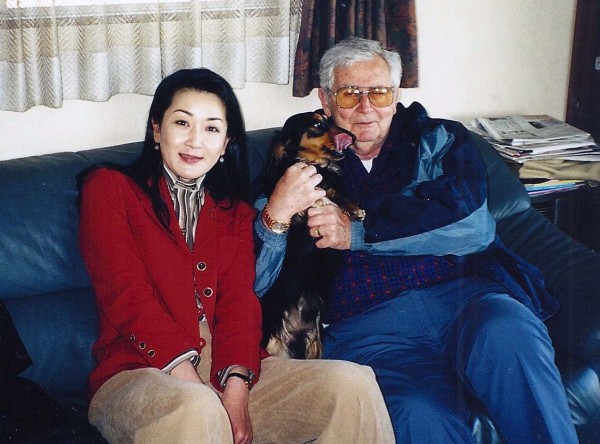 After we lost our mom, I took my dad with me on business trips. Once driving back from Buffalo, my dad was telling me a story and we were laughing so hard  we had to pull over.   I "made" my dad go to Las Vegas with me a couple of times, and when I was upgraded to first class, I sent him in my place and took the middle coach seat.  That is what you do, it's your dad.
My dad loved gnocchi with Pesto alla Genovese.  He actually got that one  from me.  When we were in New York for the Fancy Food Show we always went to Little Italy one night for dinner. Here he is leaving a generous tip.  His mother was a waitress at one time and she told all of us, "If you can't afford to tip, you can't afford to eat!".  We were remembering her when I took this photo.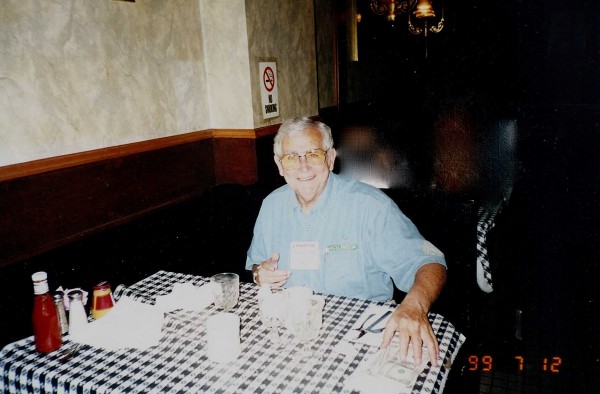 When Hairy-ett passed away, my dad took this very hard.  After my mom died, Hairy-ett was my dad's constant companion.  He would take her everywhere.  You would see them riding in my mom's convertible, Hairy-ett in her special car seat on the passenger side.
My dad suffered a stroke and he had a tough time for about five years. Towards the end of his life, he lost the ability to swallow. On the way back from the hospital we didn't say a word.  Later he said "You know, your mom is gone.  The dogs are gone.  I can't eat chocolate. I might as well go too."  I sighed and said. "Well, it isn't like you can just catch the next train out." And he said, "Well, it should be like that."  And I understood how he felt.
When I told my sister about the conversation she asked, "What about us?" I said, "He didn't mention us."  And we laughed.  We weren't insulted, we knew he loved us too. Truth was, he knew we would be alright. He was tired.
My father has been gone a few years now and it doesn't seem possible.  Life goes by so quickly.  We were warned about this when we were younger but then it just seemed cliche, something that older people just said to say.  I read that the reason time seems to go by faster the older we get is because one year becomes a smaller percentage of our entire life.  So when you are four, a year is 1/4 of your life and when you are 20, it is 1/20th of your life and when you are  40 it is 1/40th of your life. A year becomes less significant in terms of your entire life so the years seem to pass by more swiftly.  I think that makes sense.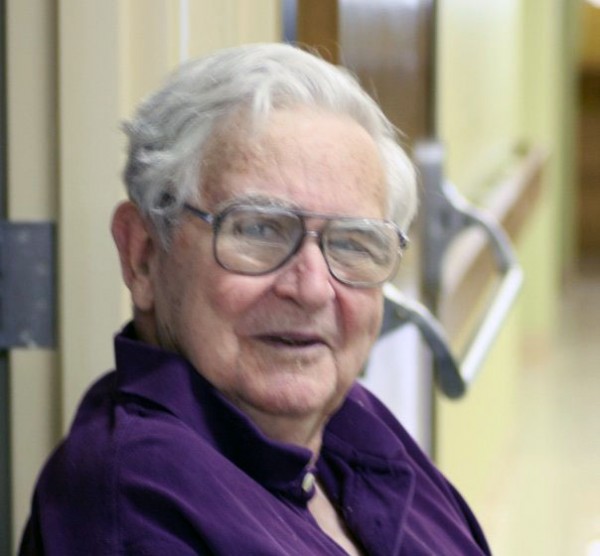 At my dad's funeral mass, our priest Father Jim said when our dad would chat about the dogs and the animals  he loved it sounded like the Litany of the Saints. And there was laughter, because it was true.  My dad loved animals.
He was allergic to cats but  thought Gracey was alright.  My love of cats might have come from my mother, she had cats as a child, but part  might  come from my dad's grandmother.  Here is a photo I just love of my great grandmother with her cat.  Thank you for everything, Dad.  Happy Father's Day.  I love you.