Thank You So Much!
Thank you so much for your support. The Tiniest Tiger's Conservation Cub Club is a finalist for Best Cat Blog and Best Blog Post in the 2014 Pettie Awards.  Your support means so much. As you know the past year has been a challenge as we began our recovery from losing Gracey. There were times that I lost some of my motivation during moments of grief, but your continued support helped us continue on the journey of caring for all cats big and small.  We could not do it without you.  We are so grateful to have you as our friends and for each visit you make to The Tiniest Tiger's Conservation Cub Club.
It has been an honor to be nominated every year since we began The Tiniest Tiger's Conservation Cub Club.  I wondered if Gracey's mission would be able to carry on and that is why  these nominations mean so much this year.  And now comes the difficult task of asking you to vote for us to win the Petties.
Voting is super easy!
Just visit the Petties Finalist Voting Center once a day between now and August 7, and vote for The Tiniest Tiger's Conservation Cub Club for Best Cat Blog and for Best Blog Post.  This year our post Welcome Maggie, Our Hearts Will Heal Together meant a lot to me.
4 STEPS TO VOTE
1)Visit The Petties Finalist Voting
Click  here to visit the 2014 Petties Finalist Voting  http://petties.dogtime.com/finalist-voting
You can log in with your Facebook account, or you can use an e-mail address. Here is our information:
2)  Best Cat Blog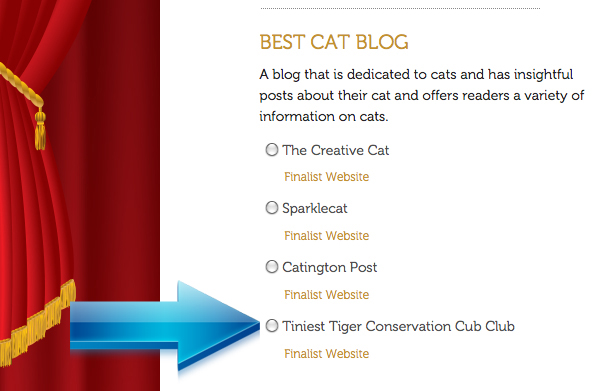 Vote for Tiniest Tiger Conservation Cub Club
3) Best Blog Post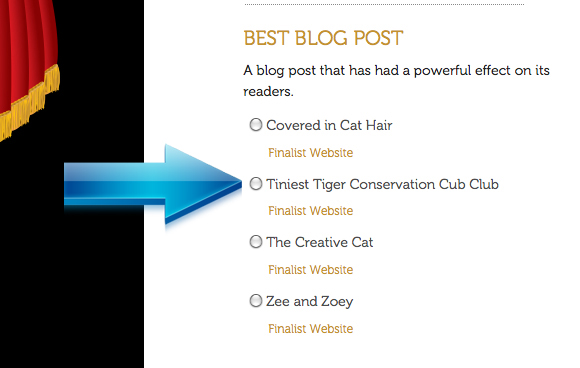 Vote for Tiniest Tiger Conservation Cub Club
4) Helping our friends at Kitten Associates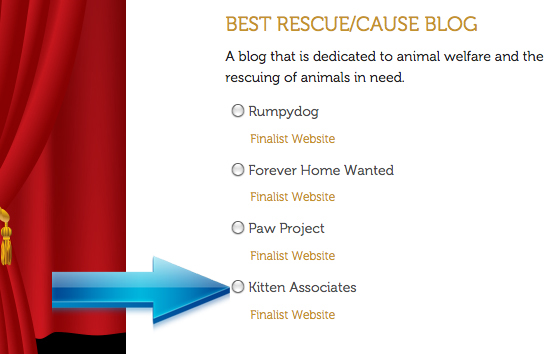 Voting not only  helps us win a Pettie, but the $2,000 will help our  friend Robin's Rescue Kitten Associates.
Kitten Associates is a new breed of cat rescue.  This small but mighty rescue has saved over 325 lives already.  One of those lives was Little Gracey named after our Gracey.  Doesn't she have a beautiful face, but then don't all cats?
Each Pettie award comes with a $1000.00 donation to a non-profit and this amount of money is a very big deal for Kitten Associates.
You can vote once a day, every day, through August 7!
Thank you!   We  really appreciate your support.