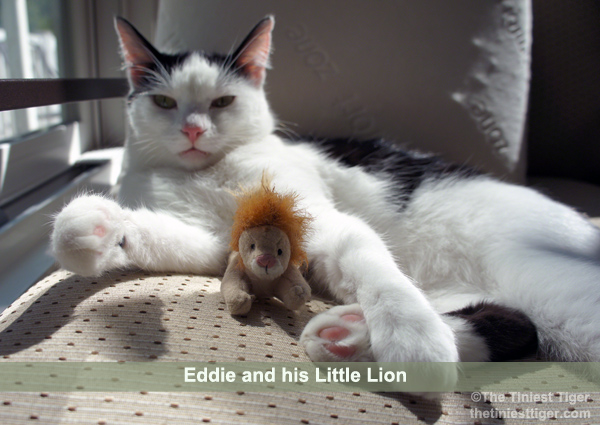 Eddie, The Little Lion Guardian
Eddie is a softie except when it comes to his Little Lion. He is very attached to this little toy and even Annie and Mercy know better than to mess with the Little Lion.  When Eddie isn't carrying his buddy around with him, he is placing him in a secure location for safekeeping. Throughout every day, I will come across the Little Lion several times in different locations.  This is a day in the life of Eddie, The Little Lion  Guardian.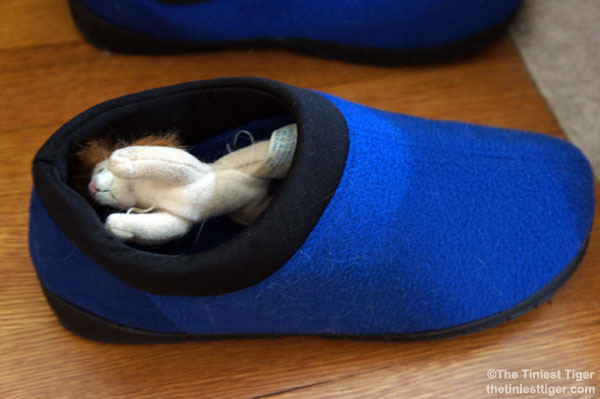 A Day in the Life of Eddie, The Little Lion Guardian
Paul gets up super early and Eddie usually gets up with him to keep him company.  After Paul leaves for the hospital, Eddie often deposits his Little Lion inside of one of his slippers.  This way, Eddie can take a nap, eat his breakfast and do a little bird watching knowing his Little Lion is tucked inside his dad's slipper.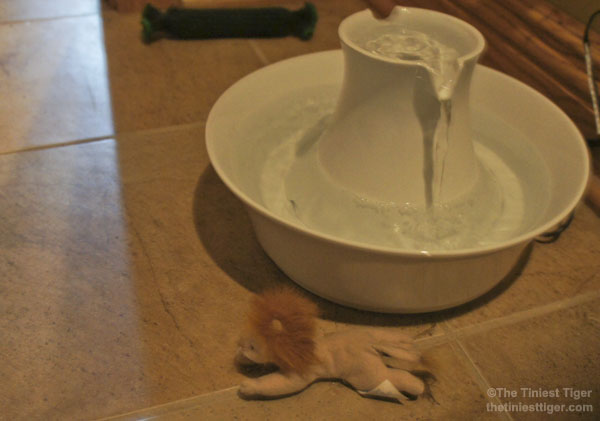 The Little Lion at the Water Hole
In the late morning, Eddie leaves his Little Lion near the water fountain, then joins me in the office for a few hours. Annie stops by for a drink of water but she doesn't disturb the Little Lion.  That is Annie's Tickle Pickle in the background placed there for safekeeping.  Eddie doesn't bother it either.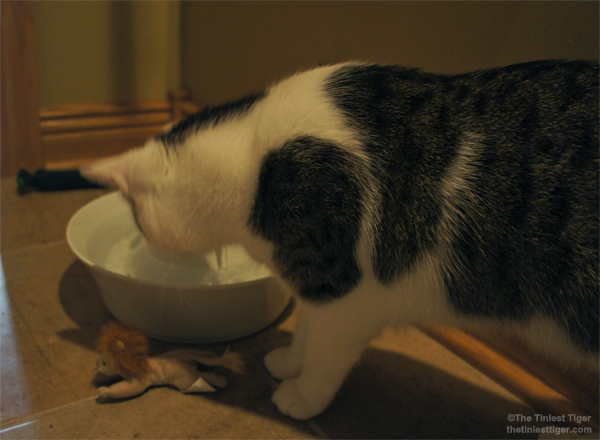 On rainy afternoons, I will often find Eddie snuggled on the floor guarding his Little Lion. Eddie pulls the blanket down off of the chair to make a comfortable nest for napping.
By late evening, when I go to change into my pajamas, I am usually greeted by the Little Lion placed on top of the blanket on the bed, waiting for Eddie to complete his night rounds and turn in for the night.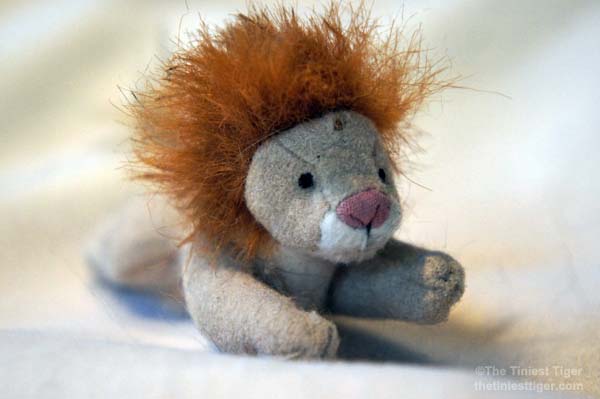 If for some reason, Eddie forgets to bring his little buddy to bed, you can hear him chirping as he calls for his little friend. Once he locates him, he brings the Little Lion back and curls up at the bottom of the bed.
Then Eddie, the Little Lion Guardian, sleeps tight all night until Paul gets up to get ready for work.