Thanks to your support of Triple T Studios, The Tiniest Tiger community was able to make another generous donation to SAVE THE FROGS!.
SAVE THE FROGS! is America's first public charity dedicated exclusively to amphibian conservation. Their mission is to protect amphibian populations and to promote a society that respects and appreciates nature and wildlife. SAVE THE FROGS! vision is a world in which not a single amphibian species is threatened with extinction.  SAVE THE FROGS! scientists and volunteers have held over 1,300 educational events in 59 countries to raise awareness of the rapid decline of amphibian populations and to provide people with practical tools that will empower them to protect amphibians in their communities.
Dr. Kerry M. Kriger is the Founder and Executive Director of SAVE THE FROGS!, the world's leading amphibian conservation organization. Dr. Kriger created and coordinates Save The Frogs Day, the world's largest day of amphibian education and conservation action.  You can enter to win a free SAVE TE FROGS! Ecotour! Participants learn ecology from expert scientists, experience native cultures, enjoy fabulous exotic cuisine, hike through beautiful landscapes, photograph rare & endangered wildlife, and make new friends and memories that last a lifetime. Hop here: Enter To Win SAVE THE FROGS! ECOTOUR
Why Toads? They Are Not Cats.
My focus during my zoology studies was  on big cat conservation and they are considered charismatic megafauna.   The term charismatic megafauna refers to large well-known animal species that attract a disproportionate share of the public's attention.  The tiger is the world's most popular animal according to a survey conducted by animal planet. The big cat even beat out the dog for the number one position. These species have the "it" factor that grabs the public's attention and desire to save them. The koala certainly is charming, but a small toad…perhaps not.
Toads and Frogs Need Protected Too!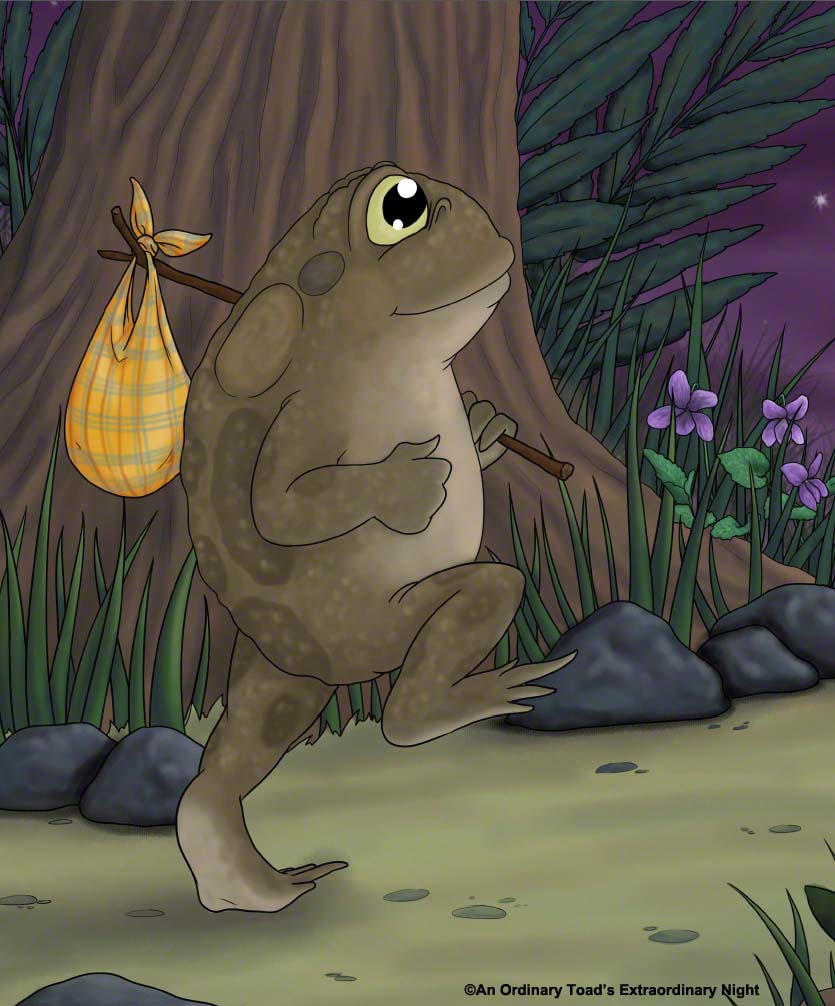 What about all the living beings that aren't cute and cuddly or fierce and admired.  Driving one day, I thought about toads.  Then I wondered why frogs seem to be the preferred amphibian.  I imagined a young toad named Andrew. I wish I could tell you why his name is Andrew but I honestly don't know. But I began to tell Gracey, she was a great listener, the story of a Andrew the young toad that wondered if his life might have been better had be been hatched a frog.  And that is how An Ordinary Toad's Extraordinary Night

came to be.
When the story was completed, I asked Dr. Kriger if he would fact check for me to make sure that I had the differences and similarities between toads and frogs accurate. We were honored that he agreed and even wrote a kind review for us.
"An Ordinary Toad's Extraordinary Night is not only an enjoyable read, it's a great introduction to the natural history of amphibians."
Thank you Dr. Kriger for caring about frogs and toads.  And thank you for caring about all animals big and small.
The Ordinary Toad's Extraordinary Night Giveaway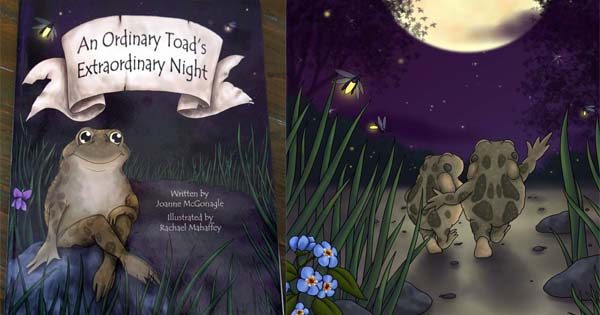 An Ordinary Toad's Extraordinary Night was published on the day that we lost Gracey.  As you can understand, I wasn't as enthusiastic as I might have been when the book was first available so I thought in honor of Gracey, we would offer two friends of The Tiniest Tiger a signed copy.  The illustrations are wonderful and are the work of the talented Rachael Mahaffey.
Two  friends of The Tiniest Tiger will win a signed copy of An Ordinary Toad's Extraordinary Night.  This contest to open to everyone, everywhere!
What Do You Like About Toads and Frogs?
I thought it would be interesting and perhaps fun to find out what you like about frogs and toads.   It can be anything at all about these wonderful amphibians. One winner will be chosen from the most creative comment. And one winner will be chosen at random! You can leave a fun fact about toads or frogs, or upload a photo of  you in a toad costume, your choice!
To Enter:
Enter your information in the contest widget so we know where to ship your prize if you win. Tell us in a comment below what you like about frogs and toads.