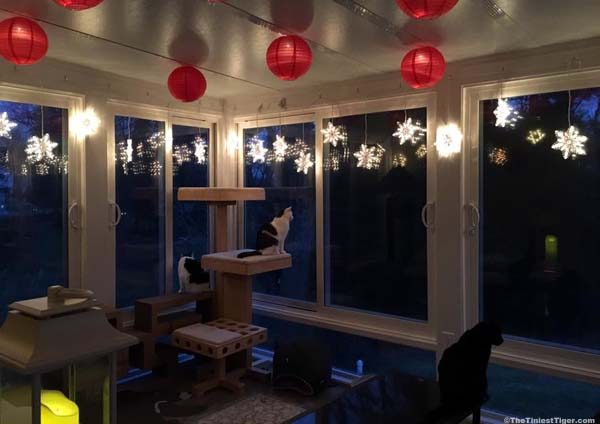 Happy New Year!
Spring Festival is another name for the Chinese New Year. Traditionally, Chinese celebrated the beginning of the new cycle of farm work and the hopes for a good harvest. Today, more than 55% of Chinese people live in cities, so more than 100 million travel home to their rural roots to celebrate the festival.
Over the years, the celebration for a good harvest has evolved into celebrating the start of a new business year and hopes for success.
3 Cats  2 People  10 Lanterns
Over the weekend, we celebrated the Chinese New Year with Annie, Eddie and Mercy by hanging red lanterns with small lights in our sunroom. The red lanterns signify harmony (round shape), and business success like fire (red color). The pretty red lanterns  also represent happiness and luck. We thought we could all use a little harmony, happiness and luck so we hung 10 red lanterns. One for happiness, and one for luck for each of us.
Eddie and Annie were quite interested in the lighted red lanterns as they were being hung in the sunroom.
It wasn't quite dark outside when we began, so we knew the lanterns would only get prettier and brighter as the sun went down.
A young deer came to visit while we were working. Her visit entertained the cats while we finished hanging the lanterns.  Mercy joined us in the sunroom to check on our progress.
When the sun went down and darkness fell, the twinkling red lanterns lifted our spirits.
The Year of the Fire Rooster!
Paul is a Fire Rooster, so 2017 is thought to be an unlucky year for him. According to Chinese tradition he can fend off the bad luck of his zodiac year by wearing red clothes. Red is one of the luckiest colors in Chinese culture and is thought to drive away bad luck and evil spirits.
Paul has red hair, but we don't think that counts. So he can wear red socks, red shoes (I don't see that happening), or the highly recommended red underwear during his zodiac year.  However, you cannot buy the red underwear yourself, it must be purchases by a spouse, family member or friend. I guess the cats ad I better start looking for some red underwear.
We wish you happiness and good fortune in the new year.  And the gift of red underwear if you are a Fire Rooster!  Thank you for being our friend!