This post is sponsored by PetSmart® and the BlogPaws™ Pet Influencer Network™. PetSmart is not responsible for the content of this article.
PetSmart Celebrates 30 Years with Buy a Bag, Give a Meal
To celebrate its 30th anniversary, PetSmart® announced the launch of PetSmart Buy a Bag, Give a Meal™!  PetSmart expects this new program to contribute more than 60 million meals , making it the largest philanthropic campaign in the company's 30-year history. For every bag of dog or cat food purchased online and at all its stores across the U.S., Canada and Puerto Rico, the leading pet specialty retailer will donate a meal to a pet in need served by pet shelters, animal welfare organizations and food banks. The program will run March 1 – December 31, 2017.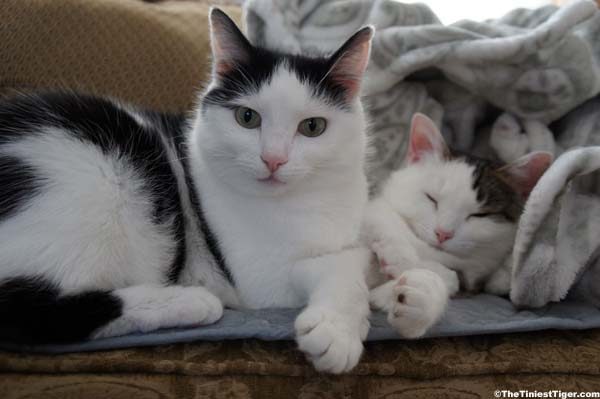 Annie and Eddie were once cats in need at the Grayson County Humane Society and I know we are so grateful that they were given shelter, love and food  until we were able to adopt them into our family. Shelters are always in need of supplies to help the animals in their care.  But not all pets in need are at shelters, many are with their families that are served by food banks and pantries. According to some national food banks, an estimated one in seven Americans rely on these facilities.  Pet food is not a common offering in human food bank programs and is not an eligible item for purchase through most food assistance programs.  Some families sacrifice their own food, feeding their beloved pets human food to ensure they have something to eat.
Shelters, Food Banks and Pantries Too!
According to David Haworth, DVM, Ph.D., president of PetSmart Charities, up to 7 million pets enter shelters every year in North America. While waiting for their forever homes, the pets need food, making pet food a significant operating expense for animal welfare organizations. A recent PetSmart Charities survey of approximately 1,800 of its welfare partners across North America, only 20 percent of the organizations receive pet food donations and about 8 percent are on contract with pet food brands to receive subsidized pet food.
"We are proud to team up with PetSmart on this important philanthropic initiative in celebration of its 30 years in business," said Haworth. "These food donations are key to helping animal welfare organizations free up precious resources so they can continue their life-saving work, as well as deliver pet food as an option at food banks and pantries. We look forward to seeing the impact this significant pet food donation will make to close the gap on this critical and essential need in animal welfare."
PetSmart Buy a Bag, Give a Meal™
PetSmart carries a wide range of dog and cat food brands and its Buy a Bag, Give a Meal program includes all brands and sizes of dog and cat food bags purchased at the 1,500-plus PetSmart stores, as well as online at PetSmart.com and PetSmart.ca. Nonprofit partner PetSmart Charities® plans to collaborate with national nonprofits to help effectively distribute the pet food directly to pets in need.
"At PetSmart we love pets and we believe they make us better people. To celebrate our 30 years of continued commitment to helping pets in need every day and as a trusted partner to pet parents everywhere, we want to celebrate by giving back even more," said Eran Cohen, chief customer experience officer, PetSmart. "Throughout 2017, every time pet parents purchase any bag of dog or cat food in our stores or online, they can rest assured they are also helping feed pets in need. When their pets eat, pets in need eat, too. It's that simple."
To learn more about the launch of the Buy a Bag, Give a Meal, read the PetSmart Press Release
PetSmart™ Introduces Buy a Bag, Give a Meal
This is a sponsored conversation written by me on behalf of PetSmart. The opinions and text are all mine.