NEW! Triple T Studios Cat Chain Link Bracelet
By request….the Cat Chain Link Bracelet is in stock and ready to ship. The Cat Chain Link Necklace is one of our most popular new items and we received many requests to make a Cat Chain Link Bracelet.
This design is one of my favorite Triple T Studios items I created. The idea came to me while wearing another one of my favorite silver chain link necklaces.  I looked at the necklace and thought, wouldn't this be awesome if it were cat heads as the links in the chain?  I sketched out the idea and then with some tweaks to make sure the links didn't get all jumbled we had our first sample.  You helped us choose the metal colors by participating on our survey.  We decided to make all three, silver, gold and rose gold not to disappoint anyone that  responded to the survey.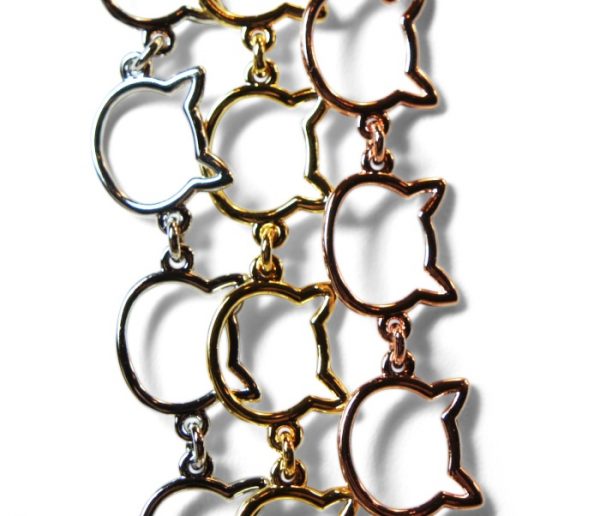 I have to admit that my photos aren't the greatest but we have a pro photographer taking photos now so I will load them onto the product page as soon as possible.  I am asking you to trust me that these images do not do this necklace justice.  I think you will be Me-Wowed!
 The Cat Chain Link Bracelet
The Cat Chain Link Bracelet is 7.2″ inches long with a 2″ extender. Each cat head link measures .5 inch by .5 inch. They are nickel and lead free. This classic style bracelet with subtle nod to your love of cats is the purrfect accessory to any wardrobe.
Your Cat Chain Link Bracelet will come boxed ready to give as a gift or keep for yourself.
Available in Silver Plated, 18K Gold plated, and Rose Gold.
The Cat Chain Link Bracelet Giveaway
Three members of The Tiniest Tiger community will receive their choice of Silver, 18K Gold or Rose Gold Cat Chain Link Bracelet from Triple T Studios.
If you can't wait, you can learn more about the Cat Chain Link bracelets pounce here: Fashion With a Passion®
How to Enter
Enter your information in the contest widget so we know where to ship your prize if you win.
Let us know in the comment section below:   Are you a silver, gold or rose gold cat lady?
This giveaway is open to everyone!  Void Where Prohibited