Dr. Ruth MacPete is our guest today!
I am honored to introduce you to  Dr. Ruth MacPete.  Dr. Ruth, "the Pet Vet", has appeared on TV shows like "The Doctors" and on the TV news programs throughout the country educating pet parents about important pet issues.  She has also written numerous articles for Cat Fancy, Bark, and Kittens USA.
Dr. Ruth always wanted to be a veterinarian. Her love of animals was evident from the time she was a baby. One of her first words was cat, not surprising since she seemed to always be surrounded by them. This is our kind of Doctor!
November is Diabetes Awareness Month. Many of you know that I have diabetes and  that my parents take good care of me with glucose checks and making sure I get my ProZinc insulin twice a day.  But  we wondered if cat parents are knowledgeable  about feline diabetes.  Dr. Ruth was super nice and offered to talk to us about what all cat parents need to know about diabetes.
Guest Post by Dr. Ruth MacPete
DIABETES AFFECTS CATS?
Diabetes affects 1:200 cats nationwide and its prevalence is increasing at an alarming rate. Diabetes is a multi-factorial disease caused by different risk factors including: age, genetic predispositions, diet, and obesity. Unfortunately obesity is also on the rise in both people and pets. It is estimated that 58% of cats in the US are overweight. That means more than half of cats in the Unites States are at risk for developing diabetes. 
WHAT IS DIABETES?
Diabetes mellitus occurs when the body is unable to regulate the amount of sugar in the bloodstream. Diabetes is classified as type-1 or type 2-diabetes. Type-1 diabetes occurs when the body fails to produce the hormone insulin, which is responsible for controlling blood sugar levels. Insulin resistant or type-2 diabetes develops when the body becomes less responsive to the effects of insulin. Type-2 diabetes is the most common form of diabetes in both cats and people. Both type-1 and type-2 diabetes result in chronically elevated levels of sugar in the blood. Left untreated diabetes can lead to nerve damage, kidney failure and even death.
Last fall, I started showing symptoms of feline diabetes. I was getting super thirsty and began to drink a lot more water. And even though I was hungry and eating more, I was getting thinner. I was making more trips to my little box too.  My parents scooped me up and put me in my cat carrier and we went to see my doctors at the Morris Veterinary Clinic. My diabetes had returned. This time, my doctors didn't think it was going to be transient like it was after suffering from pancreatitis the previous year.
Hearing that your pet has developed a health condition can be a scary time for pet parents.  But feline diabetes is treatable and your cat can resume a normal, happy healthy life once the diabetes is under control.
One of the best ways to help aid in regulating insulin levels is for your parents to learn how to use a blood glucose meter and plot a glucose curve at home. Now at first, you might think this will be too difficult, and it can be intimidating, but with some practice and patience, you will be able to get this testing down to a routine.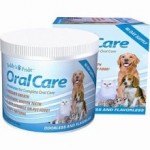 Congratulations Janell Markey!  You are the winner of the Teddy's Pride Oral Care for Cat!  You are now a Triple T Reporter too!
I must admit that my breath is not the best.  I can tell that I have Cat bad breath by the look on my parents' faces when I let out a big yawn close to their noses.  My mom brushes my teeth and I get regular tooth inspections but I admit my teeth and breath could use some help.
A few weeks ago, we started discussing oral care  options for Cats on our The Tiniest Tiger facebook page. Many of us were wondering what was a safe and natural product to use to help improve a cat's oral health. Then at the Global Pet Expo, we met the nice people from Teddy's Pride. and they talked to us about their interesting product.
As a cat living with feline diabetes , my least favorite thing is the dreaded cat blood glucose test. Most days I am  just not thrilled at all and then there are those days when I am just steaming mad, like in the photo below, and I hiss, and throw a fit when my mom tries to prick my ear to get the reading.  So when we met Sylvana, the creator of the illumavein at the Global Pet Expo , I was  rendered Meow-less that she invented something so ingenious  for cats living with diabetes. Now Cat blood glucose testing is easier with illumavein!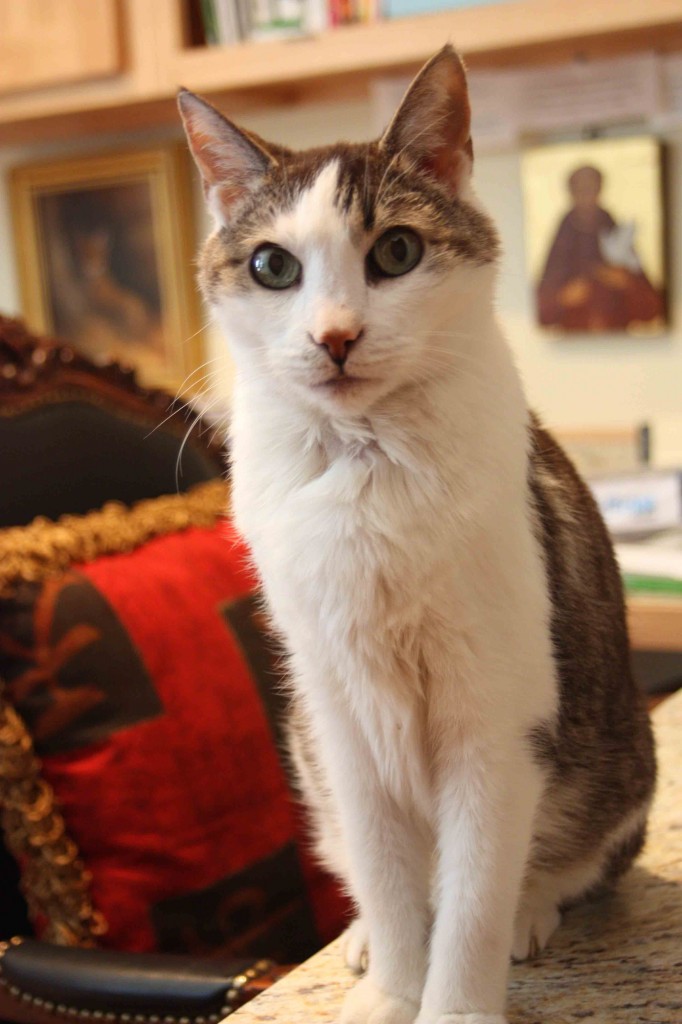 Friends, I want to take a moment to talk to you about something serious. Many of my cousins and their parents have  diabetes. I have  feline diabetes too.  In my photo, you can see where my fur was shaved for my blood test.  I don't mind showing you because we are all beautiful, imperfections and all.
I developed pancreatitis after receiving some medicine and during the recovery process, I developed transient diabetes. This was a super difficult time for me and my parents and for my Doctors too. It was hard to get the right dose of insulin for me and I knew my parents were scared and that scared me too. My  feline diabetes disappeared for a long time, almost two years.
Last Fall, I started  showing feline diabetes symptoms. I was getting super thirsty again. It seemed like I was always hungry and even though I ate more I was getting thinner, and thinner. My parents scooped me up and put me in the ~shiver~ carrier and we went to see my Doctors at the Morris Veterinary Clinic.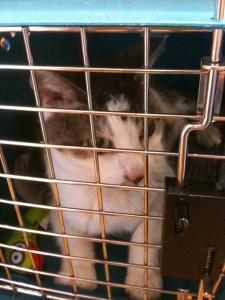 I don't like to be in my carrier at all even when Teenie Sardini rides along with me. And  when I know my parents are worried, I get even more anxious.  They try to stay calm but I can see their teeth chattering from nerves.
All the people that work at the clinic are super nice to me.  They really are.  Here is a photo of me being examined by one of my Doctors and  Joe. (Joe has red hair like my dad.  He is really nice to me and always smiling.)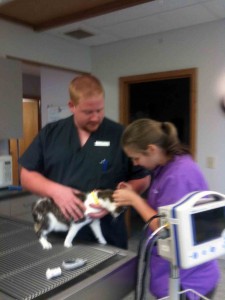 It was determined that my diabetes had more than likely returned and I needed to stay at the clinic for a glucose curve. Even though everyone is nice to me, I sure don't like to see my parents walk out the door without me.  They don't like it either because my dad has to tell my mom to get  going and then sometimes I see my mom tell my dad to go when he turns around to look at me before they leave.
My parents always come to visit me when I am incarcerated, I mean staying at the clinic.  I get super hungry when they visit and my cell, I mean condo door is opened so they can  pet me and we have a bit of a chat. My mom usually picks me up and hugs me. Sometimes too much but this is one time I don't mind.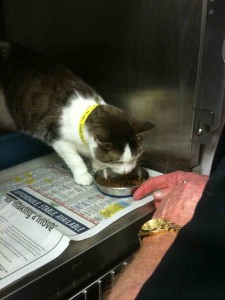 This can be a scary time for our pet parents. They want to do everything they can to help us too.  Our parents have to learn how to test our glucose levels with a glucometer, we use the Alpha Trak. They have to learn how to give us injections of insulin.  I take ProZinc and we use the Diabetes Care Kit.
We have to learn how to stand still while they prick our ear or paw pad. I need more practice at the standing still during the ~shiver~ ear stick.  Some days I am just, well to be honest, wild!
During the first week or two, my parents were so worried, they even cried.  Sometimes they would give me the injection but the insulin would pool up on the outside of my skin.  Sometimes I would wait until they were ready and then take a big step to the right to avoid the needle.  Now we have it down to a routine.
I think we will chat more about Feline Diabetes in a few upcoming posts.  Our cousin Sassy is newly diagnosed and her mom Carol is super scared like my parents were.  Our Friend Trish really helped my mom when I was first diagnosed too. I really like it when  our small paws can unite to help our Friends in need of love and support.  Thank you everyone.
*Please note  there is no substitute for the advice, examination and care from a Veterinarian.  All information here on The Tiniest Tiger is from my own experience and not intended to be  used to diagnose or treat symptoms in your cat.  Please consult a trusted Veterinarian for all your cat's health needs.
Friends, I am super happy to be home.  My stay at the Morris Veterinary Clinic was pleasant enough but there is no place like home.  My parents love me a lot and I love them right back.   I know and understand that they worry about me, and I worry about them too.
BUT,
Now that I am back from my glucose curve and am in need of some insulin to help me out my parents have turned into helicopter parents!  Honest they have.  And don't tell my dad I said this, but he already hovered over me quite a bit.  Sometimes, he  runs around the house calling me "Gracey, Gracey Lou"  and I  am sleeping, I mean thinking, right out in the open in my living room bed!  Now, I know this is not his fault, because when I want to, I can become nearly invisible like a tiger, completely indiscernible from my surroundings.   Sometimes, my mom will be working in the office and my dad will run in and ask her if she knows where I am. I will hear my mom, say "No, not right at this moment."  Then I hear a sigh and she joins my dad in the hunt for me.   hahahahahha. Usually I just stay in place, but sometimes I feel sorry for my dad and run behind the sofa and hide so it seems like I really was difficult to locate.

That being said, when I am feeling my inner tiger, I need a little quiet time.  We tigers are solitary creatures and we need our marked territory.  So I am putting down my paw.
The sun room is my territory for the entire afternoon!  I am marking my territory with this threshold line.  Only Lazy Leopard, Liz-ard and I are allowed to soak up the sunshine and watch Bossy Backyard Blue Jay from here.
I am asking not to hear the whirling blades of my hovering parents for just a few hours.

No entrance allowed to parents…unless they come bearing roasted chicken, and even then they can lower it down to us in a basket.  I need to get back into my old routine.
Won't you please join me in telling my parents that I am doing just fine?  Thank you everyone.  Meow for Now!