We are truly honored.
We are truly honored to have won The Petties 2012 Best Blog Post Award.  We were thrilled to be finalists and when we
learned of  the other finalists in our category, all super talented wonderful friends and fellow cat writers, we knew we would be thrilled no matter who won, because  Dogtime Media makes a generous donation to a non-profit shelter and we knew that our cousins in need would be getting some much needed help.
Just a couple days after we returned home from the Cheetah Conservation Fund in Namibia, we received and email from The Petties, asking us:
What makes the post that you're nominated for so important?
Having just spent time learning more about the plight of the wild cheetah, as well as leopards and lions, the article that was nominated meant even more to us, and this was the answer that we sent back to The Petties.
Loss and fragmentation of habitat and depletion of prey are leading to rapidly declining populations of wildlife and in particular predators.   Ecosystems need predators to remain healthy, yet humans continue to persecute and eliminate them from our world.   "Cat Obituary Farewell Eastern Cougar"  is about the heartbreak of extinction  and a reminder to care for all animals big and small.
If you would like to read our article here is the link:  Cat Obituary Farewell Eastern Cougar.
Happy Earth Day to our Beloved Planet
Earth is our home sweet home! What would we do without our world?  Today is the 42nd anniversary of Earth Day. This day is the official reminder to us that we need to protect our planet from further damage and make every effort you can to clean it up!
Our The Tiniest Tiger's Conservation Cub club's motto is Small Paws United Can Make a Big Difference™ so when I saw the call to action for Earth Day, 2012 with the motto Small Acts Can Make a Big Difference it caught my eye.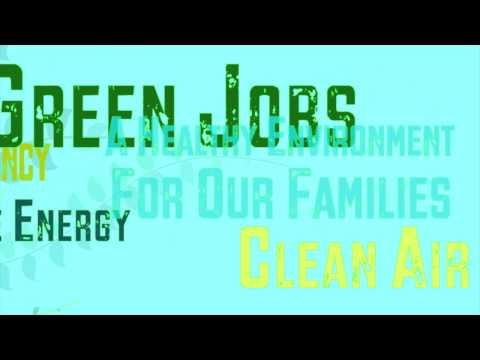 A Billion Acts of Green!
The 26th Genesis Award Celebrity Presenters Gift- The Tiniest Tiger Hipster.
Last month Secret Room Event's Luxury Lounge honoring the Academy Awards at the L'Ermitage Beverly Hills helped to raise money and awareness for The Humane Society of the United States. The Tiniest Tiger Hipster was part of the Secret Room Event and celebrities attending and  The Humane Society liked the bag so much it was chosen to be part of the gift for the 26th Genesis Award Celebrity Presenters.
We are honored that The Tiniest Tiger Hipster was chosen to be part of the Genesis Award Celebrity Presenters Gift because The Tiniest Tiger's Conservation Cub Club's mission is to spread the  message that small paws united can make a big difference.
The Humane Society of the United States pays tribute every year to news and entertainment media for producing outstanding works that raise public awareness about animal issues. The 26th Genesis Awards will be held on Saturday, March 24, 2012 at The Beverly Hilton in Beverly Hills, California.
Many Hollywood celebrities are compassionate and love getting
together to celebrate the media's effort to raise awareness about animal issues. Many celebrities that are asked to present  feel that this is the award show where it truly is as much of an honor to present as it is to receive.
Throughout the day, many celebrities stopped by to chat about The Tiniest Tiger and our mission to care for all animals big and small. Everyone was super interested in learning more about how to save our big cat cousins. We had a great time meeting so many nice people too.
Christa Campbell stopped by and she liked The Tiniest Tiger Hipster bag so much she posed for a photo wearing the bag.
Angela Kinsey from The Office is one of the presenters for this year's Genesis Awards.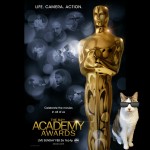 The Tiniest Tiger community's motto is Small Paws United  Can Make a Big Difference! Over the last couple of years since we began with our The Tiniest Tiger Facebook page we have grown to over 24,000 strong and have generated over $30,000 to help both our big  and small cat cousins in need.
When I was in my thinking circle a few months ago, I started to dream about a way to help more of our cousins. I didn't want to keep asking you for donations because you have all been super generous.  I wanted  to reach outside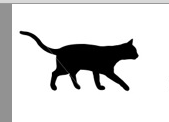 my circle and try something completely new. I thought about my mom and her friend Maureen. Between the two of them they have about 9 Lives worth of experience in product development, production, sales and marketing. They came up with all kinds of wild ideas, but finally when I showed them my sketch of a cat walking with her tail in the air, Triple T Studios was born and I am the CEO, Cat Extraordinarily Optimistic.
When you are on the right path, the pieces start to fall into place. Have you ever noticed this?  I batted the idea in the direction of making a super fun, yet classy line of handbags with a feline finesse.  We wanted to have the bags made in the United States, and if it could be close to my habitat, even better, because you know I am not so fond of traveling in my carrier.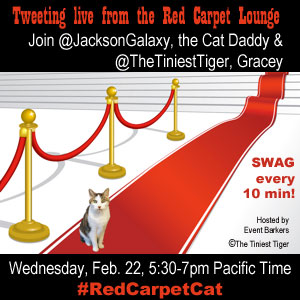 A Special Message from our Friends at Event Barkers!
We are super, super excited to announce a new Twitter party that we, as part of Event Barkers, are hosting! On Wednesday February 22, we'll be hosting the #RedCarpetCat Twitter party coming to you LIVE from Hollywood!!
Everyone in the cat world knows Gracey, The Tiniest Tiger from her Conservation Cub Club; Gracey will take to the red carpet for a special event leading up to the Oscars. Gracey will be giving out her brand-new The Tiniest Tiger Hipster bag filled with goodies from sponsors to pet-loving A-list celebrities.
To celebrate The Tiniest Tiger Hipster Bag's debut on the red carpet, we're hosting a special Twitter party! You can mingle with the stars as Gracey tweets photos of herself on the red carpet and you'll be eligible to win prizes in giveaways every 10 minutes!
Also on the party will be Jackson Galaxy, the Cat Daddy himself! The star of Animal Planet's "My Cat From Hell" will be live tweeting along with Gracey during the party!
Are you ready to party and walk the red carpet? RSVP in the linky below with your Twitter handle. (Don't have a Twitter account yet? It's quick and easy to sign up for one at Twitter.com and you'll be all set for the big night!)
Stay tuned for special giveaways leading up to the party and Hollywood swag every 10 minutes during the party itself. Step one, though is to RSVP below.
How to RSVP

November 8 is Volunteer Action Day!
People Saving Pets™ is a social movement empowered by PetSmart Charities® that is dedicated to saving the lives of adoptable pets and solving the homeless pet problem by uniting pet lovers and inspiring local action.On Tuesday, November 8, in conjunction with National Animal Shelter Appreciation Week (Nov 6-12),  People Saving Pets is introducing Volunteer Action Day to bring awareness of how much animal welfare organizations need volunteers and to encourage animal loving people to help pets by volunteering in their communities.
What is terrific about Volunteer Action Day is that you can take action from the comfort of your home, right from your own computer.  All you need to do is take that first step in learning about opportunities in your area and if you are already volunteering, share your story on the People Saving Pets Facebook page.
Super Hurrah! Our 2011 total is:
47,025 Meals

to Feed our Cousins in Need!
Thank you for uniting our small paws to make a big difference!
Iams Home 4 the Holidays 2011 is Underway!
It's One of  The Most Wonderful Times of The Year here at our The Tiniest Tiger's Conservation Cub Club, because we are able to help feed our cousins in need!!

Helen Woodward has partnered with Iams to make Home 4 the Holidays a worldwide movement. This year's goal is to adopt 1.5 million animals and donate 5 million bowls of food to shelters in need and we  can be a part of this movement again this year!
Last year we did a super terrific job by providing 32,375 Meals for our Cousins in Need! Everyone pitched in and

helped by leaving a comment and uploading cute photos of your furry loved ones on The Tiniest Tiger's facebook page.
In fact, we did such a great job last  year, our Friends at Iams are doubling the donation from 25 Meals to 50 Meals donated when you post a comment here on our Conservation Cub Club below  this post.  That's all you have to do honest!
Here are the ways you can help feed our cousins in need.
Each comment is worth 50 Meals:
Today is National Feral Cat Day and we here at The Tiniest Tiger's Conservation Cub Club care for all cats big and small. Our Friends at Alley Cat Allies work hard to help our feral cousins and they also try to help humans learn the truth about our outdoor cats. Here are some of the facts from our friends at Alley Cat Allies.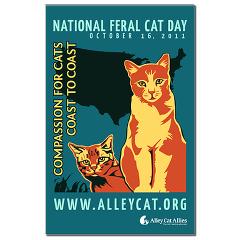 Discover the Truth about Feral Cats