The Tiniest Tiger Contests
Does Your Cat Need Project Pet Slim Down?
My parents might say a lot of things about me like; I am mischievous, talkative and smart but one thing I am not, is a fat cat.  I am the perfect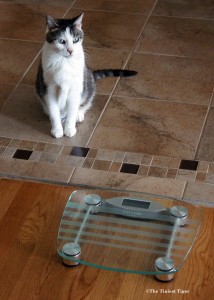 weight for my body type.   There was a time when I was a bit too thin when I was recovering from pancreatitis, but now I am wearing my 7 pounds well.  My brother Mercy, well…. ok.. he is also at a good weight for his body type.  Weighing in at 10.4 lbs. our doctors tell us he is in great shape.  He is just a bigger cat than I am, bigger boned and he really is. He is not just saying he is big boned to try to cover up the fact that he might be a bit chunky from all of those treats my grandma gives him.  But Mercy and I are in the minority of cats in the United States. Did you know that 55% of cats in the United State are overweight or obese?
In fact, it is not just cats, dogs too are overweight too even with all that in and out bathroom business and organized walking they do.  It has gotten so out of control that there is now an Association for Pet Obesity Prevention and the 2011 Pet Obesity Study found that 93 million cats and dogs are considered overweight or obese.
Friends, it is time that we all face the numbers on the scale.
Because we might need a little help getting started Purina teamed up with Target to create Project:Pet Slim Down. Purina created this online program to help your cat and dog lose weight. Cats and dogs at a healthy weight enjoy happier lives and Purina made it a mission to help every pet parent enable their cat and dog to achieve that weight.   Read the rest of this entry »
Which Frog Has the Luck of the Irish?
It has been a long, cold and snowy winter here in Ohio. Last night though if we listened super close we could hear the sweet sound of the Spring peepers. If you live in the central and eastern parts of Canada and the United States, you know that this frog chorus means spring is just around the corner. These tiny little amphibians are rarely seen. They hang out in wooded areas and grassy lowlands near swamps or ponds. They have excellent camouflage as  they are tan or brown in color with dark lines that form an X on their backs. They are nocturnal, hiding from their predators during the day but come out at night to dine on beetles, ants, flies and spiders.In the middle of March, the nighttime chorus swells from the male Spring Peepers looking for a mate and for the rest of us it means that winter is over.
Which Frog is the $50 Frog?
So now that Spring is ready to pounce on us, Lazy Leopard and I thought we would have some fun with our  Can You Find the $50 Frog contest.  One of these super cute little frogs is hiding a bit of green for one lucky member of The Tiniest Tiger community.
Here is all you have to do
A Game Show for Cats!
We cats are super smart with minds of our own.  You already know that we won't just play on demand like our canine pals.  So Friskies created a new Game Show for Cats called Will Kitty Play With It? Here is an episode from the show with our cousin Rosie.  She is being put to the test with a  plastic bottlecap ringlet thingy.  What do you think? Will Rosie Play with it?
Let's find out.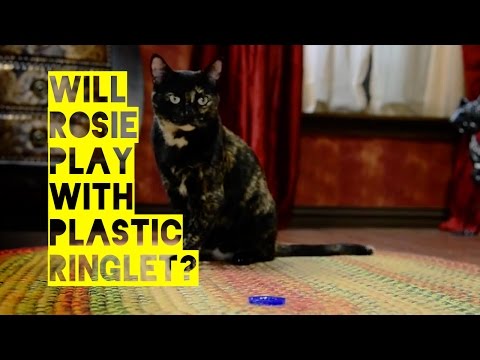 Home Version of the Game Show for Cats
Love at First Purr!
You Had Me At Meow! by our good friend and artist Missy Johnson caught my eye and it was love at first purr.  Missy is  the creative force behind Dogs for the Paws; art making a difference for animals. Even though the name is Dogs for the Paws, Missy cares deeply for cats too.  In fact, just like us, she loves all animals.   When I saw her You Had Me at Meow! I  became super excited because I thought you would love it too!
Missy Johnson, Artist and Creator of Dogs for the Paws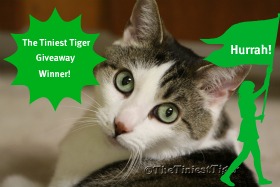 Congratulations and Supper Hurrah to our winners!!!!  We chose using randomizer.org because all the stories are so heartfelt and touching.  Thank you for loving all cats, big and small.
Maneki-neko is Japanese for beckoning cat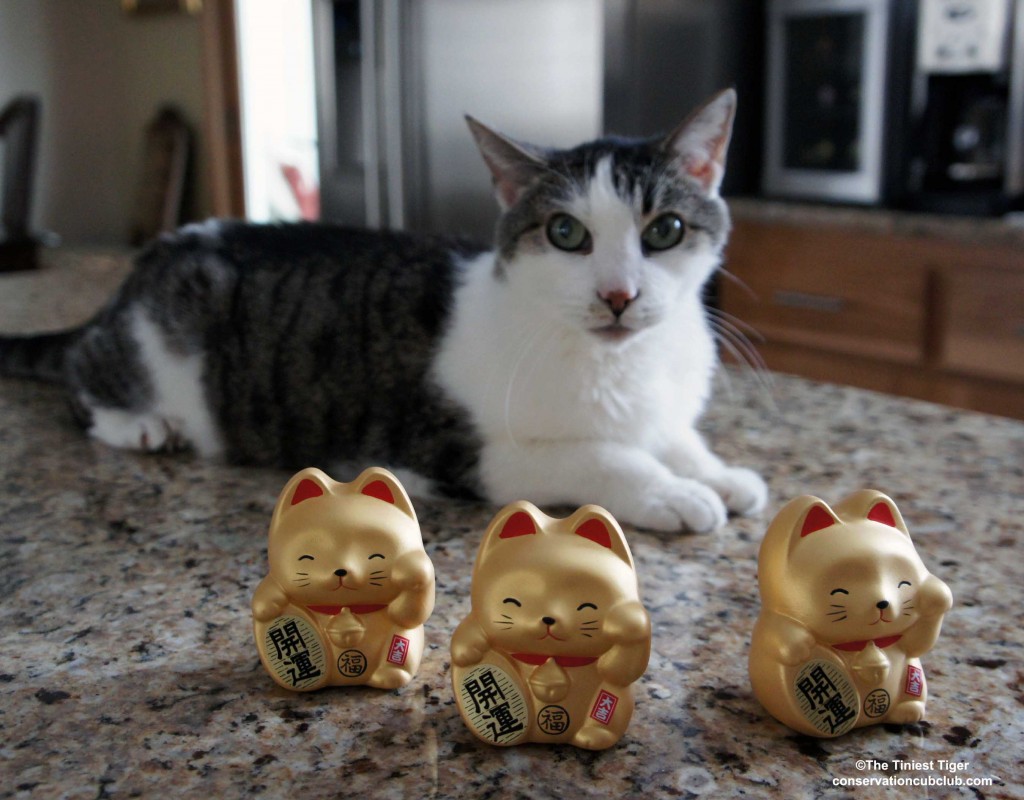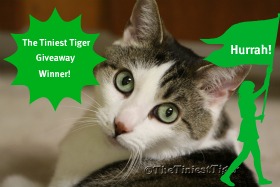 Super Hurrah to Jen, Patty and Sherrie!!  Congratulations and we hope your Maneki-Neko brings you great fortune and luck.
Meneki-neko is a popular Japanese figurine of a cute cat with an upright paw believed to bring good luck to the owner.  The figurine is usually made in the image of a calico Japanese Bobtail, beckoning with an upright paw and are on display in shops, retaurants, pachinko parlors, and many other businesses.   Sometimes Maneki-neko figurines are electric or battery operated so that they will have a paw moving back and forth. Maneki-neko is kind of like a cougar in that it is known by many names.( cougar, puma, mountain lion).  In English, Meneki-neko is called welcoming cat, lucky cat, money cat, happy cat and fortune cat.
This cute cat figurine comes is a variety of colors, styles and ornamentation but the most common colors are white, black,  gold and sometimes red.  It is thought that the white is for good luck, the black for good health and the gold for monetary good fortune.
Raised left paw attracts money
Decorating with your cat!
In my habitat, things are beginning to get a bit more interesting. Lots of shiny objects are coming out of boxes and twinkling lights are being strung across the mantle.  Even my sunroom takes  on a winter wonderland feeling when the blinking star garland takes it's place and the Christmas tree is adorned with  ornaments in the shapes of many of my favorite animals.
My parents make sure all the super shiny glass ornaments are resting out of my reach and they place the soft satin and other unbreakable ornaments on my little tree in the sunroom.  This is better for everyone, including me, because after all I am a cat and when the lights are twinkling and the glass ornaments are super shiny and interesting to touch, sometimes the glass ornaments leap off the tree and crash to the floor.  Shards of glass are not good for any of us.
Walkin' in a Kitty Wonderland Photo Contest
Imperial Cat M.A.X. Club Chair and  Scratching Ottoman is Super Stylish!
Last month I shared with you the brand new cat  club chair and scratching ottoman from Imperial Cat that I thought you would  love as much as I do.   The new Club  Chair and Scratching Ottoman for cats is super stylish and I was so excited that I placed in on my wish list.  The nice people at Imperial Cat saw my wish and sent me my very own chair and ottoman with a sleek cheetah print. And now just in time for Thanksgiving, they are offering a chair and ottoman to one of the members of our The Tiniest Tiger community.
Cats will give thanks for their own club chair
Thanksgiving is coming soon and we cats know what this means.  In addition to family, friends and feasting, it means that
our habitats will be invaded and our space will be taken over by loved ones.  And some might even stay well into our nap time and perhaps even force us to change our schedules.  I know, I understand how upsetting a change in routine can be for felines, but just in time to prevent the invasion of the chair snatchers, Imperial Cat is providing us with our very own cat sized chair and ottoman.
Mine arrived a few weeks ago and I have to tell you that I just love it.  The chair is super comfortable and when I get the urge to scratch I just cut loose and give the ottoman the works.  Another benefit is that  you will not have to fight with any friends or family members for your seat.  This chair will always be reserved with your name on it. When your chair arrives, simply direct your parents to place your chair in a strategic location where you can see but not be in the center of the commotion.
If you can't wait to see if you win, you can purchase your very own Imperial Cat Chair from their Cat Claws Catalog.
How to Enter the Giveaway
There are many  ways to enter in the Rafflecopter below. Choose as many or as few entry methods that suit you. This giveaway is open to US mailing addresses only. The giveaway ends at 12:01am ET on November 17, 2012.  Best of luck to you.

Super Hurrah and Congratulations to Raine!
Sturdi Products Have Star Quality Style!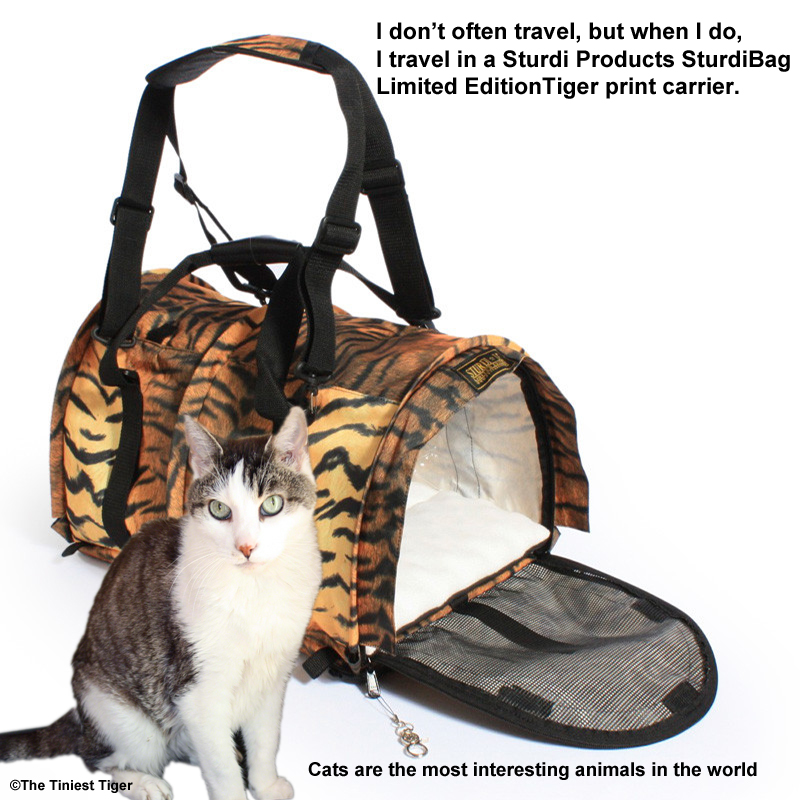 Now you can travel in style too!  The terrific folks at Sturdi Products are giving one lucky member of The Tiniest Tiger community a Sturdi Pop-Up Shelter from their Wild Side Collection!  And in Tiger Print! I know you have to be super excited now.

Super Hurrah and Congratulations to Cynthia Downer our Winner!
Thank you to everyone that participated.
Super Hurrah and Congratulations to Leslie Ann, the Winner of the Egg Hunt!
Thank you everyone for participating.
Welcome to my Egg Hunt.
Hidden here on our The Tiniest Tiger's Conservation Cub Club are 5 Eggs just like the eggs you see with the Easter Bunny above! Each Egg has one word written above it.  When you have hopped around and located all 5 eggs and think you have the winning phrase, come back and post this in the comment section below:
Gracey, I found all 5 eggs! Super Hurrah!