The Overview Effect
When I was young, I imagined Africa as a far off land, with endless savannas and wilderness areas that rivaled outer space.  I  remember lying on the floor in front of the television watching Wild Kingdom,  our window on the world, as we traveled vicariously with Marlin Perkins to the far reaches of the world for exciting interactions with exotic animals in their natural habitats.
A lot has changed since those childhood days of packing a lunch with a friend and telling our parents we were setting out to seek  the source of  the creek that ran through the property surrounding our neighborhood.   This creek seemed endless to us as we walked and talked and used our imagination to pretend we were on safari looking for wildlife.
Our World is Getting Smaller
Now,  I realize how small this creek is and often times, I might even drive by  where we used to play  not giving the water rippling over the stones a second thought. And just as I thought Africa was a mysterious land of abundant space for all animals to live and thrive, we know  this is not the case. Africa's wilderness is being squeezed as elephants, lions, rhino and wildebeest all compete with humans for habitat and resources.
Today, our world even seems a lot smaller than it did when I was younger.  We can visit Africa and watch wildlife right from our homes via Africam and other online sources.  There are television programs on 24 hours, 7 days per week allowing us to see the  day to day life of people and animals on the other side of the globe.  And when you see Africa from the air, you can see the shrinking wild areas and the urban sprawl creeping out into the once wild and open spaces where earth's animals once lived  in abundance and with minimal human conflict.
Distinctive Lions Will Live Better Lives Thanks to Genetic Testing
Scientists thought there was something different about the  fifteen lions living in the rundown Addis Ababa Lion Zoo.  The male lions living in the Ethiopian zoo have large, dark brown manes that extend down their chests through their front legs, down their backs below
their shoulders and the length of their belly through the groin. These male lions are also smaller in body size than their cousins from eastern and southern Africa.  These distinguishing features  in the Addis Ababa Lions made the biologists think this group of lions are  distinctive, and in fact, made them wonder if they could  be the relatives of an extinct lion subspecies.
It had been speculated that the Addis Ababa lions might be the last pure relatives of North African Barbary lions or South African Cape lions, both subspecies now extinct. Or could these 15 lions be a completely genetically distinctive population of lion?
The lions are descended from a private collection of the last Ethiopian ruler, Emperor Haile Selassie, who captured their ancestors from the wild and brought them to his palaces in the 1940′s.  Today, these lions live in the same holding pens as the first lions captured, only now the  zoo is in poor condition and the lions are lacking proper nutrition, and inadequate space.
Addis Lion zookeepers became so overwhelmed caring for the lions that they reached out to their German "sister city" Leipzig, for help. Vets from the Leipzig zoo traveled to Ethiopia to check the health status of the lions.  While examining the lions, a team of vets took blood samples for genetic investigations  for an international breeding program in case the results confirmed these lions are their own subspecies or perhaps their own genetic construction.
By Joanne McGonagle
Discover Your Cat's True Nature
Even though cats outnumber dogs living within homes, cats remain thought of by many as aloof, anti-social and not needing the love and attention that dogs are given.  Cats are mistreated and sometimes maligned because  they have been misunderstood. Stereotypes about cats sadly remain firmly in place so the team at Purina One decided to dig deeper and learn about the cat's true nature and what makes a cat…a cat!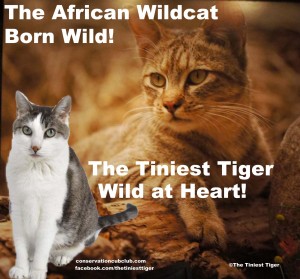 Our domestic cats roots can be traced back to the African Wildcat. So Purina One decided to go to Africa to learn more about our cats living ancestors so that we could all achieve a better understanding of what our own cats need to live their best lives.
I was thrilled to be asked by the Purina One team to join in the journey to discover the true nature of cats where we discuss and explore how to awaken, foster and nurture the natural instincts within our cat so that their lives will be enriched and in turn our own lives are better knowing that our feline family member is enjoying her life to the fullest.
I was in my final year completing my master of zoology with a focus on big cats when I first learned about the Purina One program.   I was so excited because The Tiniest Tiger children's book compares and contrasts the similarities and differences between the big cats and their domestic cousins that share our lives.
Who was your cat born to be?
Master of Zoology Graduation Celebration
It was with mixed emotions that we celebrated our graduation from the Master of Zoology program at Miami University.  Even though my mom and I spent many many hours in the office reading, thinking and writing, what we were learning was so super interesting  it seems the time just flew by.
Into the Field
We had the opportunity to travel to the  Baja peninsula to live in the dessert at Rancho San Gregorio and swim in the Sea of Cortez.  We visited elephants in Amboseli National Park in the Rift Valley Province of Kenya, dismantled snares with the African Conservation Center Game Scouts, learned to track lions, walked with baboons and lived with the Maasai in Olkiramatian.
Burning Bushes to Restore Habitat Land and Save Cheetahs.
Most of us know our big cat cousins are struggling to survive in in the wild. You might even know that loss of habitat, human-wildlife conflict, loss of prey and poaching are among the biggest reasons the big cats are fighting for their lives. But did you know the loss of habitat is not just due to the increasing  human population but due to another invasive species, the thorn-bush.
The acacia thorn bush overgrowth has claimed thousands of acres of savannah in Namibia where the largest number of wild cheetahs still live.  Overgrazing, drought, extirpation of elephants are a few of the reasons for the bush encroachment.  As the bush thickens and the sharp thorns of the acacia entwine to form a barrier, not only is the cheetah at risk but so are the prey species that thrive on the savannah.
Say Goodbye to New Year's Resolutions!
We wrote this article at the end of 2011 but  think it is worth changing the date and re-posting. We hope you do too.
Happy New Year, Gracey and Joanne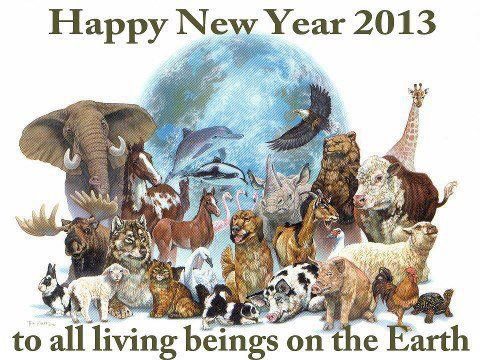 Goodbye 2012!
As we say goodbye to 2012, why not also say goodbye to making New Year's Resolutions for 2013? Let's face it, if you are one of the overwhelming majority of humans, and statistically speaking, you more than likely are, you won't stick to the resolution anyway and this deviation from the plan can lead you down a path of self-destruction!
Why are cat lovers called crazy?
Lazy Leopard and I have to get this off our chests.  We are tired of the term Crazy being used to describe humans that love and care for cats.  Why crazy? I understand that the words flow, I too am a fan of alliteration.  The Tiniest Tiger™,  Conservation Cub Club™, feline finesse™, you see what I mean?   But why the word crazy?  Let's take a look at the definition of crazy that I copied from my Dictionary (version 2.1.3 (80.4)) on my iMac.
crazy

adjective informal

1 he was acting like a crazy person: mad, insane, out of one's mind, deranged, demented, not in one's right mind, crazed, lunatic, non compos mentis, unhinged, mad as a hatter, mad as a March hare; informal mental, nutty, nutty as a fruitcake, off one's rocker, not right in the head, round/around the bend, raving mad, batty, bonkers, cuckoo, loopy, ditzy, loony, bananas, loco, with a screw loose, touched, gaga, not all there, out to lunch, crackers, nutso, out of one's tree, wacko, gonzo. ANTONYMS sane.
2 Andrea had a crazy idea: stupid, foolish, idiotic, silly, absurd, ridiculous, ludicrous, preposterous, farcical, laughable, risible, nonsensical, imbecilic, harebrained, cockamamie, half-baked, impracticable, unworkable, ill-conceived, senseless; informal cockeyed, daft, kooky. ANTONYMS sensible.
3 he's crazy about her: PASSIONATE ABOUT, (very) keen on, enamored of, infatuated with, smitten with, devoted to; (very) enthusiastic about, fanatical about; informal wild about, mad about, nuts about, hog-wild about, gone on. ANTONYMS indifferent, apathetic.
Crazy has several meanings