Tiger cubs romping in the snow are super cute. And these Amur tiger cubs living at the Columbus Zoo & Aquarium are no exception. The cubs are six months old and weigh about ninety pounds and as you can see in the zoo's video, they are happy as can be frolicking together around their habitat.
Amur Tiger Cubs  Snow  Adventure  at  the Columbus Zoo & Aquarium
Watching my young big cat cousins inspired me. While in my heated thinking circle today, I thought perhaps I should feed my inner Amur tiger and venture out to frolic in the snow. After all, it is winter here in Ohio and my backyard is completely covered in white fluffy snow. The neighbor children are all suited up and sledding down the hills and they seem to be enjoying themselves. So I thought, why not brave the cold and pounce around a bit in the snow. So I left the comfort and warmth of my heated thinking circle and I went into the wild.
Tigers! New Rules! You Can Help!
Camouflaged among the pages of the Federal Register/Vol. 76, No. 162/ Monday, August 22, 2011/ Proposed Rules, pages 52297-52301, hidden between pages and pages of proposed rules,  the most important action to SAVE TIGERS in over 10 years is waiting for your support by just leaving a comment before September 21, 2011.
"The U.S. Fish and Wildlife Service propose to amend the regulations that implement the Endangered Species Act by removing inter-subspecific crossed or generic tiger (Panthera tigris)(i.e.,specimens not identified or identifiable as members of Bengal, Sumatran, Siberian or Indochinese subspecies from the list of species that are exempt from registration under the Captive-bred Wildlife (CBW) regulations." To read the entire proposal, click here.
Don't be overwhelmed when you see the words crammed on the pages. All you need to do is leave a comment in your own words. Simply say you are FOR the new rule rescinding the generic tiger exemption.  That is all you have to say and you will have done an amazing thing towards saving our big cat cousins.  It will only take about 30 seconds and it doesn't cost a penny.  Won't you please help? Click Here for the Comment form.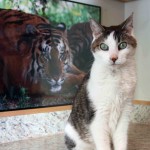 Born Free USA's third annual Keep Wildlife in the Wild Week, June 20-24 was started with the goal of taking care of wild animals not just around the world but in your own back yards!  Adam Roberts, executive vice president of Born Free USA, says the goal of Keep Wildlife in the Wild Week, is to get people to stop, think and take action.
Small steps can lead up to making a big difference. In my backyard, you might already know that we  try our best to take care of Bossy Backyard Blue Jay and all of the birds that gather and live around our habitat.  We provide food and water, and we have trees and shrubs for shelter. We are also super lucky to have squirrels, rabbits, opossum, white tail deer, the occasional raccoon and last winter there might even have been a bobcat track through our yard. We  live in an area surrounded by neighbors that love wildlife as much as we do.
What isn't so lucky is the wild tiger.  There are more wild tigers in captivity in the United States than there are in the wild.  Occupying a mere 6% of their original territory, the tiger faces the possibility of following the pug marks of the ghosts of the Balinese, Caspian and Javan subspecies into extinction. The South China subspecies is already extinct in the wild. The remaining, Amur (Siberian), Bengal, Indo-Chinese (including Malayan), and Sumatran subspecies only have an estimated 1000 breeding females in total.