Posts Tagged 'Bossy Backyard Blue Jay'
Bossy Backyard Blue Jay
Members of our community are familiar with my buddy Bossy Backyard Blue Jay, but if you just joined us, I will give you a little background  information.  Bossy Backyard Blue Jay lives in my backyard and he gets his name from, well, let's just say his name suits him.  He talks a lot and he thinks he is the ruler of the backyard.  Sometimes he dive bombs my dad when I send him out to fill the bird feeders around our house.  I shouldn't laugh, but sometimes I can't help myself.  Bossy doesn't bother my mom, in fact he sits on a branch and chats with her.  My mom and I think it is my dad's red hair that gets Bossy riled up.  Maybe he thinks my dad is a cardinal or a red headed woodpecker, we just don't know.
Winter can be super cold and snowy here in Ohio so we try to make sure the birds that share our outdoor habitat have some nice food, suet and a heated water source to keep their water from freezing.  Earlier today, Bossy Backyard Blue Jay was squawking up a storm. I had just settled into my heated thinking circle for some Sunday afternoon meditation when he came knocking on the window.
Happy Earth Day to our Beloved Planet
Earth is our home sweet home! What would we do without our world?  Today is the 42nd anniversary of Earth Day. This day is the official reminder to us that we need to protect our planet from further damage and make every effort you can to clean it up!
Our The Tiniest Tiger's Conservation Cub club's motto is Small Paws United Can Make a Big Difference™ so when I saw the call to action for Earth Day, 2012 with the motto Small Acts Can Make a Big Difference it caught my eye.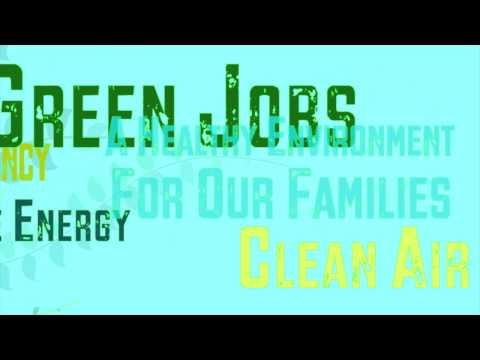 A Billion Acts of Green!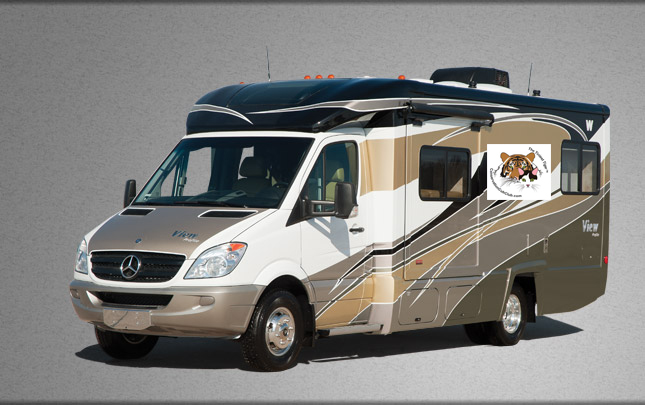 Cats win MegaMillions Loot!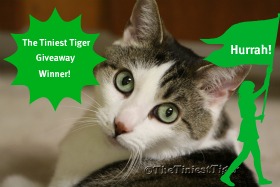 Super Hurrah and Congratulations to Lisa Anne, the winner of
Bossy Backyard Blue Jay's Preoccupy the Cat Giveaway!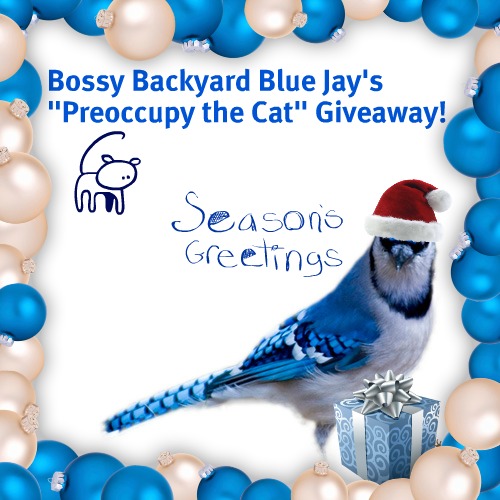 Recently Bossy Backyard Blue Jay came to visit me in the  Sun Room to  turn in his bird food inventory request list for me to give to my parents. As the weather turns cold, our bird friends rely on us to fill their feeders with all kinds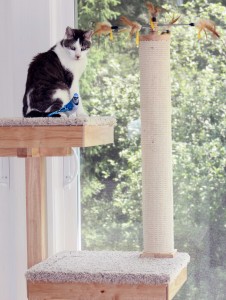 of treats including, sunflower seeds, peanuts, suet cakes, cracked corn and more.
Well when the birds are more dependent upon the feeders, something else happens. Our outdoor cat cousins start to go on the prowl.  My little feathered friend wanted me to remind all of you to keep an eye on the cats that share your habitat.
Bossy Backyard Blue Jay mentioned that it is already October and that means we are fast approaching Halloween!  Many of our human and canine friends wear costumes to celebrate Trick or Treat night but most felines, myself included are reluctant to don apparel whether for Halloween or for any occasion.  I especially do not like anything that restricts my ear movement. ~shiver~ I can't hardly stand to think about it. In any case, Bossy Backyard Blue Jay told me he had come up with a list of what he considers to be both creative and outstanding ideas for cat costumes this Halloween season. He asked me if he could guest post again on our Conservation Cub Club and I obliged.  Remember, his opinions are not my own.  I asked him to narrow his bird brain ideas, I mean his clever costume list to the top 5.  Without further adieu, here is his list.
The Top 5 Halloween Costumes for Cats by Bossy Backyard Blue Jay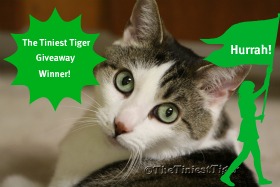 Super Hurrah for Janet Vandenabeele the Winner of the Angry Birds Toys!
Happy September Friends! As a super exciting way to start the month, we  wanted to introduce to you, the all new, Hartz Angry Birds  cat toys!  This past weekend at blogpaws we had the opportunity to learn about these exciting new toys that will be available for the holidays.  Jennifer and Alex from Hartz invited  us  to learn about the fun new toys and they are so nice, they gave us a few toys so that we could share them with you! These toys will be heading to a retail shelve near you in October. But you can get a sneak preview right here with The Tiniest Tiger. Super Hurrah!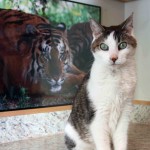 Born Free USA's third annual Keep Wildlife in the Wild Week, June 20-24 was started with the goal of taking care of wild animals not just around the world but in your own back yards!  Adam Roberts, executive vice president of Born Free USA, says the goal of Keep Wildlife in the Wild Week, is to get people to stop, think and take action.
Small steps can lead up to making a big difference. In my backyard, you might already know that we  try our best to take care of Bossy Backyard Blue Jay and all of the birds that gather and live around our habitat.  We provide food and water, and we have trees and shrubs for shelter. We are also super lucky to have squirrels, rabbits, opossum, white tail deer, the occasional raccoon and last winter there might even have been a bobcat track through our yard. We  live in an area surrounded by neighbors that love wildlife as much as we do.
What isn't so lucky is the wild tiger.  There are more wild tigers in captivity in the United States than there are in the wild.  Occupying a mere 6% of their original territory, the tiger faces the possibility of following the pug marks of the ghosts of the Balinese, Caspian and Javan subspecies into extinction. The South China subspecies is already extinct in the wild. The remaining, Amur (Siberian), Bengal, Indo-Chinese (including Malayan), and Sumatran subspecies only have an estimated 1000 breeding females in total.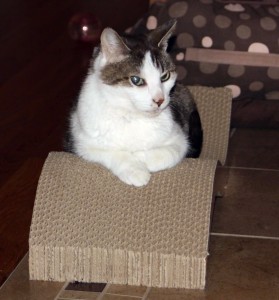 Friends, I have tried to warn Lazy Leopard to be careful what he shares on his twitter account.  Bad Kitty didn't want him to get his own account just for this very reason.  You see, Lazy Leopard is somewhat ornery.  He likes to have fun and sometimes he just doesn't think ahead before he acts.
The  laptop computer was left unattended today and it was just enough time for Lazy Leopard to set up  his account and send out his first tweet.  Not only did he send out a tweet, but he attached an image of himself with the tweet. Now this image is out in space and can be viewed by any feline, large or small.
We know that Lazy Leopard was just acting silly, but this photo, with his come hither eyes, his tail curled around him and his paws stretched out might be interpreted as inappropriate for young kittens.
Friends, whenever I leave Lazy Leopard and Bossy Backyard Blue Jay together  for more than a few hours I tend to get a little worried about what might begin to transpire.  It is not that I don't trust them, it is that they think a little differently than I do.  Now, this is not necessarily a bad thing, but sometimes left to their own devices, their imaginations get carried away and the resulting actions might be a bit exaggerated from what you and I might deem as taking essential precautions and readiness. Especially Bossy Backyard Blue Jay, he operates at a high level of preparedness.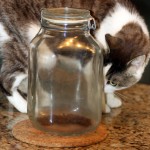 Hunger Strikes by Triple T Studios, a collaboration from the minds of  Lazy Leopard, Bossy Backyard Blue Jay, and me, Gracey, The Tiniest Tiger was made under the supervision and sometimes exasperation of Bad Kitty. It is not an easy task to keep Lazy Leopard and Bossy Backyard Blue Jay in line.
Our film documents the duress that a cat feels while waiting for its favorite meal.  Now you might think that because there is chow in the bowl, that the cat's chow comping needs are met.  But don't forget, we like to have a back up snack.  And if the chow in our bowl is our back up snack, and we begin to chomp that chow, then we start to feel the stress that this could be the onset of  ~shiver~ empty bowl syndrome!
We at Triple T Studios think this demonstrates how  The Tiniest Tiger lets her parents know it is time for supper.
Don't forget to leave a comment on our Iams Premium Protection Senior Cat for PurrEver. The generous people at Iams are donating 1 Meal of Premium Protection Senior Cat Food to our cousins at PurrEver Ranch Sanctuary for every comment that you post telling us "How does your cat let you know it is time for supper?"
Without further adieu, here is our film, Hunger Strikes.