Burning Bushes to Restore Habitat Land and Save Cheetahs.
Most of us know our big cat cousins are struggling to survive in in the wild. You might even know that loss of habitat, human-wildlife conflict, loss of prey and poaching are among the biggest reasons the big cats are fighting for their lives. But did you know the loss of habitat is not just due to the increasing  human population but due to another invasive species, the thorn-bush.
The acacia thorn bush overgrowth has claimed thousands of acres of savannah in Namibia where the largest number of wild cheetahs still live.  Overgrazing, drought, extirpation of elephants are a few of the reasons for the bush encroachment.  As the bush thickens and the sharp thorns of the acacia entwine to form a barrier, not only is the cheetah at risk but so are the prey species that thrive on the savannah.
December 4 is  International Cheetah Day
Khayam was the inspiration for today.
The Cheetah Conservation Fund (CCF) has declared December 4 to be International Cheetah Day.  The cheetah is not just the fastest, but the oldest of the big cats having survived over 3 million years of glaciations and warming cycles, and even its own genetic bottleneck. But with habitat destruction and conflict with humans, the cheetah could become extinct in less than 20 years.
In 1977, Dr. Laurie Marker  traveled to Namibia with a female cheetah named Khayam. Dr. Marker wanted to see if it was possible for a cheetah that had lived their entire life in captivity to be released into the wild. But when Dr. Marker and Khayam arrived in Namibia, she learned  the cheetahs needs were quite different from what the wildlife community had assumed.
Cheetahs were considered vermin, pests that should be shot on sight.  The Namibian farmers worried about their small livestock herds, thought of the cheetah as a threat to their own livelihood. Dr. Marker  soon realized that if the cheetah was to survive in Namibia, a solution must be found to enable the farmers and the cheetah to live side-by-side, allowing both to thrive. Shortly after the assessment of the cheetahs' needs, Dr. Marker also realized there was no group working to find a solution to help the farmers that would in turn save the cheetah.
The Cheetah Conservation Fund
This past summer we had the honor of being able to speak with Dr. Marker as part of our course work in Namibia. When we were sitting in a meeting room at CCF,  talking with Dr. Marker she explained that she realized "There is no "they" and if you want something done you have to do it yourself."
We are truly honored.
We are truly honored to have won The Petties 2012 Best Blog Post Award.  We were thrilled to be finalists and when we
learned of  the other finalists in our category, all super talented wonderful friends and fellow cat writers, we knew we would be thrilled no matter who won, because  Dogtime Media makes a generous donation to a non-profit shelter and we knew that our cousins in need would be getting some much needed help.
Just a couple days after we returned home from the Cheetah Conservation Fund in Namibia, we received and email from The Petties, asking us:
What makes the post that you're nominated for so important?
Having just spent time learning more about the plight of the wild cheetah, as well as leopards and lions, the article that was nominated meant even more to us, and this was the answer that we sent back to The Petties.
Loss and fragmentation of habitat and depletion of prey are leading to rapidly declining populations of wildlife and in particular predators.   Ecosystems need predators to remain healthy, yet humans continue to persecute and eliminate them from our world.   "Cat Obituary Farewell Eastern Cougar"  is about the heartbreak of extinction  and a reminder to care for all animals big and small.
If you would like to read our article here is the link:  Cat Obituary Farewell Eastern Cougar.
A rare big cat was sighted by Guy Combes, a British Wildlife photographer after he had heard about several reported sightings of a lesser-spotted cheetah in the Kenyan plains. After looking high from an airplane and low from a Land Rover, Combes gave up trying and went back to Nairobi. After receiving a call that the unique cheetah had been seen, he decided to try again.
This time Combes came within fifty yards of the incredibly rare spotless adult cheetah with its spotted mother. Experts say the last recorded sighting of a cheetah with a plain tawny coat with freckles but no spots was in 1921, nearly one hundred years ago.
Hurrah for our Winner Kathy Shane!
Don't worry if you didn't win this time,  there will be more Whoops! copies of The Tiniest Tiger in the future!
Happy Whoops! Wednesday Friends!
My mom and I have two The Tiniest Tiger books to give away today. For those of you not familiar with The Tiniest Tiger's Whoops! Wednesday click here for explanation!
If you want a chance to win a The Tiniest Tiger's Whoops! Wednesday Holiday Edition here is all you have to do.
Post a comment here below this post about something that happened this holiday season that made you say Whoops!
Now remember, we are a retracted claws only community.

*

Therefore, no mean actions, or words will be allowed. Bad Kitty and I will be the judges of what is mean.
*Unless you are a Cheetah and you can't fully retract your claws but we will need to check your i.d.
Lazy Leopard thought we should go ahead and post what The Tiniest Tiger's Whoops! Wednesday is right here on this post.  So here it is.
My mom and I are both left pawed so today we have another Whoops! Wednesday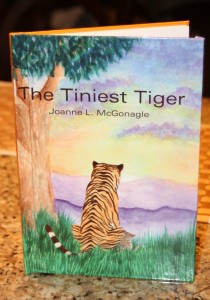 Happy Wednesday Friends! I am calling today Whoops! Wednesday II. My mom and I were cleaning the office and we found some copies of The Tiniest Tiger and when we looked inside the front cover, we said "Whoops!"
I will show you why.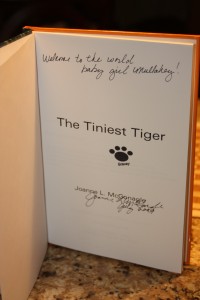 Inside this copy the writing is very nice.  You can read the writing and it is flowing the way it is supposed to flow.  My paw-tograph is nice and solid too.
Now here is an example that made us say Whoops!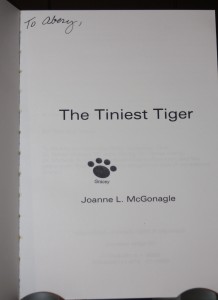 Even though my paw-tograph is nice and solid.  My mom meant to write the name Avery but for some reason her left paw wrote Abery. Whoops!
Here is another example.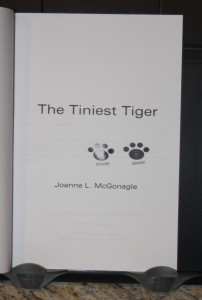 Here my paw slipped while trying to paw-tograph this copy.  I tried to make it better with a second paw-tograph but it just made the messy one look even messier!
Whoops!
So we have decided to have The Tiniest Tiger's  Whoops! Wednesday
Today we will be giving away 2 copies of The Tiniest Tiger that are Whoops! copies.
There is nothing wrong with the books other than  a little messy hand writing and/or maybe a slipped paw-tograph.
If you would like to win a Whoops! Wednesday copy of The Tiniest Tiger
Leave a comment here on our Conservation Cub Club below this post telling me something little you did that made you say Whoops!
That's it! Super easy. Just post something that made you say Whoops! this holiday season.
Good luck!
Friends, I shouldn't laugh but I can't help myself.
Today when the FedEx truck pulled into the driveway, my mom went to the office door to open the door and accept the package.
When the driver stepped out of the truck, he started towards the house. But he stopped dead in his tracks.  My mom looked at me and shrugged her shoulders.
The FedEx man took a couple more steps and stopped again.  This time my mom asked him if something was wrong.  He started to walk again and he asked
"Is that your pet?"
My mom looked down at me and said, "Well yes, but she  won't hurt you."
My mom looked at me again.
As the FedEx man approached the porch, he said.
"Well she seems pretty well behaved."
and my mom answered "Most of the time."
Then the FedEx man stopped again.
After the FedEx man took a closer look at Bad Kitty he started to laugh and said
"Oh I am sorry, I thought that was a live  Cheetah sitting in your office with you and to be honest I was afraid to bring the package any closer."
My mom really laughed hard too and said, "Oh! This Cheetah is Bad Kitty, and  as you can see, he is very well behaved.  I thought you were talking about Gracey."
They both looked at me and smiled.