Meeting Savannah at the Cincinnati Zoo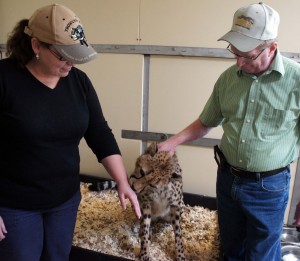 When our friend Linda Castenada heard the news that we had lost you, she quickly sent a message telling us she was heartbroken and extended an invitation to come visit her at The Cincinnati Zoo for some cheetah love. Linda runs the Cheetah Encounter and this past year, she has been raising a beautiful cheetah cub named Savannah. This was such a sweet and thoughtful gesture.  Your dad and I were really touched and thought this would be a fun and interesting thing for us to do together.   Linda and I were in Kenya together while you and your dad were here taking care of everything at home.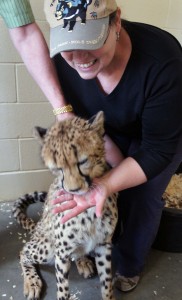 We had a great time watching the cheetahs chasing the lure during the show.  The cheetahs have a large area where they can run and play outdoors.  The Cheetah Encounter is where National Geographic and a Hollywood action movie crew  filmed  the cheetahs running in a way that had never been done before for an article in the November 2012 issue of National Geographic magazine.
After the show, Linda met your dad and I and we were given a behind the scenes tour.   We stayed safely behind the yellow line and the front of the cheetah enclosures and were able to meet Sarah, Chance, and Bravo.  I forgot that your dad had never been this close to a big cat before and he was fascinated with just how loud cheetahs can purr.  We learned all about the love and care that goes into their daily diet and enrichment programs.
Then Linda introduced us to Savannah.  I have to tell you that your dad's eyes were as big as saucers.  He was trying to pretend to be calm and collected but being up close to a big cat, even if it is a young cheetah, can be daunting.  They are long, lean and strong. And Savannah stayed alert, keeping a close eye on us. Your dad was trying to be brave, but I could tell when he reached out to pet her, he wasn't sure if he really wanted to.