Walkin' in a Kitty Wonderland Photo Winners!
Our friends at Purina and Petco offered  some great holiday decorating tips for you in their latest edition of Purina Purr.  I was super curious how you and your cat decorate for the holidays and asked you to share with me photos of your cat and any special holiday decorating you do with your feline friends in mind.  I want to thank all of you that sent in super cute images of  your cats.  There were so many to choose from that we allowed independent judges to choose the winners.
Miranda's Missy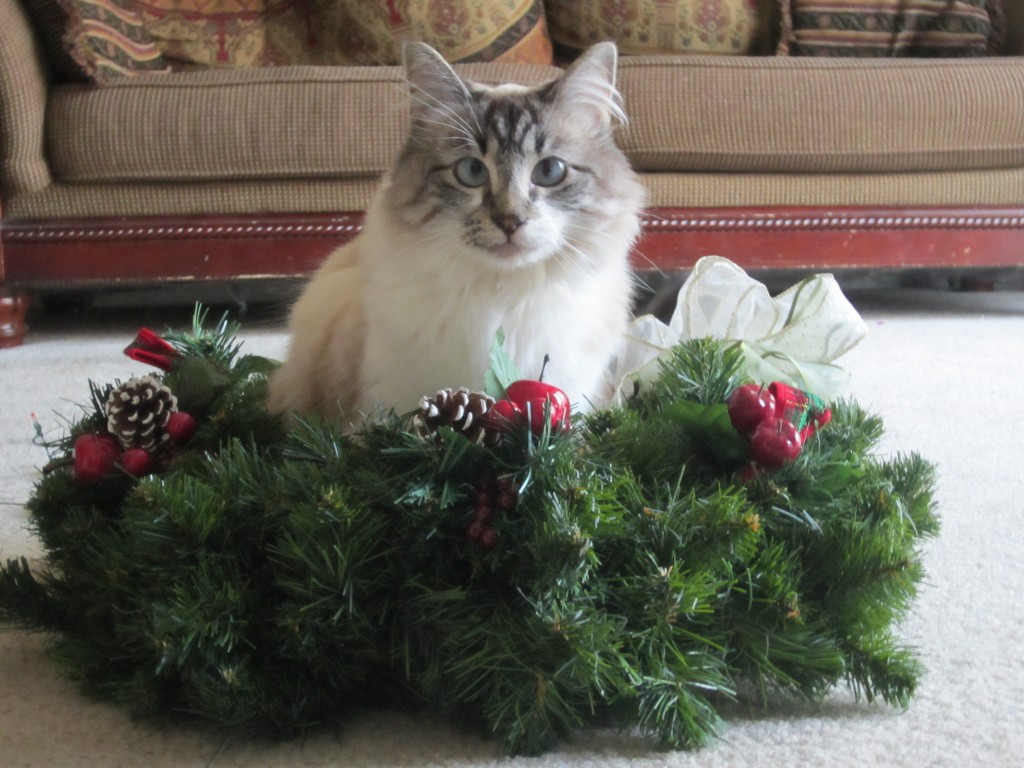 Super cute Missy is the center of attention in the middle of this wreath!
Decorating with your cat!
In my habitat, things are beginning to get a bit more interesting. Lots of shiny objects are coming out of boxes and twinkling lights are being strung across the mantle.  Even my sunroom takes  on a winter wonderland feeling when the blinking star garland takes it's place and the Christmas tree is adorned with  ornaments in the shapes of many of my favorite animals.
My parents make sure all the super shiny glass ornaments are resting out of my reach and they place the soft satin and other unbreakable ornaments on my little tree in the sunroom.  This is better for everyone, including me, because after all I am a cat and when the lights are twinkling and the glass ornaments are super shiny and interesting to touch, sometimes the glass ornaments leap off the tree and crash to the floor.  Shards of glass are not good for any of us.
Walkin' in a Kitty Wonderland Photo Contest
Our Welcome Home Snowman is Glowing Bright!
The holiday season is in full swing.  I can watch pretty twinkling lights outside my window at night and my window Snowman has come back to visit with me for awhile.  He shines brightly in the early evening and slowly changes colors from red, to blue to green. At night whoever is home first, either my mom or dad, they make sure they plug in the snowman to greet  each other. We have a code for the snowman's colors, green is for my mom and me because we have green eyes, blue is for my dad because he has blue eyes and red is because we love our family and friends.
After the snowman is twinkling bright, my mom or dad scoops me up and holds me so I can see out the window and we watch as the car pulls into the driveway and wave  a happy welcome!  This makes us all laugh and I squirm to get down so I can run to the door to give a proper greeting.
Last year, our poor snowman wasn't feeling well and he lost his glow.  We were super sad.  We thought about getting a new snowman but that didn't seem right after all it wasn't his fault  he lost his ability to twinkle.  My dad tried to find a replacement bulb for him, but wasn't having much luck.  The snowman sat in the window with me, but he just didn't seem like himself.