Posts Tagged 'dogtipper.com'
Can a Cat Crash Super Dog Sunday?
The super bowl is this Sunday and this is a great day for snacking and snoozing on the sofa with my dad.  In addition to the football game and the commercials, there is Super Dog Sunday™ hosted by our good friends at Event Barkers.  You know Event Barkers from the super terrific job they do hosting our Red Carpet Cat Events!
Super Dog Sunday™ is an annual charitable event in which 100% of the proceeds  go to the Petfinder Foundation to help them find more homes for adorable cats and dogs. There is a great lineup of sponsors and participants can enter to win up to $1500 in prizes too!  Helping find homes for our cousins and win great prizes?  Put me in coach!
Put me in Coach I am ready to Play!
I got so excited  when Paris from dogtipper.com told me about this great event to help find forever homes for our cousins that I asked if a cat could crash the party and she said, I didn't have to crash, that cats are welcome too! So I am calling all cats to enter to help our cousins in need of loving homes.

The Tiniest Tiger is a finalist in the 2012 Petties Best Blog Post Category
I am pleased to tell you that  The Tiniest Tiger's Conservation Cub Club is a finalist in the 2012 Petties!
Our are up for Best Blog Post for our Cat Obituary, Farewell Eastern Cougar.  We are honored to be nominated again this year in the Petties. I am proud to be a finalist for our post about the Eastern Cougar's extinction.  I wanted the post to be a voice for our big cat cousins and the trouble they are having surviving in the human dominated landscape.
We have been honored for the past three years, since the first Petties to be nominated for an award. We were a finalist in 2010 for Best Cause Related Blog and in 2011 for Best Cat Blog.  This year we were nominated for Best Facebook Page in the Blogpaws Nose to Nose Awards and now we are a finalist in the Best Blog Post category for the 2012 Petties.
Gracey is the Reigning Susan Lucci of the Pet Blogging Awards.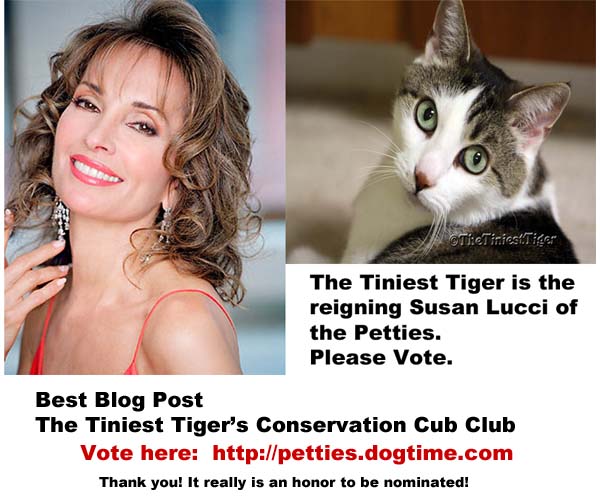 Attention Bloggers!
Su
per Hurrah!
We generated 10,200 Meals for our cousins in need!
When You  Show Your Support by Joining  the  Iams Blogging 4 Bowls Blog Hop
Iams will Donate 100 Meals!
Iams Home 4 The Holidays Kicks Off Its' 13th Annual Pet Adoption And Bags 4 Bowls Program
Iams Home 4 the Holidays, one of the world's largest pet adoption programs, kicks off its annual adoption drive today in partnership with Helen Woodward Animal Center, with the goal of finding homes for 1.5 million orphaned pets.  Now in its 13th year, the program, which runs from October 1, 2011 through January 3, 2012, has helped 5.8 million pets find loving homes all around the world.
Iams and Helen Woodward Animal Center are teaming up again this year with more than 3,500 animal organizations worldwide to encourage pet adoption.  In addition, Iams will also donate 5 million meals to animals in need at adoption and rescue centers through its Bags 4 Bowls program.
While finding loving homes for orphaned pets is critical and the core of the program, the campaign is also designed to provide shelters and rescue centers with much needed food donations. With the help of consumers, the Iams Bags 4 Bowls program aims to donate 5 million meals to animals housed in participating organizations.