You and Your Cat in the next Iams National Advertisement
Starting today, Valentine's Day, Iams will be on the hunt for real stories from people that share their lives with a cat and or a dog. The folks at Iams want to learn about the unique bond  you share with your cat.   And, this is super exciting,  the winning family will star in Iams next national advertisement!
I told you it was super exciting!
Keep Love Strong Advertising Campaign
The  Keep Love Strong advertising campaign that began last  November  features heart-warming ads inspired by real stories. The campaign has been so well received that Iams created  this contest to find the very best Love Tails about the special connections people share with their animals.  These commercials really show the deep connection and the importance of the human animal bond.  I like them all but this is one of my favorites.
This is one of my favorites:
Here is all you have to do to enter:
Ann Curry sparks 26 Acts of Kindness Movement
Ann Curry, NBC News correspondent asked herself, after the tragic massacre at Sandy Hook Elementary School, what
she could do. And she thought performing 26 acts of kindness, one act for each child and teacher who lost their life that day, would be a small gesture to honor the victims.
Ann then invited everyone to join her by sharing the idea on social media. Within a few days  the hashtag "#26acts" was trending on Twitter and a "26 Acts of Kindness" Facebook page began to grow. People began to tweet Curry with photos and descriptions of their acts of kindness such as paying for parking meters, tolls and leaving larger than usual tips.
Curry wrote on the NBC News website that the movement is a way to "help heal us all."
Daily Kibble's 26 Acts of Kindness Contest
5th Annual National Children's Pet Poetry Contest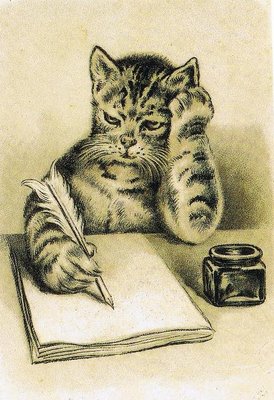 Ksenia – Grade: 8 – Eighth Grade – Brooklyn, NY
Those furry paws
And friendly face
Are one in a million
That meow he does
When he wants food
Those eyes he gives
So kind and sweet
When I look at him
My heart beats faster
When he sleeps near me
He warms me up
He greets me from school
He is my cat
And no one can replace that
This poem is just one of the many wonderful poems created by children for the Pets Add Life 5th Annual Children's Poetry Contest.  The Pets Add Life (PAL) campaign is designed to demonstrate the joys and benefits of pet ownership, thus driving increased adoption of pets and responsible ownership of pets. PAL is produced by the American Pet Products Association (APPA).  The Pets Add Life Children's Poetry Contest helps to inspire the next generation to express their love and appreciation as pet lovers.
December 4 is  International Cheetah Day
Khayam was the inspiration for today.
The Cheetah Conservation Fund (CCF) has declared December 4 to be International Cheetah Day.  The cheetah is not just the fastest, but the oldest of the big cats having survived over 3 million years of glaciations and warming cycles, and even its own genetic bottleneck. But with habitat destruction and conflict with humans, the cheetah could become extinct in less than 20 years.
In 1977, Dr. Laurie Marker  traveled to Namibia with a female cheetah named Khayam. Dr. Marker wanted to see if it was possible for a cheetah that had lived their entire life in captivity to be released into the wild. But when Dr. Marker and Khayam arrived in Namibia, she learned  the cheetahs needs were quite different from what the wildlife community had assumed.
Cheetahs were considered vermin, pests that should be shot on sight.  The Namibian farmers worried about their small livestock herds, thought of the cheetah as a threat to their own livelihood. Dr. Marker  soon realized that if the cheetah was to survive in Namibia, a solution must be found to enable the farmers and the cheetah to live side-by-side, allowing both to thrive. Shortly after the assessment of the cheetahs' needs, Dr. Marker also realized there was no group working to find a solution to help the farmers that would in turn save the cheetah.
The Cheetah Conservation Fund
This past summer we had the honor of being able to speak with Dr. Marker as part of our course work in Namibia. When we were sitting in a meeting room at CCF,  talking with Dr. Marker she explained that she realized "There is no "they" and if you want something done you have to do it yourself."
Cat and Human Friendly Spaces
I am willing to bet that your home is like ours. I bet your little ones influence the items you choose for your living space.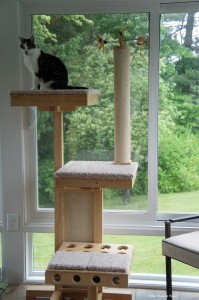 Sometimes Paul and I wonder how a little seven pound cat took over our home, but the truth is, we adore Gracey, as you might have already guessed. If we are not vigilant, Gracey's items begin to take over our living space.
When we moved a few years ago,  we made sure that our new space would be cat friendly. This took some planning and we endured some interesting looks from the contractors. We were even told that he wanted to be the cat that lived in our home. You will find helpful suggestions for moving to and exploring a new neighborhood with your pet, whether you are living, looking or moving, Apartment Guide will point you in the right direction.
Thankfully there are many great choices in furnishing to keep both your cat and you happy and living in style. We chose the Cat Power Tower for added vertical space for Gracey to climb and play without sacrificing  style. If you are in need of more help, the folks at Apartment Guide also have lots of tips for bringing a new pet into your apartment and helping them adjust to your home. And if you are looking of a new space to move with your pet, Apartment Guide has the photos, floor plans, features and tips to help you search for the perfect pet-friendly apartment community.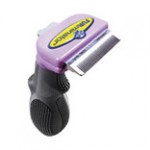 Today is National Hairball Awareness Day!
The

FURminator

and Romeo the Cat are  here to help us Cats say
Hasta la vista to Hairballs!
Many of you know that I am not fond of being brushed.  I know, I know, you have told me now Gracey, my kitty just loves being brushed and that they will just let you brush and brush and brush.  Well until my mom started using the FURminator Short Hair Small Cat deShedding Tool, I rated brushing right up there with ear cleaning and nail trimming. ~shiver~
Then our Friend Romeo the Cat suggested that we try  the FURminator. When it arrived at our habitat , I knew it was for me as soon as it came out of the box because it was a pretty pink color and my mom said oh, Gracey look what came in the mail like I should be excited too. But then the strangest thing happened. My mom started brushing me and it actually felt good.  Honest it did. I even stretched out long so that she could brush me all down my sides.
Even though I am a domestic short hair, you should have seen the fur coming off of me.  And the more that came off the better I started to feel too.  I even let my mom brush my chest and belly! Romeo was right about the FURminator and he has a lot more fur than me so he knows what he is talking about!
Congratulations to Fiona, our winner of The Tiniest Tiger Logo Canvas Bag!  Super Hurrah!  Thank you to everyone that participated in Petfinder's Adopt the Internet Day!
March 15  is Petfinder's Adopt the Internet Day! So today a whole clowder of cat bloggers are going to join paws with stories about pet adoption and happy endings. And as if that isn't super exciting enough, you can participate too of course!  We want to get the message out to Adopt a Pet!!
Friends, this is super spooky!  Your parents can enter your photo in a Halloween costume in the "Scare Your Way into a PetSmart Commercial"
Ok, now I know it sounds horrible  to me too, but listen.  If you can just tolerate wearing a costume long enough for your photo to be snapped, I promise the costume will come off and your ears and whiskers will be able to move freely again.  It might be worth it and here is why.
You can win a PetSmart Gift Card!!   There is a weekly $500 PetSmart gift card giveaway for the photo with the most votes and one daily, random $50 PetSmart gift card prize.   That is a lot of new toys and treats!  So is it worth wearing a costume for a few minutes to win great toys and treats?  I think so!
I wouldn't ask you do something that I wouldn't do so I, Gracey, The Tiniest Tiger am going to show you my Halloween Costume Photo.
Now don't pay any attention to the look on my face, but just know that it is really not that bad. The details are in the flyer I have posted for you at the top of this page.
Go to the PetSmart Facebook page.  "Like" the page.  Click on Contest. to get started.
When you get your link to your entry come back here to our page and post in in the comments below this post.  I will then enter your links into The Tiniest Tiger's PetSmart War Room on our Facebook Page.  That way we will all be able to vote for you so that will increase your chances to win!   What do you think?    Are you ready?
Let's not let this contest go to the dogs!
Here is the link to my PetSmart Entry.  I am #292
and here is Tinkerbell's PetSmart Entry #9944
and here is the link to Mylo #5883