Posts Tagged 'global Pet Expo'
Cat Parents! Restore the Air You Breathe with CritterZone Air Purifier
Cat Parents, once in nine lives a product comes along that just blows your whiskers back and that product is the
CritterZone Air Purifier.
This compact, filterless, chemical free air purifier is a must have for cat parents.  We met William Converse, the president and inventor of the CritterZone Air Purifier recently at
Global Pet Expo
in Orlando.  William has mad skills when it come to air purification from his 30 years in the industry and he deserves top predator status for the Critterzone.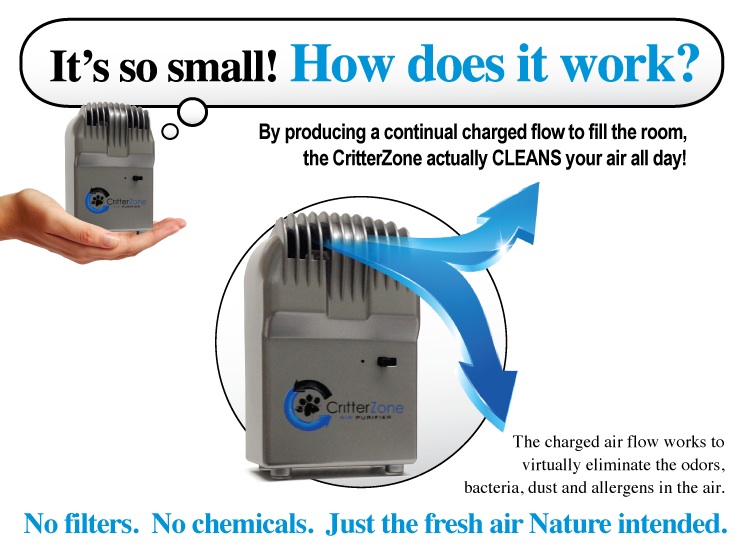 Small but Powerful
Fling-ama-String is Fun!!!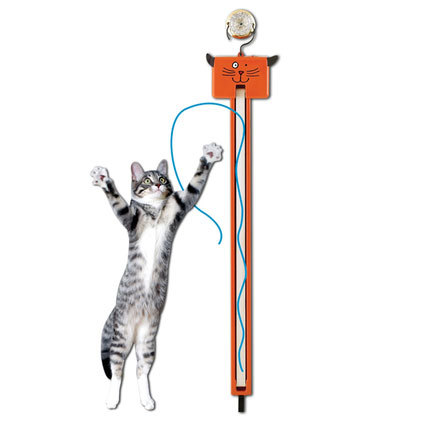 Fling-ama-String is  super fun.  This is one of my favorite toys since my  days as a kitten.  This Fling-ama-String hangs on any standard door knob, is battery operated  and when is turned on  is an automated string-flinging machine.
One end of a long silky brightly colored cord is attached to a white, flat, elastic "conveyer belt" which is constantly rotating. The cord flings in and out for  non-stop pouncing action.  Cats can nip, paw, pounce, and ultimately stop the string, but as soon as they let go, the string automatically starts to rotate again and again and again! It's like having a personal trainer for your cat. The fling-ama-string has 2 speeds for fast or slow flinging.
There is no assembly required so don't worry if your parents aren't engineers. The toy just takes 3 AA batteries (not included).
Award Winning Cat Toy!
Best New Cat Product (Global Pet Expo)
Editor's Choice Award (Cat Fancy)
Product Excellence Award (Pet Age)
Best in Show Award (Global Pet Expo).
Fling-ama-String Giveaway sponsored by the ASPCA
Just in time for the holidays when we cat might get extra treats, and need to increase our exercise, our friends at the ASPCA  generously gave me  5 Fling-ama-Strings to giveaway to members of The Tiniest Tiger community!
At Global Pet Expo, amid the myriad of leashes, collars, food and treats, I started to get into a bit of a trade show fog. Aisle after aisle of  beautiful and alluring pet products were on display and even with the best of intentions, I found myself on sensory overload. Then I walked by  SignatureDNA Unleashed and was mesmerized by the portrait of a beautiful gray Abyssinian cat.
The goal of Signature DNA Unleashed is to bring out the singular, vivid personality of every pet. Our artists serve that uniqueness in everything they do.
Cat's Unique Traits are both Visible and Invisible
As a cat living with feline diabetes , my least favorite thing is the dreaded cat blood glucose test. Most days I am  just not thrilled at all and then there are those days when I am just steaming mad, like in the photo below, and I hiss, and throw a fit when my mom tries to prick my ear to get the reading.  So when we met Sylvana, the creator of the illumavein at the Global Pet Expo , I was  rendered Meow-less that she invented something so ingenious  for cats living with diabetes. Now Cat blood glucose testing is easier with illumavein!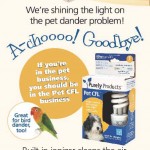 Congratulations to Janet Vandenabeele the winner of the Pet CFL
"Change a lightbulb Change a life"
Are  you  or  a member of your family allergic to your cat? Do you have other allergies, asthma, or pet dander issues? Well, Purely Products new Pet CFL Air Purifier in a Lightbulb Controls Pet Dander and Odor!  We were super excited to learn about this new Pet CFL at the Global Pet Expo.  It was one of our favorite products at the show.
Spring is here and after a long and cold winter, we are all super happy to see daffodils popping up through the ground, but for many people along with spring flowers come spring allergies! Some of our friends not only suffer from spring allergies, but have allergies all year long, asthma and are allergic to pet dander. Did you know that about 15% of the population is allergic to dogs or cats? And approximately 1/3 of the people who are allergic to cats live with at least one anyway!