Posts Tagged 'Imperial Cat'
Imperial Cat M.A.X. Club Chair and  Scratching Ottoman is Super Stylish!
Last month I shared with you the brand new cat  club chair and scratching ottoman from Imperial Cat that I thought you would  love as much as I do.   The new Club  Chair and Scratching Ottoman for cats is super stylish and I was so excited that I placed in on my wish list.  The nice people at Imperial Cat saw my wish and sent me my very own chair and ottoman with a sleek cheetah print. And now just in time for Thanksgiving, they are offering a chair and ottoman to one of the members of our The Tiniest Tiger community.
Cats will give thanks for their own club chair
Thanksgiving is coming soon and we cats know what this means.  In addition to family, friends and feasting, it means that
our habitats will be invaded and our space will be taken over by loved ones.  And some might even stay well into our nap time and perhaps even force us to change our schedules.  I know, I understand how upsetting a change in routine can be for felines, but just in time to prevent the invasion of the chair snatchers, Imperial Cat is providing us with our very own cat sized chair and ottoman.
Mine arrived a few weeks ago and I have to tell you that I just love it.  The chair is super comfortable and when I get the urge to scratch I just cut loose and give the ottoman the works.  Another benefit is that  you will not have to fight with any friends or family members for your seat.  This chair will always be reserved with your name on it. When your chair arrives, simply direct your parents to place your chair in a strategic location where you can see but not be in the center of the commotion.
If you can't wait to see if you win, you can purchase your very own Imperial Cat Chair from their Cat Claws Catalog.
How to Enter the Giveaway
There are many  ways to enter in the Rafflecopter below. Choose as many or as few entry methods that suit you. This giveaway is open to US mailing addresses only. The giveaway ends at 12:01am ET on November 17, 2012.  Best of luck to you.
Cats are Naturally Stylish!
I wanted to share with you a brand new item from Imperial Cat I think you will love as much as I do.  In fact, I am placing it on my wish list for the upcoming holidays. The new Chair and Ottoman for cats is super stylish and your cat will love it because we cats are naturally stylish.
The Perfect Chair and Ottoman for your Cat!
The  #RedCarpetCat Twitter Party is coming soon!
Event Barkers is hosting the party that takes place on Feb. 22 from 5:30-7pm Pacific time. We are super excited that Event Barkers is going to be keeping the party fun and moving because I might get distracted by the flash of the paparazzi while reporting to you live from the red carpet in Hollywood!!
I  will be attending the Secret Room Event  alongside Jackson Galaxy.  We will be tweeting live from the event as we meet and mingle with the stars.  YOU will have the chance to tweet with Jackson Galaxy, star of Animal Planet's "My Cat From Hell"  and  you never know who else might turn up to surprise all of us.
And to make it even more fun, you can win some of the $2800+ in prizes!
Event Barkers wants me to remind you to  make sure  you have RSVPd for this special event. It only takes a moment; just go to the RSVP post and add your Twitter handle. Event Barkers will be using that list to contact winners so you need to make sure you're on the list! (Hey, all good Hollywood parties have the list so here's your chance to be on one!)
We  put together  some great prizes that #RedCarpetCat partiers will be winning! In fact, to keep you rockin' we will be giving away a prize every 1o minutes!  Super Hurrah!
Taking center stage will be The Tiniest Tiger Hipster bag!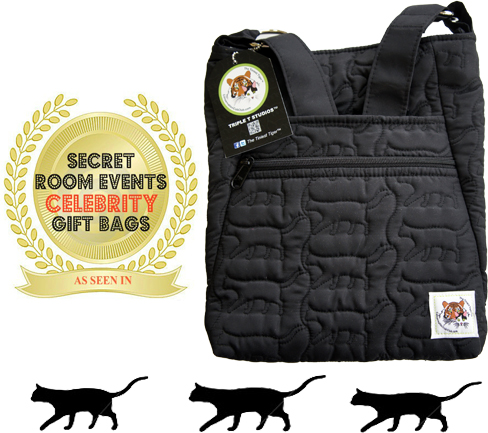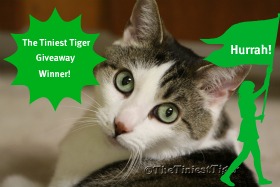 Super Hurrah and Congratulations to Barbara McIntosh the Winner of the Imperial Cat Hearts and Stripes Chaise Scratcher. Thank you everyone for participating and for being members of The Tiniest Tiger community.
I Would be "Lion" if I said I didn't
want you to be my Valentine!
I hope you want me to be your Valentine too!
Happy Valentine's Day!
xoxo  Gracey, The Tiniest Tiger
In honor of Valentines day and of both Lions and Lyin' Around,  I thought an Imperial Cat chaise lounge would be a perfect giveaway.
The Imperial Cat M.A.X. Hearts & Stripes Chaise Scratcher Giveaway!
Super Hurrah for Kenna and PatsyAnne! They are our two winners of the Scratch'n Shapes for them and their shelter!
Imperial Cat  wanted to help me spread some holiday cheer!
So they are offering one of their unique and wonderful  
Scratch'n Shapes
as a giveaway to one of  our Friends!  Super Hurrah!!  I love my  Imperial Cat Scratch'n Shape
Orca and that is why I included it in my
Gracey's Gift Guide
.  I scratch and scratch and scratch on my Scratch'n Shape Orca and  it feels really good on my claws. My parents are happy too because I  scratch the  Orca Scratch 'n Shapes and not the sofa.
And just in time for the holidays Imperial Cat added new designs that will add cheer to your house that both human and  cats will enjoy. The latest holiday themed Scratch 'n Shapes patterns include snowflakes, festive Christmas trees and plenty of red and green seasonal designs.