The Overview Effect
When I was young, I imagined Africa as a far off land, with endless savannas and wilderness areas that rivaled outer space.  I  remember lying on the floor in front of the television watching Wild Kingdom,  our window on the world, as we traveled vicariously with Marlin Perkins to the far reaches of the world for exciting interactions with exotic animals in their natural habitats.
A lot has changed since those childhood days of packing a lunch with a friend and telling our parents we were setting out to seek  the source of  the creek that ran through the property surrounding our neighborhood.   This creek seemed endless to us as we walked and talked and used our imagination to pretend we were on safari looking for wildlife.
Our World is Getting Smaller
Now,  I realize how small this creek is and often times, I might even drive by  where we used to play  not giving the water rippling over the stones a second thought. And just as I thought Africa was a mysterious land of abundant space for all animals to live and thrive, we know  this is not the case. Africa's wilderness is being squeezed as elephants, lions, rhino and wildebeest all compete with humans for habitat and resources.
Today, our world even seems a lot smaller than it did when I was younger.  We can visit Africa and watch wildlife right from our homes via Africam and other online sources.  There are television programs on 24 hours, 7 days per week allowing us to see the  day to day life of people and animals on the other side of the globe.  And when you see Africa from the air, you can see the shrinking wild areas and the urban sprawl creeping out into the once wild and open spaces where earth's animals once lived  in abundance and with minimal human conflict.
by Joanne McGonagle
Richard Turere's "Lion Lights" Save Lives
Richard Turere is a young Maasai boy of 13, whose family lives  on the edge of Nairobi National Park, in Kenya. As is common among the
Maasai, Richard took over the responsibility for herding and safeguarding his family's livestock when he was only 9 years old.  One of the threats to his family's cattle, sheep and goats is the presence of African lions when they wander out of Nairobi National Park following the path of zebra and other prey animals searching for savannah grasses.
Richard grew up hating lions because at night, lions would sneak in and kill the family's livestock while the boy was sleeping.  Determined to protect the families valuable livestock, Richard knew he had to think of a way to help him protect his animals from lion attacks.
Richard first built a fire, but realized even though the lions are afraid of fire, they were not afraid to go around the fire and snatch up a meal and in fact their path was made easier by the light of the fire.  Richard then tried to place a scarecrow to fool the lions into thinking that he was guarding his cattle, but this only worked for one night. Richard said, the lions are very clever, so when they returned the second night, they must have realized this scarecrow is not moving and so were no longer intimidated.
9 Things I Love About Gracey
I am a cat parent!  This month Petfinder launched a campaign to help break down the stereotypes about cats and the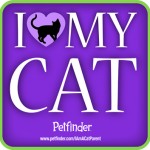 people who love them.  Even though cats outnumber dogs in the United States, feline family members are often thought of as second-class pets.  Many people still believe that cats are aloof, not able to be trained and of all things….unlovable!
I say anyone that thinks this about a cat has never shared their home with  a cat.  Our Gracey and Mercy are members of our family and we are fortunate to get to share our lives with them.  I wanted to take a moment to tell you just 9 things I love about Gracey.  Of course, there are many many more, but I thought I would start with these.
One)

Gracey's Happy Face Greeting Me at the Door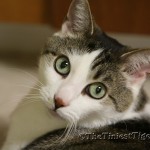 Even on the most trying of days, when my key hits the door and I see our little girl running to greet me with her tail straight up with a curl, all the day's troubles just melt away and I feel  warm and happy seeing  her sweet face.
Two)

Chatting About Her Day

First thing I do when I get inside the house is say hello to Gracey and ask her about her day and she usually has a lot to say.  Gracey is a talkative cat and I think she is telling me what happened while Paul and I were out leaving her in charge of the house.  I love to hear her tales of the day while we walk together into the kitchen.
Say Goodbye to New Year's Resolutions!
We wrote this article at the end of 2011 but  think it is worth changing the date and re-posting. We hope you do too.
Happy New Year, Gracey and Joanne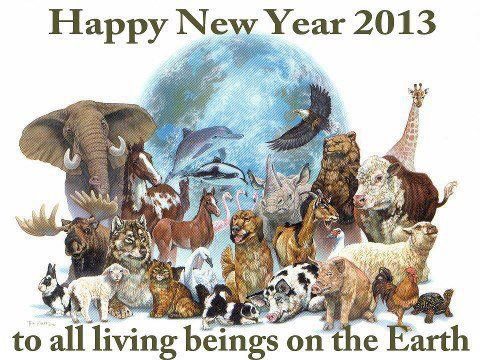 Goodbye 2012!
As we say goodbye to 2012, why not also say goodbye to making New Year's Resolutions for 2013? Let's face it, if you are one of the overwhelming majority of humans, and statistically speaking, you more than likely are, you won't stick to the resolution anyway and this deviation from the plan can lead you down a path of self-destruction!
Gracey's Kitten Photo
Gracey Came Into Our Lives One Cold December Day
Gracey, The Tiniest Tiger
came into our lives without warning one cold December day.  While  looking for a friend's  dog who had gone missing, we decided to check  the local pound. We were not expecting to find a tiny kitten shivering on the cold cement floor  nor were we prepared for the big bright green eyes that pleaded with us "please take me home, I promise to be good."  Without reservation, I scooped her up and tucked her under my coat.
Snare Removal Saves Cats Lives.
Wild big cats are losing their lives to a silent killer. A plain wire snare made of barbed wire, tension cables or even bicycle brake wire, can cost less than one dollar to assemble, but they are silently killing big cats and other wildlife.  The victims of snares are quite often tigers, lions and leopards but it is not only the big cats that are being caught in the dreadful snares. Zebra, antelope, gazelle and all wildlife fall prey to the wire snares that are so widespread throughout Africa and Asia that entire wild populations have been wiped out, leaving humans and cats with nothing to eat.
Last summer I spent some time with the African Conservation Center Game Scouts near Amboseli National Park in  the Rift Valley Province of Kenya.  Here the ecosystem is mainly savannah grassland that spreads across the Kenya-Tanzania border.
After reading about the ACC Scouts and trying to imagine what a typical day must be like for them, the experience of walking along side them  felt surreal.  Yet there I was boots on the ground ready to search.  After a brief introduction and a reminder to remain vigilant in the open bush  we began to survey the area.
Searching for snares with the African Conservation Center Scouts
A rare big cat was sighted by Guy Combes, a British Wildlife photographer after he had heard about several reported sightings of a lesser-spotted cheetah in the Kenyan plains. After looking high from an airplane and low from a Land Rover, Combes gave up trying and went back to Nairobi. After receiving a call that the unique cheetah had been seen, he decided to try again.
This time Combes came within fifty yards of the incredibly rare spotless adult cheetah with its spotted mother. Experts say the last recorded sighting of a cheetah with a plain tawny coat with freckles but no spots was in 1921, nearly one hundred years ago.
Even though Kenya's Masai Mara is a protected area, it doesn't mean that our big cat cousins don't get into trouble. Recently a young lion cub got himself into a life threatening predicament when he slipped over the edge  and  was clinging for survival on a cliff wall above a ravine.  The cub's mother's love and determination to save him was captured by photographer Jean-Francois Lagrot.
The lion cub hangs on for dear life on the side of a cliff while his mother contemplates how to rescue her son.
Friends, I have something very serious to talk about with you. It is the water crisis in Kenya.
Imagine being super thirsty. Then imagine that you can't just go to the faucet, the fountain or reach for a bottle of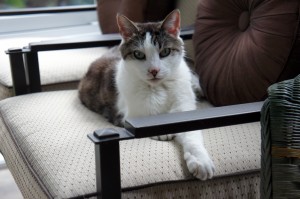 water. Imagine that you are tired and feeling desperate because there is no water for you and that you might have to walk for hours and even a couple of days to reach a water source.  Imagine you have small children dependent upon you in this desert, with no food or water and you have to walk for days in search of relief.
Take a moment and try to Imagine
There is a water crisis in the Horn of Africa.
Right now an estimated 10.7 million people in Ethiopia, Somalia and Kenya are trying to survive the worst drought in 60 years.  Families are forced to walk as long as 30 days to find food and water. Herds of livestock, the primary livelihood  for many of these families, have perished in the drought.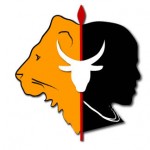 I wanted to take a moment to tell you about the Lion Guardian Project that we learned about while we were in Kenya.
Our big cat cousins, the African lions, are struggling for survival. This is hard to imagine when just 50 years ago, more than 450,000 lions roared across the African continent. The lion, an iconic symbol of wild Africa,  has disappeared from over 80% of their historic range.  Today with only 3500-5000 wild African male lions  remaining the Lion Guardians might be one of the lion's best hopes for survival.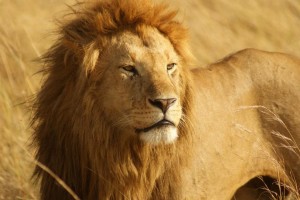 The Lion Guardians project  was started in 2006 in collaboration with local communities and the Maasailand Preservation Trust in response to the killing of over 200 lions in the Amboseli-Tsavo ecosystems since 2001. Lion Guardians across the ecosystem play a vital role in the monitoring of carnivores. They conduct weekly spoor surveys for density of predators and their prey, monitor lions in their areas using GPS units and telemetry receivers, and assist in lion hair and scat collection for DNA analysis. Each Lion Guardian uses a cell phone to report sightings of lions or any illegal activity.