Walkin' in a Kitty Wonderland Photo Winners!
Our friends at Purina and Petco offered  some great holiday decorating tips for you in their latest edition of Purina Purr.  I was super curious how you and your cat decorate for the holidays and asked you to share with me photos of your cat and any special holiday decorating you do with your feline friends in mind.  I want to thank all of you that sent in super cute images of  your cats.  There were so many to choose from that we allowed independent judges to choose the winners.
Miranda's Missy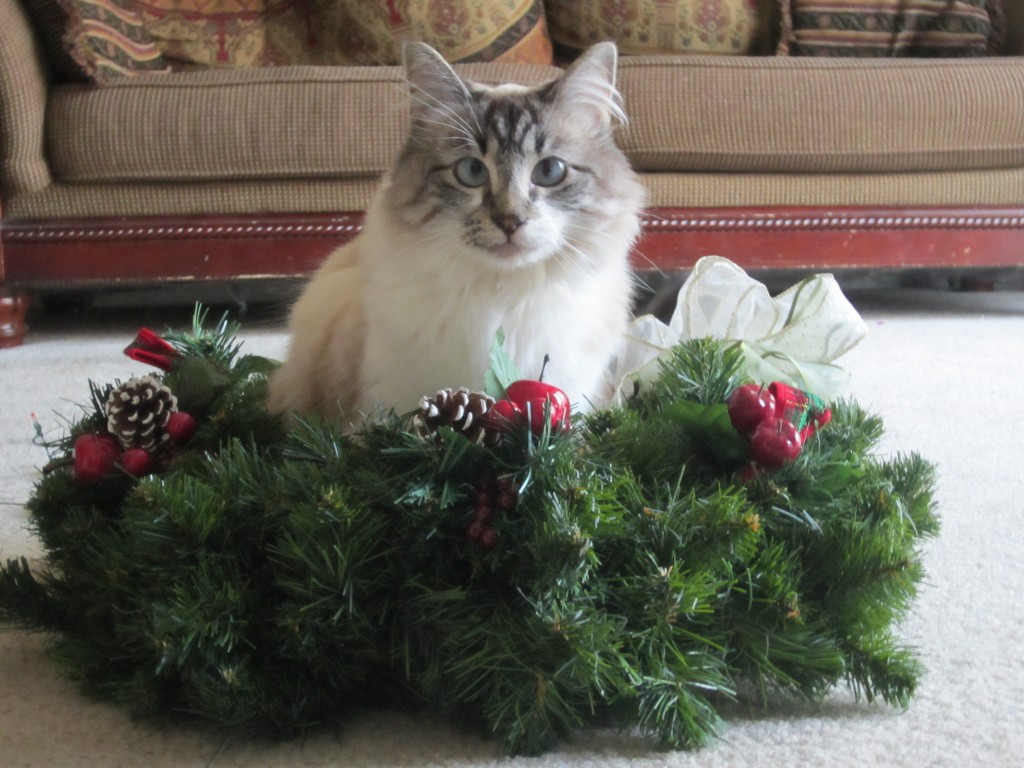 Super cute Missy is the center of attention in the middle of this wreath!
Gracey's Kitten Photo
Gracey Came Into Our Lives One Cold December Day
Gracey, The Tiniest Tiger
came into our lives without warning one cold December day.  While  looking for a friend's  dog who had gone missing, we decided to check  the local pound. We were not expecting to find a tiny kitten shivering on the cold cement floor  nor were we prepared for the big bright green eyes that pleaded with us "please take me home, I promise to be good."  Without reservation, I scooped her up and tucked her under my coat.
Boots Adoption Story
Thank you to Helen Woodward Animal Center for sharing this wonderful story of pet adoption from their Most Heartwarming Story Contest . Boot's story was submitted by The Society to Protect Animals, an Iams Home 4 the Holidays participating organization, in 2007.
Happiness for a Blind Kitten