9 Things I Love About Gracey
I am a cat parent!  This month Petfinder launched a campaign to help break down the stereotypes about cats and the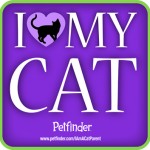 people who love them.  Even though cats outnumber dogs in the United States, feline family members are often thought of as second-class pets.  Many people still believe that cats are aloof, not able to be trained and of all things….unlovable!
I say anyone that thinks this about a cat has never shared their home with  a cat.  Our Gracey and Mercy are members of our family and we are fortunate to get to share our lives with them.  I wanted to take a moment to tell you just 9 things I love about Gracey.  Of course, there are many many more, but I thought I would start with these.
One)

Gracey's Happy Face Greeting Me at the Door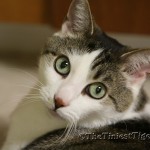 Even on the most trying of days, when my key hits the door and I see our little girl running to greet me with her tail straight up with a curl, all the day's troubles just melt away and I feel  warm and happy seeing  her sweet face.
Two)

Chatting About Her Day

First thing I do when I get inside the house is say hello to Gracey and ask her about her day and she usually has a lot to say.  Gracey is a talkative cat and I think she is telling me what happened while Paul and I were out leaving her in charge of the house.  I love to hear her tales of the day while we walk together into the kitchen.
Welcome to The Tiniest Tiger's Conservation Cub Club!
Super Hurrah for Mary!  The winner of The Tiniest Tiger Hipster!  Don't wander far, we will be hosting other exciting giveaways soon.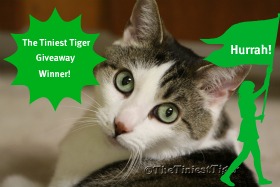 The Tiniest Tiger's Conservation Cub Club where small paws are uniting to make a big difference!

Master of Zoology Graduation Celebration
It was with mixed emotions that we celebrated our graduation from the Master of Zoology program at Miami University.  Even though my mom and I spent many many hours in the office reading, thinking and writing, what we were learning was so super interesting  it seems the time just flew by.
Into the Field
We had the opportunity to travel to the  Baja peninsula to live in the dessert at Rancho San Gregorio and swim in the Sea of Cortez.  We visited elephants in Amboseli National Park in the Rift Valley Province of Kenya, dismantled snares with the African Conservation Center Game Scouts, learned to track lions, walked with baboons and lived with the Maasai in Olkiramatian.
Burning Bushes to Restore Habitat Land and Save Cheetahs.
Most of us know our big cat cousins are struggling to survive in in the wild. You might even know that loss of habitat, human-wildlife conflict, loss of prey and poaching are among the biggest reasons the big cats are fighting for their lives. But did you know the loss of habitat is not just due to the increasing  human population but due to another invasive species, the thorn-bush.
The acacia thorn bush overgrowth has claimed thousands of acres of savannah in Namibia where the largest number of wild cheetahs still live.  Overgrazing, drought, extirpation of elephants are a few of the reasons for the bush encroachment.  As the bush thickens and the sharp thorns of the acacia entwine to form a barrier, not only is the cheetah at risk but so are the prey species that thrive on the savannah.
December 4 is  International Cheetah Day
Khayam was the inspiration for today.
The Cheetah Conservation Fund (CCF) has declared December 4 to be International Cheetah Day.  The cheetah is not just the fastest, but the oldest of the big cats having survived over 3 million years of glaciations and warming cycles, and even its own genetic bottleneck. But with habitat destruction and conflict with humans, the cheetah could become extinct in less than 20 years.
In 1977, Dr. Laurie Marker  traveled to Namibia with a female cheetah named Khayam. Dr. Marker wanted to see if it was possible for a cheetah that had lived their entire life in captivity to be released into the wild. But when Dr. Marker and Khayam arrived in Namibia, she learned  the cheetahs needs were quite different from what the wildlife community had assumed.
Cheetahs were considered vermin, pests that should be shot on sight.  The Namibian farmers worried about their small livestock herds, thought of the cheetah as a threat to their own livelihood. Dr. Marker  soon realized that if the cheetah was to survive in Namibia, a solution must be found to enable the farmers and the cheetah to live side-by-side, allowing both to thrive. Shortly after the assessment of the cheetahs' needs, Dr. Marker also realized there was no group working to find a solution to help the farmers that would in turn save the cheetah.
The Cheetah Conservation Fund
This past summer we had the honor of being able to speak with Dr. Marker as part of our course work in Namibia. When we were sitting in a meeting room at CCF,  talking with Dr. Marker she explained that she realized "There is no "they" and if you want something done you have to do it yourself."
Gracey's Kitten Photo
Gracey Came Into Our Lives One Cold December Day
Gracey, The Tiniest Tiger
came into our lives without warning one cold December day.  While  looking for a friend's  dog who had gone missing, we decided to check  the local pound. We were not expecting to find a tiny kitten shivering on the cold cement floor  nor were we prepared for the big bright green eyes that pleaded with us "please take me home, I promise to be good."  Without reservation, I scooped her up and tucked her under my coat.
We are truly honored.
We are truly honored to have won The Petties 2012 Best Blog Post Award.  We were thrilled to be finalists and when we
learned of  the other finalists in our category, all super talented wonderful friends and fellow cat writers, we knew we would be thrilled no matter who won, because  Dogtime Media makes a generous donation to a non-profit shelter and we knew that our cousins in need would be getting some much needed help.
Just a couple days after we returned home from the Cheetah Conservation Fund in Namibia, we received and email from The Petties, asking us:
What makes the post that you're nominated for so important?
Having just spent time learning more about the plight of the wild cheetah, as well as leopards and lions, the article that was nominated meant even more to us, and this was the answer that we sent back to The Petties.
Loss and fragmentation of habitat and depletion of prey are leading to rapidly declining populations of wildlife and in particular predators.   Ecosystems need predators to remain healthy, yet humans continue to persecute and eliminate them from our world.   "Cat Obituary Farewell Eastern Cougar"  is about the heartbreak of extinction  and a reminder to care for all animals big and small.
If you would like to read our article here is the link:  Cat Obituary Farewell Eastern Cougar.
Congratulations and Super Hurrah to Amy D, the winner of the Gracey Accessories Bundle!