It was a long cold winter here at my habitat.  Long gray days, cold temperatures and snow, snow, snow.  Spring arrived late even though the calendar clearly stated that the Spring Equinox was on Wednesday, March 20.  In fact, Spring was so tardy in our area that our poor friend Punxsutawny Phil was at risk to be sued for his false prediction
that Spring would arrive six weeks after he saw his shadow. An Ohio prosecutor suffering from cabin fever  filed a  criminal indictment against the famous Pennsylvania groundhog over his "prediction" of an early spring but dropped the charge admitting that Punxsutawney Phil had a "defense with teeth in it" .
Winter gets tiresome for me too at my habitat, because my dad is overprotective of the sun room during the off season.  He is so protective he locks up the doors and refuses to let me out when the temperature dips too far below freezing.  This is super upsetting because  the sun room, is not only MY room, but it is my favorite room in my house.
This is where I spend time with Lazy Leopard and we visit with Bossy Backyard Blue Jay, the Maple Tree  Squirrel, and many other wild friends.  Sometimes I sit in front of the closed sun room doors and try with all my might to get my dad to open the doors.  My dad is super stubborn though, he really is.  Once he gets it in his head that it is too cold for me to be out in the sun room, there is nothing I can do.
Sometimes, when my mom and I are home alone, I get to sneak out into the sun room and nap in my heated thinking circle until my dad comes home and catches us in the act!
Which Frog Has the Luck of the Irish?
It has been a long, cold and snowy winter here in Ohio. Last night though if we listened super close we could hear the sweet sound of the Spring peepers. If you live in the central and eastern parts of Canada and the United States, you know that this frog chorus means spring is just around the corner. These tiny little amphibians are rarely seen. They hang out in wooded areas and grassy lowlands near swamps or ponds. They have excellent camouflage as  they are tan or brown in color with dark lines that form an X on their backs. They are nocturnal, hiding from their predators during the day but come out at night to dine on beetles, ants, flies and spiders.In the middle of March, the nighttime chorus swells from the male Spring Peepers looking for a mate and for the rest of us it means that winter is over.
Which Frog is the $50 Frog?
So now that Spring is ready to pounce on us, Lazy Leopard and I thought we would have some fun with our  Can You Find the $50 Frog contest.  One of these super cute little frogs is hiding a bit of green for one lucky member of The Tiniest Tiger community.
Here is all you have to do
St. Rose Catholic School's Pennies for Pets Project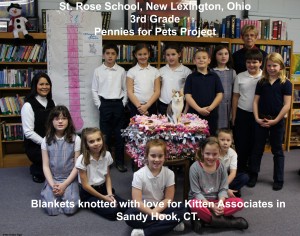 In early December the students in Mrs. Lucas's 3rd Grade at St. Rose Catholic School began the Pennies for Pets Project inspired by me, Gracey The Tiniest Tiger. The children wanted to do something for members of our community that share their lives with cats and dogs.  Mrs. Medaugh, the school's librarian sings in the choir with my mom and when Mrs. Medaugh heard about my idea, she got super excited and  coordinated the entire project with Mrs. Lucas and the children began to collect their pennies.
Blankets Knotted with Love
Tiger cubs romping in the snow are super cute. And these Amur tiger cubs living at the Columbus Zoo & Aquarium are no exception. The cubs are six months old and weigh about ninety pounds and as you can see in the zoo's video, they are happy as can be frolicking together around their habitat.
Amur Tiger Cubs  Snow  Adventure  at  the Columbus Zoo & Aquarium
Watching my young big cat cousins inspired me. While in my heated thinking circle today, I thought perhaps I should feed my inner Amur tiger and venture out to frolic in the snow. After all, it is winter here in Ohio and my backyard is completely covered in white fluffy snow. The neighbor children are all suited up and sledding down the hills and they seem to be enjoying themselves. So I thought, why not brave the cold and pounce around a bit in the snow. So I left the comfort and warmth of my heated thinking circle and I went into the wild.
Yesterday, not too far from my habitat, innocent animals that had been living in deplorable conditions were set free from their cages and their owner was found dead on the farm where he kept these animals. The media began reporting that lions and tigers and bears were on the loose in Muskingum County.  But the truth was that most of these animals were still nearby their habitats. I bet they were frightened and confused.
In total there were 56 animals. 48 were killed right away:  18 tigers, 17 lions, 6 black bears,  3 mountain lions, 2 grizzly bears, 1 baboon and 1 wolf.  While many were criticizing the Sheriff's department for putting the animals down, with only one hour of daylight left, and the possibility of  large carnivores escaping into the night, the Sheriff did the best that he could do. The safety of people in the surrounding area had to come first.
The Columbus Zoo was able to transport  3 leopards, 2 monkeys, and 1 grizzly bear.  For a period of time the news reported that only 1 grizzly bear, 1 mountain lion and 1 monkey were still on the loose but last report in, all the animals have been accounted for; 50 animals dead and 6 being cared for by the capable staff at our Columbus Zoo and Aquarium.