Does Your Cat Need Project Pet Slim Down?
My parents might say a lot of things about me like; I am mischievous, talkative and smart but one thing I am not, is a fat cat.  I am the perfect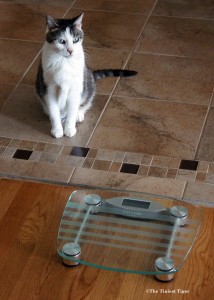 weight for my body type.   There was a time when I was a bit too thin when I was recovering from pancreatitis, but now I am wearing my 7 pounds well.  My brother Mercy, well…. ok.. he is also at a good weight for his body type.  Weighing in at 10.4 lbs. our doctors tell us he is in great shape.  He is just a bigger cat than I am, bigger boned and he really is. He is not just saying he is big boned to try to cover up the fact that he might be a bit chunky from all of those treats my grandma gives him.  But Mercy and I are in the minority of cats in the United States. Did you know that 55% of cats in the United State are overweight or obese?
In fact, it is not just cats, dogs too are overweight too even with all that in and out bathroom business and organized walking they do.  It has gotten so out of control that there is now an Association for Pet Obesity Prevention and the 2011 Pet Obesity Study found that 93 million cats and dogs are considered overweight or obese.
Friends, it is time that we all face the numbers on the scale.
Because we might need a little help getting started Purina teamed up with Target to create Project:Pet Slim Down. Purina created this online program to help your cat and dog lose weight. Cats and dogs at a healthy weight enjoy happier lives and Purina made it a mission to help every pet parent enable their cat and dog to achieve that weight.   Read the rest of this entry »
9 Things I Love About Gracey
I am a cat parent!  This month Petfinder launched a campaign to help break down the stereotypes about cats and the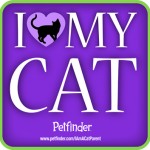 people who love them.  Even though cats outnumber dogs in the United States, feline family members are often thought of as second-class pets.  Many people still believe that cats are aloof, not able to be trained and of all things….unlovable!
I say anyone that thinks this about a cat has never shared their home with  a cat.  Our Gracey and Mercy are members of our family and we are fortunate to get to share our lives with them.  I wanted to take a moment to tell you just 9 things I love about Gracey.  Of course, there are many many more, but I thought I would start with these.
One)

Gracey's Happy Face Greeting Me at the Door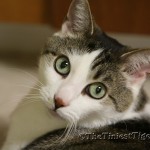 Even on the most trying of days, when my key hits the door and I see our little girl running to greet me with her tail straight up with a curl, all the day's troubles just melt away and I feel  warm and happy seeing  her sweet face.
Two)

Chatting About Her Day

First thing I do when I get inside the house is say hello to Gracey and ask her about her day and she usually has a lot to say.  Gracey is a talkative cat and I think she is telling me what happened while Paul and I were out leaving her in charge of the house.  I love to hear her tales of the day while we walk together into the kitchen.
Friskies releases Happy Wings
Friskies®  breaks the boredom for cats with  the release of "Happy Wings," its newest tablet game for cats available now at www.GamesforCats.com.  Happy Wings entertains cats with a garden full of fluttering fun, including a  hummingbird,  moth and  dragonfly.  The birds, moths and dragonflies fly across the screen attracting your cat's attention. When they capture a few of the creatures by touching them with their paw, the setting changes and the game becomes more difficult with quicker patterns and multiple birds, and bugs appearing on screen.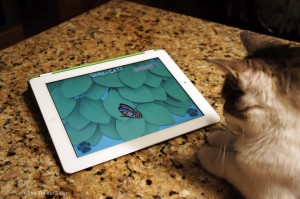 You vs. Cat
St. Rose Catholic School's Pennies for Pets Project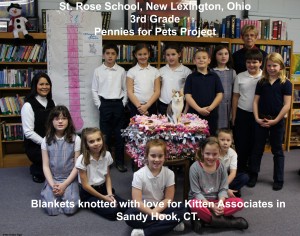 In early December the students in Mrs. Lucas's 3rd Grade at St. Rose Catholic School began the Pennies for Pets Project inspired by me, Gracey The Tiniest Tiger. The children wanted to do something for members of our community that share their lives with cats and dogs.  Mrs. Medaugh, the school's librarian sings in the choir with my mom and when Mrs. Medaugh heard about my idea, she got super excited and  coordinated the entire project with Mrs. Lucas and the children began to collect their pennies.
Blankets Knotted with Love
World's Best Cat Litter New Scented Formula Coming Soon!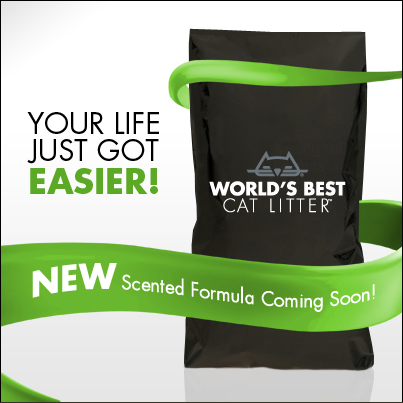 #WorldsBestMysteryLitter
As a member of the World's Best Cat Litter Catcovate Council, I know a secret.  I am trying my best not to tease you but I just can't seem to help myself. After months of research and testing, the newest scented litter is almost ready to make its debut on the market and we have been chosen to test it and review this new scent with you here on our The Tiniest Tiger's Conservation Cub Club!
A Game Show for Cats!
We cats are super smart with minds of our own.  You already know that we won't just play on demand like our canine pals.  So Friskies created a new Game Show for Cats called Will Kitty Play With It? Here is an episode from the show with our cousin Rosie.  She is being put to the test with a  plastic bottlecap ringlet thingy.  What do you think? Will Rosie Play with it?
Let's find out.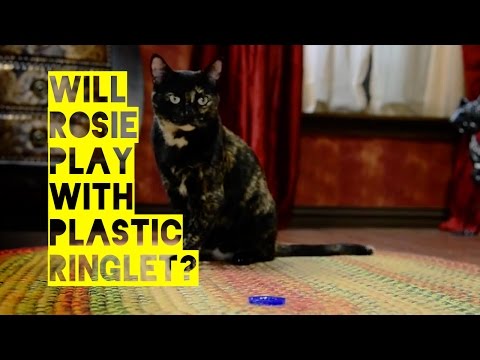 Home Version of the Game Show for Cats
You and Your Cat in the next Iams National Advertisement
Starting today, Valentine's Day, Iams will be on the hunt for real stories from people that share their lives with a cat and or a dog. The folks at Iams want to learn about the unique bond  you share with your cat.   And, this is super exciting,  the winning family will star in Iams next national advertisement!
I told you it was super exciting!
Keep Love Strong Advertising Campaign
The  Keep Love Strong advertising campaign that began last  November  features heart-warming ads inspired by real stories. The campaign has been so well received that Iams created  this contest to find the very best Love Tails about the special connections people share with their animals.  These commercials really show the deep connection and the importance of the human animal bond.  I like them all but this is one of my favorites.
This is one of my favorites:
Here is all you have to do to enter:
Love at First Purr!
You Had Me At Meow! by our good friend and artist Missy Johnson caught my eye and it was love at first purr.  Missy is  the creative force behind Dogs for the Paws; art making a difference for animals. Even though the name is Dogs for the Paws, Missy cares deeply for cats too.  In fact, just like us, she loves all animals.   When I saw her You Had Me at Meow! I  became super excited because I thought you would love it too!
Missy Johnson, Artist and Creator of Dogs for the Paws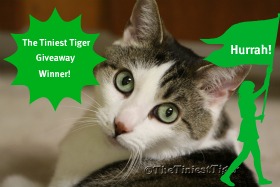 Congratulations and Supper Hurrah to our winners!!!!  We chose using randomizer.org because all the stories are so heartfelt and touching.  Thank you for loving all cats, big and small.
Can a Cat Crash Super Dog Sunday?
The super bowl is this Sunday and this is a great day for snacking and snoozing on the sofa with my dad.  In addition to the football game and the commercials, there is Super Dog Sunday™ hosted by our good friends at Event Barkers.  You know Event Barkers from the super terrific job they do hosting our Red Carpet Cat Events!
Super Dog Sunday™ is an annual charitable event in which 100% of the proceeds  go to the Petfinder Foundation to help them find more homes for adorable cats and dogs. There is a great lineup of sponsors and participants can enter to win up to $1500 in prizes too!  Helping find homes for our cousins and win great prizes?  Put me in coach!
Put me in Coach I am ready to Play!
I got so excited  when Paris from dogtipper.com told me about this great event to help find forever homes for our cousins that I asked if a cat could crash the party and she said, I didn't have to crash, that cats are welcome too! So I am calling all cats to enter to help our cousins in need of loving homes.
Cat Anatomy
Our friends at pet365.co.uk asked me if I would be interested in sharing this fun Cat Anatomy graphic with you. I thought you might like the graphic too and that we could chat for a moment about one of the fun facts.
The graphic says the cat has the largest eyes of any mammal. I think we need to add in proportion to their body size because whales are mammals too and a whale's eye can be the size of an orange or a soccer ball depending upon the species. But in proportion to  body size, we felines have the largest eyes.
My What Big Eyes You Have