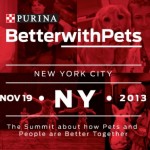 One of the speakers during Purina's Better with Pets Summit, 2013 was Dr. Robin Downing. Dr. Downing has devoted her career to studying pet pain. She discussed myths about pain and aging and what we can do to help our aging pets mature gracefully.
Dr. Downing's talk really hit home for me. I couldn't help but think about Gracey and hoping that I had done everything possible to help her remain pain free. We all have moments where we wonder if we did all we could for our loved ones.
Listen to Dr. Downing talk to us about how to prevent our pets from suffering. She reminds us that aging is inevitable, but suffering is optional.