Does Your Cat Need Project Pet Slim Down?
My parents might say a lot of things about me like; I am mischievous, talkative and smart but one thing I am not, is a fat cat.  I am the perfect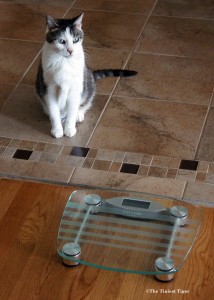 weight for my body type.   There was a time when I was a bit too thin when I was recovering from pancreatitis, but now I am wearing my 7 pounds well.  My brother Mercy, well…. ok.. he is also at a good weight for his body type.  Weighing in at 10.4 lbs. our doctors tell us he is in great shape.  He is just a bigger cat than I am, bigger boned and he really is. He is not just saying he is big boned to try to cover up the fact that he might be a bit chunky from all of those treats my grandma gives him.  But Mercy and I are in the minority of cats in the United States. Did you know that 55% of cats in the United State are overweight or obese?
In fact, it is not just cats, dogs too are overweight too even with all that in and out bathroom business and organized walking they do.  It has gotten so out of control that there is now an Association for Pet Obesity Prevention and the 2011 Pet Obesity Study found that 93 million cats and dogs are considered overweight or obese.
Friends, it is time that we all face the numbers on the scale.
Because we might need a little help getting started Purina teamed up with Target to create Project:Pet Slim Down. Purina created this online program to help your cat and dog lose weight. Cats and dogs at a healthy weight enjoy happier lives and Purina made it a mission to help every pet parent enable their cat and dog to achieve that weight.   Read the rest of this entry »
Cat Parents! Restore the Air You Breathe with CritterZone Air Purifier
Cat Parents, once in nine lives a product comes along that just blows your whiskers back and that product is the
CritterZone Air Purifier.
This compact, filterless, chemical free air purifier is a must have for cat parents.  We met William Converse, the president and inventor of the CritterZone Air Purifier recently at
Global Pet Expo
in Orlando.  William has mad skills when it come to air purification from his 30 years in the industry and he deserves top predator status for the Critterzone.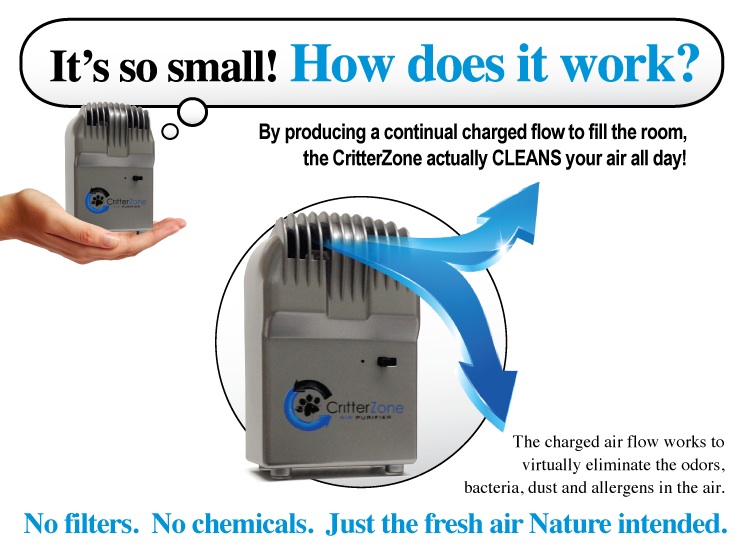 Small but Powerful
Love at First Purr!
You Had Me At Meow! by our good friend and artist Missy Johnson caught my eye and it was love at first purr.  Missy is  the creative force behind Dogs for the Paws; art making a difference for animals. Even though the name is Dogs for the Paws, Missy cares deeply for cats too.  In fact, just like us, she loves all animals.   When I saw her You Had Me at Meow! I  became super excited because I thought you would love it too!
Missy Johnson, Artist and Creator of Dogs for the Paws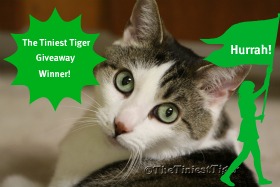 Congratulations and Supper Hurrah to our winners!!!!  We chose using randomizer.org because all the stories are so heartfelt and touching.  Thank you for loving all cats, big and small.
Congratulations and Super Hurrah to Amy D, the winner of the Gracey Accessories Bundle!
Can We Talk about the Litter box?
It is super important to meet your cat's needs when it comes to the litter box.  In many ways it is similar to what you expect from your own bathroom experience.  Let me first emphasize that if there are changes in your cat's bowel movements or urination, especially in frequency, or quantity please consult a veterinarian.  If your cat begins to go outside the litter box when there have been no changes made to the box, this is also a time to visit your veterinarian and discuss the change in behavior.  After your cat is given a clean bill of health, it is time to think about the box.
10 Reasons Your Cat Might Be Going Outside the Box