Posts Tagged 'stereotypes'
9 Things I Love About Gracey
I am a cat parent!  This month Petfinder launched a campaign to help break down the stereotypes about cats and the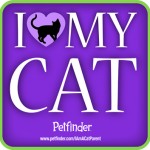 people who love them.  Even though cats outnumber dogs in the United States, feline family members are often thought of as second-class pets.  Many people still believe that cats are aloof, not able to be trained and of all things….unlovable!
I say anyone that thinks this about a cat has never shared their home with  a cat.  Our Gracey and Mercy are members of our family and we are fortunate to get to share our lives with them.  I wanted to take a moment to tell you just 9 things I love about Gracey.  Of course, there are many many more, but I thought I would start with these.
One)

Gracey's Happy Face Greeting Me at the Door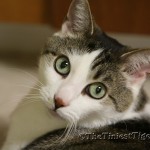 Even on the most trying of days, when my key hits the door and I see our little girl running to greet me with her tail straight up with a curl, all the day's troubles just melt away and I feel  warm and happy seeing  her sweet face.
Two)

Chatting About Her Day

First thing I do when I get inside the house is say hello to Gracey and ask her about her day and she usually has a lot to say.  Gracey is a talkative cat and I think she is telling me what happened while Paul and I were out leaving her in charge of the house.  I love to hear her tales of the day while we walk together into the kitchen.
Black Cats Bring Good Luck
The Scottish believe that the random appearance of a black cat at your doorstep foreshadows prosperity. Since my mom is of Scottish descent,  she and my dad must have known that when my brother Mercy was just a tiny little kitten fending for himself in the alley behind our old house, he was going to bring joy, love and happiness into our family.
Mercy, a black cat, was born into a feral cat colony that occupied the alley behind our house. He was a  super tiny little kitten when he first popped up by the feeding rock. This was a rock hidden from the view of a mean neighbor that didn't like that my parents were feeding the alley cats.   My parents were smitten by him.  My dad said that he would jump up on top of the rock and shake his back end from side to side to keep the other cats  two to three times the size of him off the rock until he got his share of the food. My parents couldn't stand the thought of little Mercy  fending for himself in the alley, so they caught him, got  him cleaned up and off to visit the doctors at the Morris Veterinary Clinic.  Mercy was a healthy kitten and Dr. G even said that if we didn't want to keep him,  he would take him because he could already tell that he was super smart and was going to be a great cat with a sweet personality.  And Dr. G was right!