Posts Tagged 'The Tiniest Tiger'
Our Message to Gracey
Since you've been gone we are doing our best to pick up and carry on but to be honest it hasn't been easy. Coming back to our home without you was one of the hardest things I ever had to do.   Putting the key into the door and not seeing your happy face running towards me made my heart sink and tears stream down my face.
Stepping inside, I saw your water fountain unplugged and stagnant.  I made it to the kitchen, put down my bags and stood still. Not hearing your voice telling me about your day, not being able to scoop you up and bury my face in your neck and not being able to carry you out into the sun room to look out over the yard, was more than I could take. Lazy Leopard looks so lonely.  I sat down and had a good cry.  The kind of cry where you can't breathe for a few moments and you think you can't go on.  But we do go on, just on a different journey.
I thought I would fill the bird feeders and take Bossy Back Yard Blue Jay his peanuts.  I procrastinated coming home, stopping by the store to load up on food for your friends.  I made it to the garage and lifted the hatch on the Jeep but that was as far as I made it that day. I felt so weak and vulnerable.  I thought I couldn't fill the feeders without being able to see your face supervising my every move from your windows in the sun room.  I wouldn't be able to touch your pink nose  through the glass  on my way back inside.
I cleaned out the refrigerator of all the different types of food we had for you.  Each lid turned with the hope that you would  eat.  We didn't know you were so sick Gracey or we wouldn't have tried so hard to make you eat. You were such a good girl and so patient with us. I washed up your bowls and syringes and packed up your little tiger rug.
I tried to be strong when your dad came home because I know how much he is hurting too.  But when I saw his face, I fell apart instead.  He wrapped his arms around me and said, "Let's go for a ride.  That's what the old folks do." And this made me laugh.  We went for that ride  to postpone being alone in the house without you. Our home feels so empty.  Your parents are lost without you.
We lost our little Gracey yesterday morning.  She passed peacefully in my arms.
Gracey was in multiple organ failure from complications of diabetes and pancreatitis that she had been living with for a little over 4 years.  We were able to mange her diabetes with two injections of ProZinc per day and she was happy and healthy until this past week.  Her doctors are wonderful and worked super hard doing everything possible to see if we could get her strength up and she could recover but it was not to be.
Paul and I needed yesterday to grieve and to gather the strength to begin the process of celebrating her wonderful life with us.  We are so grateful that Gracey chose to share her life with us and she will live on in our efforts here on her The Tiniest Tiger's Conservation Cub Club.
When Gracey won the Bissell MVP Contest in 2010 we were thrilled to donate the $10,000 to PurrEver Ranch Sanctuary.  Rita works so hard to rescue older cats and cats with special needs, just like our Gracey.  When I told Rita about Gracey she said:
PurrEver Ranch Sanctuary's cat flap remains open. Our doors would have closed and the purrs would have ended without Gracey. That pretty little girl's heart is responsible for so many homeless unwanted cats who's hearts would have stopped beating without her help. Life simply is better because of Gracey. We live because she did. Thank you our darling Guardian Angel. We always knew she had wings.
The world didn't get darker when she passed for her little bright light shines in all of us. I love you. And I love Gracey.
Gracey was an amazing little cat. From the time we rescued her from the dog pound she showed her sweet and mischievous personality. She was the inspiration for the book The Tiniest Tiger and for us taking the journey to complete a Master of Zoology to learn more about how we could help all cats big and small. Her community has grown to over 50,000 members and she would want us to continue helping her cousins in need.
We are heartbroken.  Gracey was with us every moment of our days in our home.  Paul designed the sun room windows to be the perfect height for her to look out over the back yard where she spent her days visiting with Bossy Backyard Blue Jay in the company of Lazy Leopard.  When I was in the office, she was with me keeping me company and inspiring me.
We know that Gracey would not want us to stop the work she inspired us to begin. Leaving the hospital, a local rescue group was in the lobby talking about how they hoped their fundraiser would make enough money to buy food for the cats in their care over the weekend. As it turned out, my Jeep was full of cat food, toys and other items that I was planning to take to a shelter but hadn't made it yet.  We like to think Gracey was working her magic by us being in the right place at the right time.
When I came home and was washing up a few dishes, Bossy Backyard Blue Jay came and sat on the perch outside the kitchen window.  He had not done this before.  I chatted with him and he tilted his head and looked at me as if he understood.  Then he flew around the yard and settled in the apple tree.
There is so much we would like to say, but the sadness is too much for us right now. Gracey was and is the light of our lives. Thank you for being a part of The Tiniest Tiger community and for loving our little girl too. I hope you will join us in celebrating Gracey's life and continue on the journey to care for all cats big and small.
Joanne and Paul
Love at First Purr!
You Had Me At Meow! by our good friend and artist Missy Johnson caught my eye and it was love at first purr.  Missy is  the creative force behind Dogs for the Paws; art making a difference for animals. Even though the name is Dogs for the Paws, Missy cares deeply for cats too.  In fact, just like us, she loves all animals.   When I saw her You Had Me at Meow! I  became super excited because I thought you would love it too!
Missy Johnson, Artist and Creator of Dogs for the Paws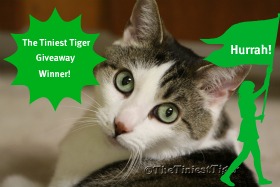 Congratulations and Supper Hurrah to our winners!!!!  We chose using randomizer.org because all the stories are so heartfelt and touching.  Thank you for loving all cats, big and small.
Tiger cubs romping in the snow are super cute. And these Amur tiger cubs living at the Columbus Zoo & Aquarium are no exception. The cubs are six months old and weigh about ninety pounds and as you can see in the zoo's video, they are happy as can be frolicking together around their habitat.
Amur Tiger Cubs  Snow  Adventure  at  the Columbus Zoo & Aquarium
Watching my young big cat cousins inspired me. While in my heated thinking circle today, I thought perhaps I should feed my inner Amur tiger and venture out to frolic in the snow. After all, it is winter here in Ohio and my backyard is completely covered in white fluffy snow. The neighbor children are all suited up and sledding down the hills and they seem to be enjoying themselves. So I thought, why not brave the cold and pounce around a bit in the snow. So I left the comfort and warmth of my heated thinking circle and I went into the wild.
Dr. Raasch from Iams Answers our Readers Questions.
Some of you asked questions about cat food ingredients, proteins and other concerns you might have about your cat's nutritional requirements in our post Which Protein is Best for your Cat. Dr. Raasch from Iams  answered your questions  in a personalized video.  Our Friends Jayme and Maya's questions are addressed in the first video.

Super Hurrah and Congratulations to Raine!
Sturdi Products Have Star Quality Style!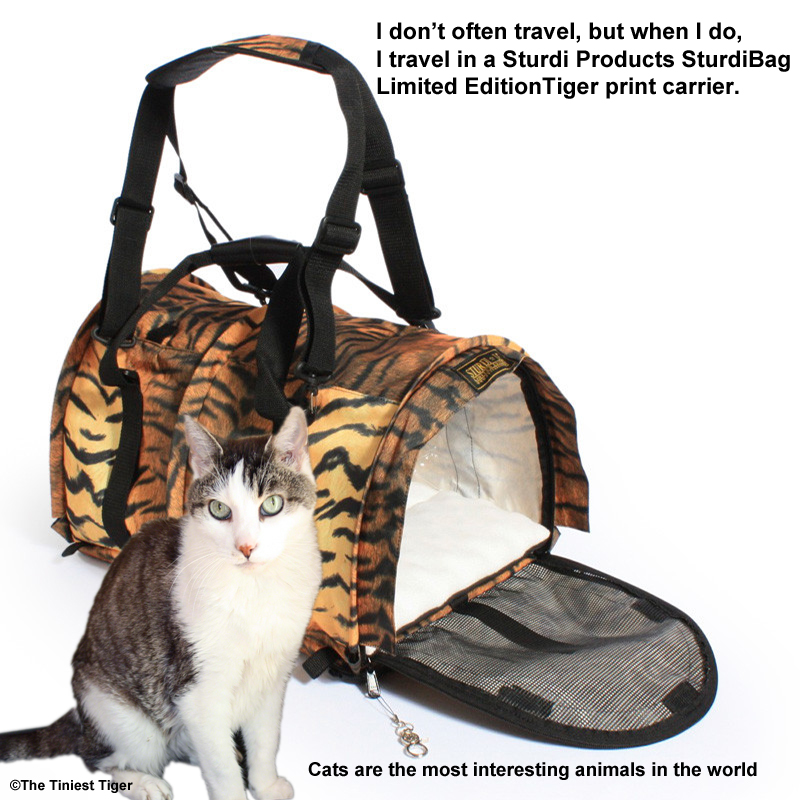 Now you can travel in style too!  The terrific folks at Sturdi Products are giving one lucky member of The Tiniest Tiger community a Sturdi Pop-Up Shelter from their Wild Side Collection!  And in Tiger Print! I know you have to be super excited now.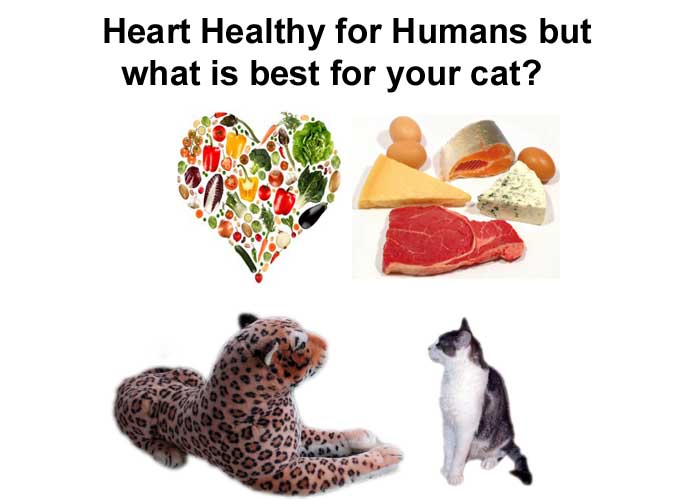 Do you wonder what protein is best for your cat?
Food trends come and go. Many humans like to mix up their diets by trying a variety of  foods and flavors.  My mom is a foodie. She has developed award winning specialty food products  and even now that she is a zoologist  she still likes to  learn about interesting new ingredients  and innovative foods.  Just ask my dad, you probably never want to go to the grocery store with her.  She really likes to  stalk the shelves for what's new.  But we cats, well we aren't concerned with pink himalayan sea salt or agnolotti with celery-root puree. We just want protein.
Cats are obligate carnivores and we need to eat protein that contains 10 specific amino acids that we can't make on our own. These essential amino acids are known as the building blocks for important biologically active compounds and proteins. If we become deficient even of just one essential amino acid, it can lead to serious health problems. Your cat's menu should be made up almost entirely of protein sources from meat.  This is why we cats are always on the prowl for the amino acids in protein.
Do you have questions about cat food ingredients?
Thundershirt for Cats means Successful Vet Visit for Gracey
Super Hurrah!!  My Thundershirt for Cats training really paid off.  For the first time…ever…. both my mom and I made it all the way to my doctor's office and back without any accidents or anxiety attacks.  I have been in training for a few months, wearing my Thundershirt for Cats during big spooky storms and on the scariest holiday for cats, the 4th of July.  All of this training was leading up to the big event…. a trip to visit my doctors at the Morris Veterinary Clinic.
Now, I love my doctors at the clinic, every one of them.  They are super nice and I know they are truly concerned and take excellent care of me, so it is not visiting them so much as it is being confined to my carrier and having to be transported in the car to and from the clinic. ~shiver~.
My mom loads me up into my Pet Taxi and  places some training pads in the bottom of the carrier.  Then she
carries me carefully to the car and places me in a seat with a seat belt looped through my carrier in case of any sudden stops. I always face in a direction where I can see her and she talks to me.  We listen to Andrea Bocelli while we drive to help keep us both calm.
The Dreaded Car Ride to the Morris Veterinary Clinic
Now on an ordinary car ride to the Morris Veterinary Clinic I begin to panic.  About ten minutes into the journey my stomach starts to toss and turn. I vocalize my distress to my mom and she tries to calm me down but after another ten minutes we cross a set of railroad tracks and the when we go over the bump, I am known to have an accident or two in my carrier.  It is most unpleasant and embarrassing.
Due to my embarrassment, I begin to panic about what has happened and most often cry out in the most pitiful way.  This causes my mom's heart to race and I can see the worry on her face as she gently reassures me that we are almost there and everything will be alright.
When we arrive at the clinic, the staff is on standby.  I am typically whisked out of my carrier and showered clean. It is most unpleasant for everyone.  After my bath, I am ready for my check up. But because I am so wound up from the experience, they can't get an accurate glucose check on me.