Posts Tagged 'The Tiniest Tiger's Conservation Cub Club'
We are truly honored.
We are truly honored to have won The Petties 2012 Best Blog Post Award.  We were thrilled to be finalists and when we
learned of  the other finalists in our category, all super talented wonderful friends and fellow cat writers, we knew we would be thrilled no matter who won, because  Dogtime Media makes a generous donation to a non-profit shelter and we knew that our cousins in need would be getting some much needed help.
Just a couple days after we returned home from the Cheetah Conservation Fund in Namibia, we received and email from The Petties, asking us:
What makes the post that you're nominated for so important?
Having just spent time learning more about the plight of the wild cheetah, as well as leopards and lions, the article that was nominated meant even more to us, and this was the answer that we sent back to The Petties.
Loss and fragmentation of habitat and depletion of prey are leading to rapidly declining populations of wildlife and in particular predators.   Ecosystems need predators to remain healthy, yet humans continue to persecute and eliminate them from our world.   "Cat Obituary Farewell Eastern Cougar"  is about the heartbreak of extinction  and a reminder to care for all animals big and small.
If you would like to read our article here is the link:  Cat Obituary Farewell Eastern Cougar.
Happy Earth Day to our Beloved Planet
Earth is our home sweet home! What would we do without our world?  Today is the 42nd anniversary of Earth Day. This day is the official reminder to us that we need to protect our planet from further damage and make every effort you can to clean it up!
Our The Tiniest Tiger's Conservation Cub club's motto is Small Paws United Can Make a Big Difference™ so when I saw the call to action for Earth Day, 2012 with the motto Small Acts Can Make a Big Difference it caught my eye.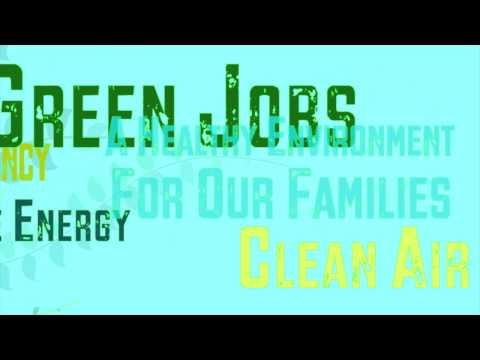 A Billion Acts of Green!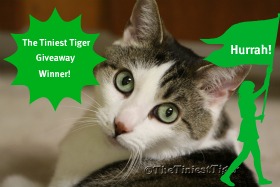 Congratulations and Super Hurrah to HArvey 2210, Batmans Mom, Monica H and Trish. You are the winners in our Fancy Feast Giveaway!
I have sent each of you an email to the address you posted with your comment. Please let me know where to send your Fancy Feast via USPS asap!
Is your Cat a  Connoisseur?
I was tagged by our friend Carol Bryant of Fido Friendly to be a part of The 7 Links, Tripbase Blog Post Project. I was honored to be tagged by Carol to share 7 links from our Conservation Cub Club blog.  This took me some time to decide which posts to choose for each of the categories.  I hope you like the posts I have chosen.
At the bottom are 5 blogs I have tagged to take the torch and run with their 7 best links.  Thank you for reading The Tiniest Tiger's Conservation Cub Club.
MOST BEAUTIFUL POST:
Lion Guardians Give Each Lion a Maasai Name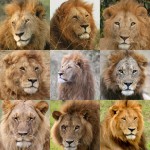 It was super tough for me to choose, but I chose this post with all the African Male Lions as the Most Beautiful. Our  wild lions are in trouble and the Lion Guardian Project is showing great promise for the conservation of the big cat. One of my favorite things about the project is the naming of each lion. The naming and telling of stories about each lion emphasizes the individuality of each cat. It is also much easier to forgive the lion for preying on livestock when you know the name and unique traits. I asked  the readers to tell me which lion caught their eye and why. They are all handsome, don't you agree?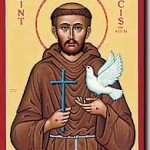 "If you have men who will exclude any of God's creatures from the shelter of compassion and pity, you will have men who will deal likewise with their fellow men"
Francis of Assisi
This quote is one of my favorites  by Francis of Assisi (Giovanni Francesco Bernardone, 1181-1226) who is known as the patron saint of animals and the environment. We have this icon hanging in our office to remind us to try and do our best for all of earth's creatures both big and small.
The purpose of The St. Francis Animal Rescue Center is to rescue unwanted, abandoned and homeless cats in the York County and South Mecklenburg County areas and care for them until the cats can find  homes.  They are a no-kill, cage-free shelter that provides food, housing, veterinary care, immunizations and spaying or neutering for the animals in their care.  They strive to find good, loving permanent homes for the almost 100 cats that currently reside at the shelter. Additionally, they want to increase community awareness of the extent and gravity of the problem of homeless animals in the area.
It is hard to believe that a year has gone by since we all chipped in to help our cousins in need at St. Francis Animal Rescue Center. A lot has happened over the last few months and the good news is that Charlene has found a
Read the rest of this entry »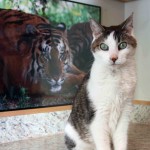 Born Free USA's third annual Keep Wildlife in the Wild Week, June 20-24 was started with the goal of taking care of wild animals not just around the world but in your own back yards!  Adam Roberts, executive vice president of Born Free USA, says the goal of Keep Wildlife in the Wild Week, is to get people to stop, think and take action.
Small steps can lead up to making a big difference. In my backyard, you might already know that we  try our best to take care of Bossy Backyard Blue Jay and all of the birds that gather and live around our habitat.  We provide food and water, and we have trees and shrubs for shelter. We are also super lucky to have squirrels, rabbits, opossum, white tail deer, the occasional raccoon and last winter there might even have been a bobcat track through our yard. We  live in an area surrounded by neighbors that love wildlife as much as we do.
What isn't so lucky is the wild tiger.  There are more wild tigers in captivity in the United States than there are in the wild.  Occupying a mere 6% of their original territory, the tiger faces the possibility of following the pug marks of the ghosts of the Balinese, Caspian and Javan subspecies into extinction. The South China subspecies is already extinct in the wild. The remaining, Amur (Siberian), Bengal, Indo-Chinese (including Malayan), and Sumatran subspecies only have an estimated 1000 breeding females in total.
Dogtime's Pet Blog Awards known as the Pettie Awards, which honor the best among pet bloggers are now accepting nominations and I need your help to win a "Pettie" in the Best Cat Blog category! I am super excited because if we win, we can make a $500 donation to PurrEver Ranch Sanctuary!! Super Hurrah!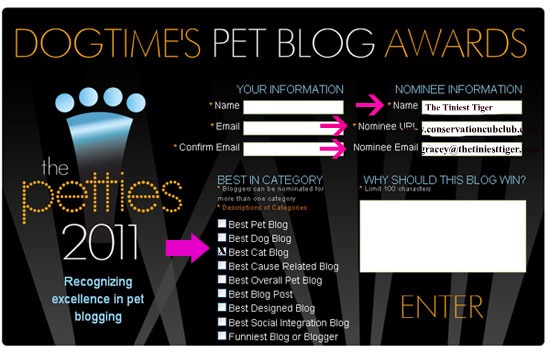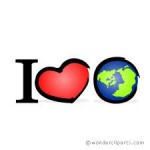 Happy Earth Day to our beloved planet.
Home Sweet Home!
What would we do without it?
Today is the 41st anniversary of Earth Day.  This day is the official reminder to all of earth's inhabitants to protect our planet from further damage and make every effort you can to clean it up! This year Earth Day falls on the same day as Christian Good Friday and Judaism's celebration of Passover. For many, this day is a reminder to clean up your spirit as well as your habitat.
Friends, I am super excited that today is
World Tiger Day.
In honor of all tigers, I am hosting the Tiger Challenge here on our The Tiniest Tiger's Conservation Cub Club!
I challenge you to learn 1 new thing about tigers today.  When you learn a new tiger fact, please come back here and post the new fact that you learned, so that we can all learn more about the tigers.
Now don't worry, it doesn't have to be super scientific, although it can be, but can be anything that you did not know before today about tigers.  You can post about any subspecies both past and present, anything at all about tigers!
Go out stalking and hunting, then when you pounce on an interesting fact, drag it back here to share with all of us! Everyone that drags back a fact and shares with us by posting in the comments below will be entered to win a super fantastic prize!
You will win a copy of:  The Tiniest Tiger with my paw-tograph,
The Meaning of Meow: Understanding and Caring for Your Cat
And, I might throw in a couple of other fun things too,

Ready, go, pounce!
Congratulations to Amber, the winner of our Tiger Challenge! Amber was chosen by a random number generator.  ~purr it up for Amber!~
Thank you everyone for learning more about tigers.