Posts Tagged 'Tiniest Tiger'
Welcome to The Tiniest Tiger's Conservation Cub Club!
Super Hurrah for Mary!  The winner of The Tiniest Tiger Hipster!  Don't wander far, we will be hosting other exciting giveaways soon.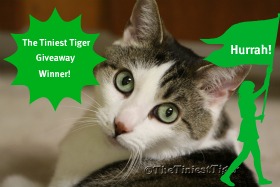 The Tiniest Tiger's Conservation Cub Club where small paws are uniting to make a big difference!

Forest Scented World Best Cat Litter Giveaway!
Congratulations to Laura, Kathy, Raine, Elena and Verna!  Thank you to everyone that participated.  We will have another great giveaway soon. xoxox Gracey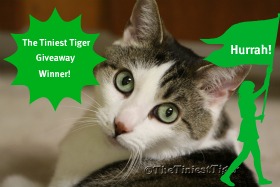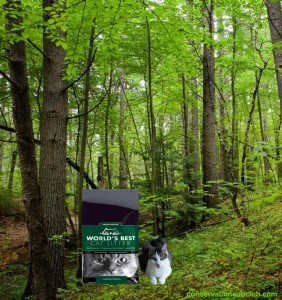 The new Forest Scented Worlds Best Cat Litter allows me to bring out my inner tiger and pretend I am in the forest.  Because all cats can be  little stinkers from time to time, cat parents are sure to appreciate the fast clumping action of this litter and the super fast absorbent quality too that stops the odor before it gets a chance to spread throughout the house.
Friskies releases Happy Wings
Friskies®  breaks the boredom for cats with  the release of "Happy Wings," its newest tablet game for cats available now at www.GamesforCats.com.  Happy Wings entertains cats with a garden full of fluttering fun, including a  hummingbird,  moth and  dragonfly.  The birds, moths and dragonflies fly across the screen attracting your cat's attention. When they capture a few of the creatures by touching them with their paw, the setting changes and the game becomes more difficult with quicker patterns and multiple birds, and bugs appearing on screen.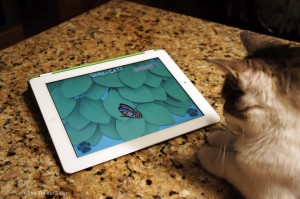 You vs. Cat
Maneki-neko is Japanese for beckoning cat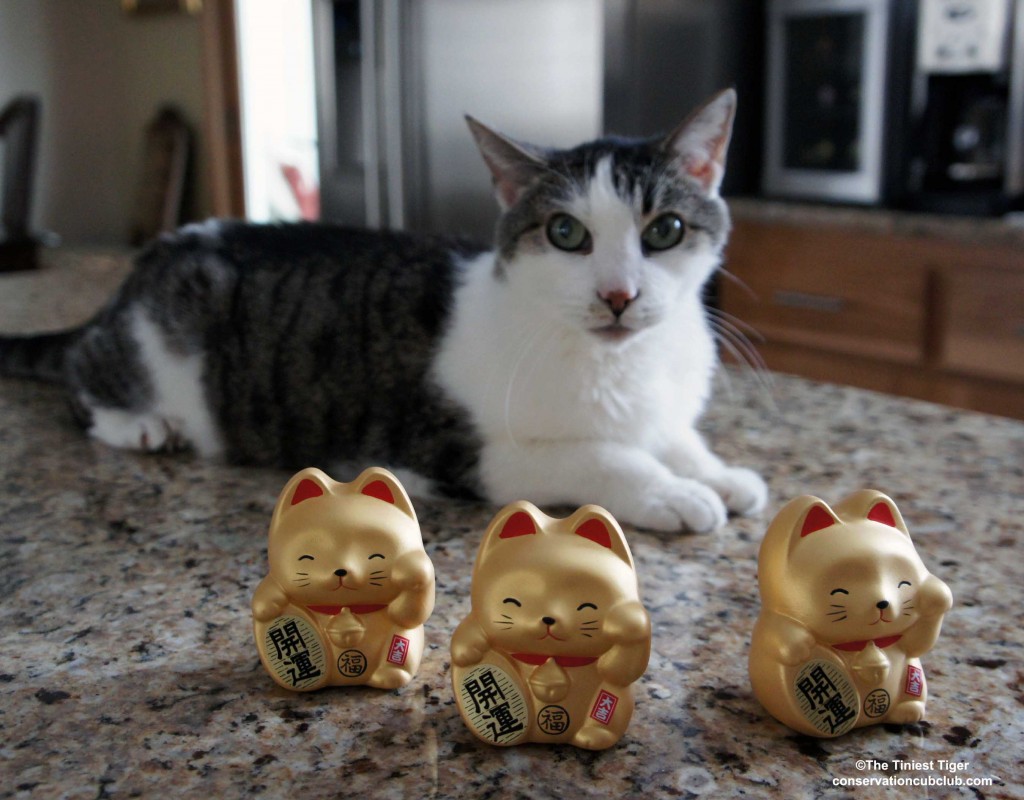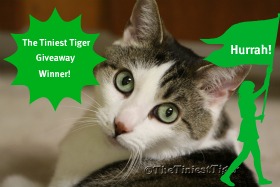 Super Hurrah to Jen, Patty and Sherrie!!  Congratulations and we hope your Maneki-Neko brings you great fortune and luck.
Meneki-neko is a popular Japanese figurine of a cute cat with an upright paw believed to bring good luck to the owner.  The figurine is usually made in the image of a calico Japanese Bobtail, beckoning with an upright paw and are on display in shops, retaurants, pachinko parlors, and many other businesses.   Sometimes Maneki-neko figurines are electric or battery operated so that they will have a paw moving back and forth. Maneki-neko is kind of like a cougar in that it is known by many names.( cougar, puma, mountain lion).  In English, Meneki-neko is called welcoming cat, lucky cat, money cat, happy cat and fortune cat.
This cute cat figurine comes is a variety of colors, styles and ornamentation but the most common colors are white, black,  gold and sometimes red.  It is thought that the white is for good luck, the black for good health and the gold for monetary good fortune.
Raised left paw attracts money
Have you read The Tiniest Tiger Story?
This holiday season, I have a special offer for members of The Tiniest Tiger community. When you buy The Tiniest Tiger Paperback, you will get a The Tiniest Tiger Coloring and Activity Book FREE!
Buy THE TINIEST TIGER PAPERBACK
The Tiniest Tiger Book Description:
Children and adults will revel in this charming and brilliantly told tale of a forlorn and scruffy little kitten with a black stained nose and a striped tail that tries to find a home among the "big" cats that reside at the local zoo. Young readers will especially delight in this truly literary and fully illustrated lesson that advocates the protection of endangered species. When a stray kitten loses her way and is displaced from the only alley she has ever known, she squeezes her tiny body under the fence at the zoo and begins a long and tireless hunt for a home. Her search leads her to a tiger and into a lion's den by way of a cheetah, clouded leopard, puma, jaguar, bobcat, and an ocelot. She learns a lot about what she isn't, but gets no closer to finding a home until she is spotted by the zookeeper's daughter and learns that there is truly a special spot for every cat—even the tiniest tiger—under the sun.
Gracey's Kitten Photo
Gracey Came Into Our Lives One Cold December Day
Gracey, The Tiniest Tiger
came into our lives without warning one cold December day.  While  looking for a friend's  dog who had gone missing, we decided to check  the local pound. We were not expecting to find a tiny kitten shivering on the cold cement floor  nor were we prepared for the big bright green eyes that pleaded with us "please take me home, I promise to be good."  Without reservation, I scooped her up and tucked her under my coat.
The Tiniest Tiger Talks at Science and Literacy Night
I had so much fun and met so many new friends last week when I visited  Denver Elementary during their first Science and Literacy Family Fun Night!  The school planned this great event so that families could see that science and reading are not only important but can be fun too!  There were many activities during the event, children and their parents made recycling boxes, learned about water pollution, made alphabet books and got to eat Ants on a Log!
And my mom and I got to listen to all the great Adventures of Gracey stories the children wrote after reading our book The Tiniest Tiger
.  Each classroom had The Tiniest Tiger book read to them and then first grade teacher Mrs. Randolph  made little flat Graceys for the students to use as inspiration for their very own Adventures of Gracey stories.
I was thrilled to hear all of these great stories.  Some of the students wrote stories about me when I was very good and some of the students wrote stories about me when I was very bad, or as one student said, "Gracey made bad bad and bad choices!" We wanted to share with you a few of the Adventures of Gracey stories, because we thought you would love them as much as we do.
Good Gracey Stories!
First, I am sharing with you the adventure stories where I am good.  This first story was written by my friend Gracie. She did a great job capturing my true nature too because  I think recess would be my favorite subject after science.
Imperial Cat M.A.X. Club Chair and  Scratching Ottoman is Super Stylish!
Last month I shared with you the brand new cat  club chair and scratching ottoman from Imperial Cat that I thought you would  love as much as I do.   The new Club  Chair and Scratching Ottoman for cats is super stylish and I was so excited that I placed in on my wish list.  The nice people at Imperial Cat saw my wish and sent me my very own chair and ottoman with a sleek cheetah print. And now just in time for Thanksgiving, they are offering a chair and ottoman to one of the members of our The Tiniest Tiger community.
Cats will give thanks for their own club chair
Thanksgiving is coming soon and we cats know what this means.  In addition to family, friends and feasting, it means that
our habitats will be invaded and our space will be taken over by loved ones.  And some might even stay well into our nap time and perhaps even force us to change our schedules.  I know, I understand how upsetting a change in routine can be for felines, but just in time to prevent the invasion of the chair snatchers, Imperial Cat is providing us with our very own cat sized chair and ottoman.
Mine arrived a few weeks ago and I have to tell you that I just love it.  The chair is super comfortable and when I get the urge to scratch I just cut loose and give the ottoman the works.  Another benefit is that  you will not have to fight with any friends or family members for your seat.  This chair will always be reserved with your name on it. When your chair arrives, simply direct your parents to place your chair in a strategic location where you can see but not be in the center of the commotion.
If you can't wait to see if you win, you can purchase your very own Imperial Cat Chair from their Cat Claws Catalog.
How to Enter the Giveaway
There are many  ways to enter in the Rafflecopter below. Choose as many or as few entry methods that suit you. This giveaway is open to US mailing addresses only. The giveaway ends at 12:01am ET on November 17, 2012.  Best of luck to you.