You and Your Cat in the next Iams National Advertisement
Starting today, Valentine's Day, Iams will be on the hunt for real stories from people that share their lives with a cat and or a dog. The folks at Iams want to learn about the unique bond  you share with your cat.   And, this is super exciting,  the winning family will star in Iams next national advertisement!
I told you it was super exciting!
Keep Love Strong Advertising Campaign
The  Keep Love Strong advertising campaign that began last  November  features heart-warming ads inspired by real stories. The campaign has been so well received that Iams created  this contest to find the very best Love Tails about the special connections people share with their animals.  These commercials really show the deep connection and the importance of the human animal bond.  I like them all but this is one of my favorites.
This is one of my favorites:
Here is all you have to do to enter:
Love at First Purr!
You Had Me At Meow! by our good friend and artist Missy Johnson caught my eye and it was love at first purr.  Missy is  the creative force behind Dogs for the Paws; art making a difference for animals. Even though the name is Dogs for the Paws, Missy cares deeply for cats too.  In fact, just like us, she loves all animals.   When I saw her You Had Me at Meow! I  became super excited because I thought you would love it too!
Missy Johnson, Artist and Creator of Dogs for the Paws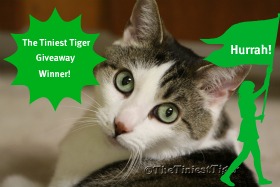 Congratulations and Supper Hurrah to our winners!!!!  We chose using randomizer.org because all the stories are so heartfelt and touching.  Thank you for loving all cats, big and small.