Posts Tagged 'Valentine's Day'
You and Your Cat in the next Iams National Advertisement
Starting today, Valentine's Day, Iams will be on the hunt for real stories from people that share their lives with a cat and or a dog. The folks at Iams want to learn about the unique bond  you share with your cat.   And, this is super exciting,  the winning family will star in Iams next national advertisement!
I told you it was super exciting!
Keep Love Strong Advertising Campaign
The  Keep Love Strong advertising campaign that began last  November  features heart-warming ads inspired by real stories. The campaign has been so well received that Iams created  this contest to find the very best Love Tails about the special connections people share with their animals.  These commercials really show the deep connection and the importance of the human animal bond.  I like them all but this is one of my favorites.
This is one of my favorites:
Here is all you have to do to enter:
Love at First Purr!
You Had Me At Meow! by our good friend and artist Missy Johnson caught my eye and it was love at first purr.  Missy is  the creative force behind Dogs for the Paws; art making a difference for animals. Even though the name is Dogs for the Paws, Missy cares deeply for cats too.  In fact, just like us, she loves all animals.   When I saw her You Had Me at Meow! I  became super excited because I thought you would love it too!
Missy Johnson, Artist and Creator of Dogs for the Paws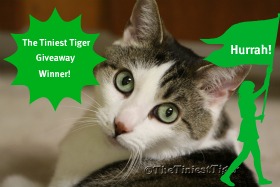 Congratulations and Supper Hurrah to our winners!!!!  We chose using randomizer.org because all the stories are so heartfelt and touching.  Thank you for loving all cats, big and small.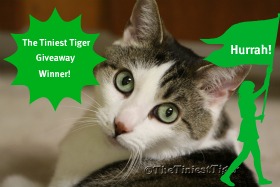 Super Hurrah and Congratulations to Barbara McIntosh the Winner of the Imperial Cat Hearts and Stripes Chaise Scratcher. Thank you everyone for participating and for being members of The Tiniest Tiger community.
I Would be "Lion" if I said I didn't
want you to be my Valentine!
I hope you want me to be your Valentine too!
Happy Valentine's Day!
xoxo  Gracey, The Tiniest Tiger
In honor of Valentines day and of both Lions and Lyin' Around,  I thought an Imperial Cat chaise lounge would be a perfect giveaway.
The Imperial Cat M.A.X. Hearts & Stripes Chaise Scratcher Giveaway!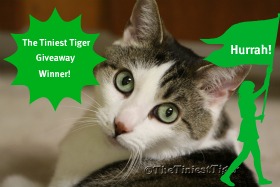 Super Hurrah and Congratulations to Elizabeth Flynn our winner of the Endangered Species Chocolate Giveaway!
Thank you for participating and for being members of  The Tiniest Tiger community.
Happy Super Sweet Saturday before Valentine's Day!
Bad Kitty, Lazy Leopard, and even Bossy Backyard Blue Jay agreed that we wanted to show appreciation for pet parents and what better way than with an  Endangered Species Chocolate Giveaway.
Endangered Species Chocolate company was created to spread awareness and make an impact on the growing number of plant and animal species disappearing from our Earth.   They began with a line of twelve all-natural chocolate bars that sold in small natural food stores across the northwest. Today, they are one of the leaders in natural and organic chocolate manufacturing.  They have more than 30 all-natural and organic products and their chocolates can be  found in large and small grocery stores throughout the United States and Canada.
About Endangered Species Chocolate
Endangered Species Chocolate is a mission-driven company that is passionate about chocolate and the environment.   We are fully committed to providing premium, all-natural, ethically traded, naturally shade grown chocolate products.  Endangered Species Chocolate confirms that all beans used in its products are purchased from family-owned properties where the income benefits the community.  10% of our net profits aredonated to fund species and habitat conservation efforts.  Savor chocolate.  Save our planet.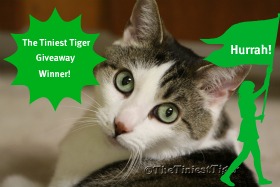 Super Hurrah and Congratulations to
Nancy Foulke, winner of the Cat Valentine's Pet Bundle of Love and
Jeanne Owens, winner of the Dog Valentine's Pet Bundle of Love!
Thank you to everyone for participating and for being a member of The Tiniest Tiger community.
Our friends at Hill's have put together two Valentine's Day gift baskets for readers of The Tiniest Tiger. And in the spirit of Valentine's Day, we are spreading the love because there is one for dog lovers and one for cat lovers. Super Hurrah!
Here is a listing of the contents:
Read the rest of this entry »
This Valentine's Day, why not trade Toki Poki Pet Trading Cards and bring a smile to a child's face?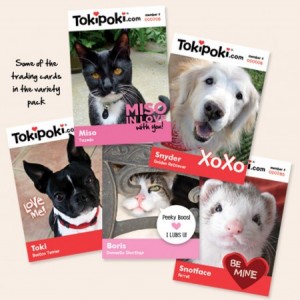 Our Friends at Toki Poki are  creating a LOVE DRIVE this Valentine's Day and you can participate too!
This past Halloween,  Toki Poki delivered Costume Contest Trading Cards to the kids in the Yale and Hasbro Children's Hosptitals in Rhode Island, the Children's Hospital Los Angeles and the CHRISTUS Santa Rosa Children's Hospital in San Antonio, TX. Toki Poki enjoyed  being able to bring smiles to the kids faces so they decided to continue the efforts this year in 2011 and call it the Toki Poki LOVE DRIVE.
This first LOVE DRIVE event this year is for Valentine's Day. They have been creating Valentine's Cards that can be given out – with a fun-loving photo and message on the front and a place on the back of the cards for a To: and FROM:. You can see the current card collection by visiting their Facebook Photo Album.
If you want to participate, there are several ways you can…

I am a member of Toki Poki and I can't wait to see the Valentine's Trading Card they are making for me!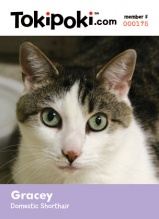 What is Toki Poki®?



Collectable Pet Trading Cards
Neighborhood Pet Awareness
An Online Pet Community
A Tool to Raise Money for Your Cause
A Pet Adoption Resource