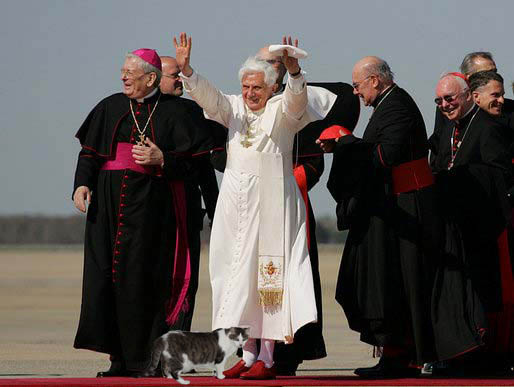 Friends, as you can see, when  the Pope and I arrived, many Cardinals surrounded us.   Boy,  these Cardinals don't look a thing like the cardinals that Bossy Backyard Blue Jay  hangs out with in the backyard of my habitat.  Although, I can see  a little resemblance with the red caps and belts.  Everyone looked very happy to see the Pope and  maybe a little perplexed when they saw me  exiting the aircraft.  But this Pope loves cats, so maybe the Cardinals just took my visit in stride.  They were super nice to me while we waited for our ride.
I was a little nervous thinking about riding in the car.  I don't like to get into my ~shiver~ cat carrier so I wasn't sure how I would like being in the car  without a carrier.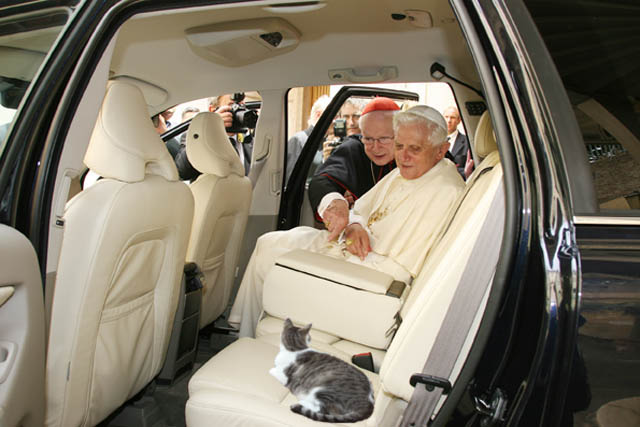 Well, let me tell you, this car was alright. It rode super smooth.  Everyone was making sure that I was made comfortable for the ride.  I got my own seat and everything. They were really making a fuss over me.  I could get used to this.
The next stop will be the Apostolic Palace.  I wonder if I will be allowed inside?
Stay tuned to find out what happens when we arrive.
My story will continue  on July 7!  xoxoxo Gracey