SUPER HURRAH!
Friends, I am excited to tell you that while I was on safari, our The Tiniest Tiger's Conservation Cub Club was nominated as a finalist for BEST CAT BLOG in the Dogtime's Pet Blog Awards.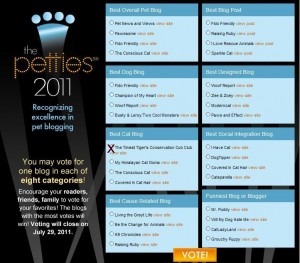 Pettie Winners will receive $1000 donation to a shelter of their choice and ours is PurrEver Ranch Sanctuary!!
I need your help to win.  Please VOTE for The Tiniest Tiger's Conservation Cub Club for Best Cat Blog.  You can vote everyday and often between now and July 29, 2011!!  Ready? Click here to Vote!
Some of our good and hard working friends are also hoping to win a "Pettie" in other categories and would appreciate your support.
Please consider voting for:
BEST OVERALL PET BLOG- Pet News and Views
BEST DOG BLOG- Fido Friendly
BEST BLOG POST- Fido Friendly
BEST DESIGNED BLOG Paws and Effect
BEST SOCIAL INTEGRATION BLOG  I Have Cat
FUNNIEST BLOG or BLOGGER- Catladyland
I am truly honored to be a finalist this year.  Will you please help us win?  Thank you so much.
Just click here to Vote for The Tiniest Tiger