Archives for November 2011
We Cats have been co-existing with humans for thousands of years. I use the word co-existing because I think it is a much more accurate description of the feline-human relationship than the word domesticated.  Domesticated is a terrific description for dogs, but not for cats.
Over a relatively short period of time, our ancestors the African wildcats, were able to infiltrate human settlements, by endearing themselves as protectors of the Egyptian grain stores.  Their hunting prowess drew amazement and praise from the Egyptians and our ancestors found themselves invited into the inner circle where they were provided shelter and food.  It wasn't long before our fore-cats were exalted to deity status.
This Thanksgiving, I started thinking about my ancestors. With Bad Kitty's help, I was able to stalk and pounce on a few tidbits of information about my family. Here is what we found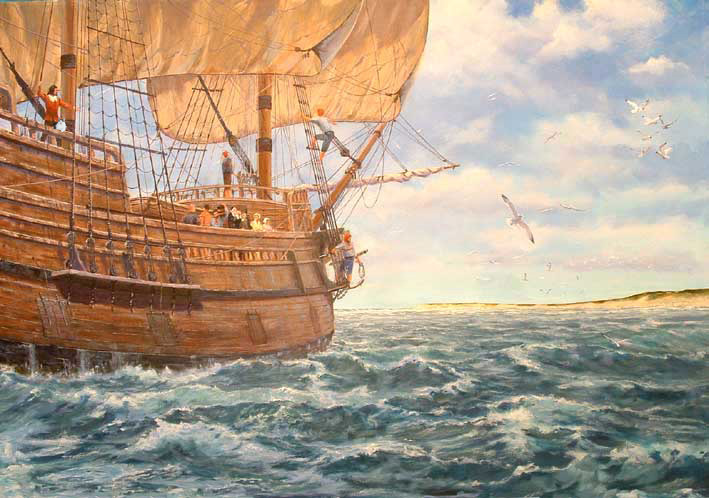 A Special Offer to Friends of The Tiniest Tiger
An Ordinary Toad's Extraordinary Night!
Written by Joanne L. McGonagle Illustrations by Rachael MaHaffey
Hopping into a habitat near you in December, 2011
[Read more…]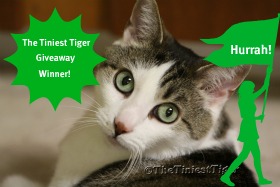 Super Hurrah to Trish Ann B!  Trish is the winner of The Tiniest Tiger Thanksgiving Giveaway of the LIFEFORM3D photo.
As we approach Thanksgiving Week, I wanted to offer you  something super special as a way to say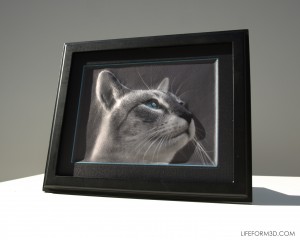 Thank you for being my friend. When Stacy from PetsWeekly introduced me to Travis Mahoney  from LIFEFORM3D, I thought Travis's patented hand made photosculpted images were the perfect Thanksgiving Giveaway for The Tiniest Tiger community.  Your  cat photo is a treasured memory just like I treasure your friendship.
I was able to have a chat with Travis on the telephone yesterday and not only is he talented, he is also super nice and he shares our love of all animals big and small. Travis told me he has a LIFEFORM 3D Leopard photo in the living room of his habitat. (I think I might need to ask my parents for a tiger for my office.)
Travis developed, patented and is the founder  of LIFEFORM3D.  The PhotoSculpt technology is super special bringing your favorite cat photo into a new dimension.
I think Travis conveys the message best in his own words in this video:
The chow I chomp is Hill's Prescription Diet®, z/d® Feline Low Allergen formula.
I began eating z/d  because I used to break out in hives and lose my fur.  After some testing, it was determined that I was allergic to some of the protein in my food. Here is why this prescribed chow helped me.
The Hill's Prescription Diet® z/d® is formulated with:
Hill's Hydrolyzed Protein System™, a highly digestible protein that minimizes the chance of an allergic reaction to food.
A single highly digestible carbohydrate source to help avoid common food allergies
Highly digestible carbohydrates and fats to help reduce gastrointestinal workload
Increased omega 3 and 6 Fatty acids to help nourish my skin.
And added antioxidants to help maintain a healthy immune system and skin barrier function.
Food allergy and intolerance can be quite serious resulting  in sensitive or irritated skin, like in my case, or coat and ear conditions or even gastrointestinal upset. When a  cat has a food allergy or intolerance, also called adverse reactions to food, the cat   typically experiences an abnormal response to the protein in  food.  If your cat suffers from adverse reactions to food, it is super  important to feed the right food.
At Hill's, nutritionists and veterinarians have developed clinical nutrition especially formulated to help manage your cat's dietary sensitivity and help reduce the possibility of adverse reactions to food.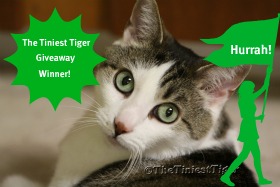 The Winner of our Cat's Pride Fresh & Light Giveaway is:  Malia!  Super Hurrah!
According to our The Tiniest Tiger Curious Cat Survey, over 80% of our community wanted to learn more about litter
options for the cats that share their habitat.  So when I heard about the new  Cat's Pride® Fresh & Light™ premium clumping litter, I thought you would be super interested.
The Cat's Pride® Fresh & Light™ is a new, revolutionary premium clumping litter that was designed to be:
Up to 25% lighter!
Lately I have been hearing a lot about this clicker training. It seems that if you can get your parent to use a small plastic device that makes a clicking sound when pressed,  you might be able to train your parents to give you a treat. This sounded fascinating to me. My parents seem pretty smart, so I thought I would look into this clicker training.
When I asked Bad Kitty what he knew about clicker training, this is what he told me.
Clicker training is essentially the same as operant conditioning. Operant conditioning, sometimes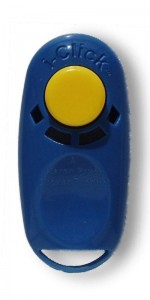 called instrumental conditioning, is a method for modifying behavior, an operant, which uses contingencies between a discriminative stimulus, an operant response, and a reinforcer to change the probability of a response occurring again in that situation. This method is based on the behavioral scientist B.F. Skinner's three-term contingency.
Skinner believed that, in order to experimentally analyze human and cat behavior, each behavioral act can be broken down into three key parts.
These three parts  also known as Skinner's three-term-contingency are:
Discriminative Stimulus– what influences the occurrence of an operant response.
Operant Response- a behavior that is modifiable by its consequences.  Reinforcement increases the probability of  that behavior occurring again.
Reinforcement- a consequence that follows an operant response that increases the likelihood of that response  occurring in the future.
Whoa! My eyes were starting to glaze over just a bit when Bad Kitty was talking.
When I asked Lazy Leopard what he knew about clicker training, this is what he told me:
Nutrigenomics is a field of study that combines nutrition and genetics with the goal of using nutrition to prevent chronic diseases. Scientists completed the mapping of the human genome in 2003, and have since discovered that what you eat can influence your genes!
The link between food and health is well documented but people still struggle to find the right balance
between diet (energy going in) and exercise (energy going out). Some eat too little in either variety or quantity leading to malnutrition and some eat too much leading to obesity.
In 2004, Hill's Pet Nutrition brought together the building, lab equipment and scientific expertise to begin a Nutrigenomics Research Program. Findings from the Nutrigenomics lab at the Pet Nutrition Center help Hill's understand how nutrients and ingredients in pet foods interact with genes, proteins and metabolites in the body. The next step is to understand how to capture these interactions for the benefit of a cat or dog's health.
Hill's Nutrigenomics research program provides the scientists with a better understanding of disease and aging. This research enables the scientists to identify the specific nutrients that return these processes to a healthy state, so that they can develop new formulas that help improve a cat's quality of life.
It is true that nothing in food can change the genes that you are born with, but nutrition can influence how those genes function. The research in progress at Hill's has given them an exceptional understanding of the molecular basis of disease and health, the biochemical response to food, and the biochemical action of nutrients.
Tell Bissell Your Carpet Confessions!
You and 5 of your Friends can Win Deep Cleaning Prize Packages!
One Person will be the  $2500 Cash Grand Prize Winner!
Psssst! What's Your Dirty Little Secret?  You can tell me.  And to make it even easier, I will go first.  When I am a
little upset with one or both of my parents, I throw my litter out of the pan. And if they have done something that really gets my fur up, like leave me alone too long,  I poo on the bedroom rug.  There, I have said it.  And when I poo on the bedroom rug, it really gets their attention. (Oh and I am still working on cleaning up the aftermath of my unfortunate temper tantrum when I peed in my mom's suitcase. Stay tuned for my black light test coming soon.) So you see, even me, Gracey, The Tiniest Tiger can be a little messy.
But what helps keep me out of trouble when I misbehave besides the fact that my parents don't seem to have any short-term or long-term memory of my rotten actions is that   I have Bissell to help clean up my messes.
And now,  our friends at Bissell are launching another time saving, carpet cleaning, pet mess clean up assistant.
HOUSTON, WE HAVE LIFT-OFF®!  hahahha. I have always wanted to say that…. but seriously…
Pet food labels can be just as confusing as human food labels, don't you think?  Last week my mom and I were
invited to Hill's Pet Nutrition to learn about Hill's  Pet Food Brands including Hill's  Science Diet® and  Hill's Prescription Diet® formulas. We also learned about some exciting new products that we will talk about in a future post. But before we talk about the pet food formulas, I thought we could take a moment to talk about the pet food label, and what we need to know about the information that is printed on the label. Here are some answers to questions you have asked.
Who decides the nutritional standards for pet foods in the United States?
AAFCO stands for Association of American Feed Control Officials.  This is the organization that determines the nutritional standards for pet foods sold in the United States. These same standards are recognized in Canada.
What methods are used to determine nutritional adequacy?
Based on nutritional levels and procedures defined by AAFCO, the  nutritional adequacy of pet foods is generally determined by 1 of 2 methods: