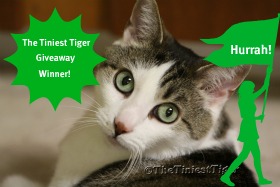 Super Hurrah and Congratulations to Angela Gebhardt,
the winner of Lazy Leopard's Look Like Me Giveaway!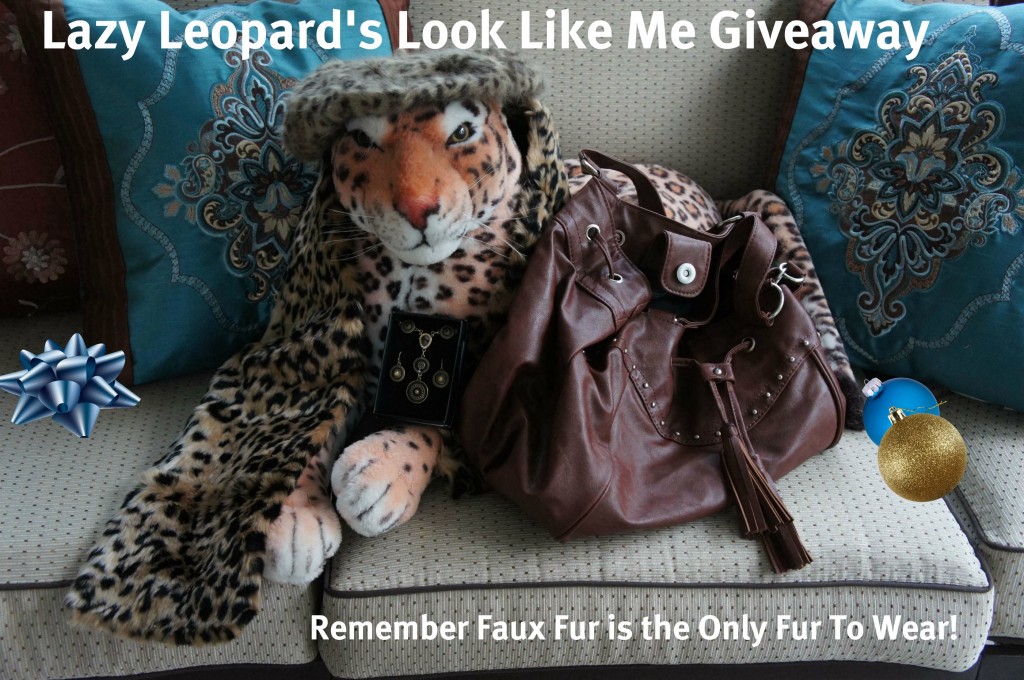 Happy Holidays from our habitat to yours.
Lazy Leopard wanted me to deliver his message to you because he is a little shy when it comes to public speaking. You might not know this but the Leopard is one of the most elusive of the big cats. So Lazy Leopard really can't help himself that he prefers to stay out of the limelight. But he put together a nice giveaway package and he wanted me to include a little message too about his wild cousins.
The wild leopard is one of the world's most persecuted big cats. The beautiful fur of the leopard is highly sought after and to make matters worse, today the  demand for leopard skin is increasing among members of South Africa's Shembe Baptist Church, which has adopted the Zulu practice of wearing spotted cat fur, mostly leopard, during religious celebrations. Even though trade in leopard skins is illegal in South Africa, the Shembe's estimated 5 million members are spreading the practice.
Last year Tristan Dickerson, Panthera's Leopard Program Coordinator visited several Shembe gatherings to research the amount of leopard skins being used at these events. It was estimated that nearly 1,000 leopard skins were either worn or being sold at just one of the gatherings that he attended.
Tristan spent the past year working with designers and clothing companies to create high quality and affordable faux leopard skins, which he will present at future Shembe gatherings.   At one of the recent events, there was a large number of faux leopard skins being worn by children and elders, and this is a sign of hope for Africa's leopard populations.
If you are interested, here is a short video with more details of Tristan's important work:
[youtube]http://www.youtube.com/watch?v=ceDCiogtBCs[/youtube]
Brilliant idea isn't it?
Back to our giveaway!
Lazy Leopard has put together a few pieces that he thought you might like:
A leopard print  beret.  Which I think will look much better on you than him, but don't tell him that I told you that.
A wonderful super soft and warm faux leopard scarf.
A faux leather handbag/backpack
and a  Wild Safari  Y Necklace Gift Set from Gracey's Avon for Animals. See image below.
Here is all you have to do to get a chance to receive the Lazy Leopard Giveaway!
Leave a comment here below this post on our The Tiniest Tiger's Conservation Cub Club telling Lazy Leopard  if you think faux fur is the only fur humans should wear.
The Rules:
This contest is now closed!  Thank you for participating.
This contest closes on December 23, at 1 pm Eastern. I will enter all names in to Randomizer.com. The winner will be notified by email, so make sure you leave a  name and email address for me. I can see your email when you enter it in the Disqus comment area, but it will not be visible to the public.
Due to the weight and size of the package this contest is open to US habitats only.  I am super sorry.  Void where prohibited by law.
Don't forget to enter to win a free bag of Science Diet Ideal Balance! Pounce here!
And Don't forget to enter Bossy Backyard Blue Jay's Preoccupy the Cat Giveaway too! Pounce here!