Archives for February 2012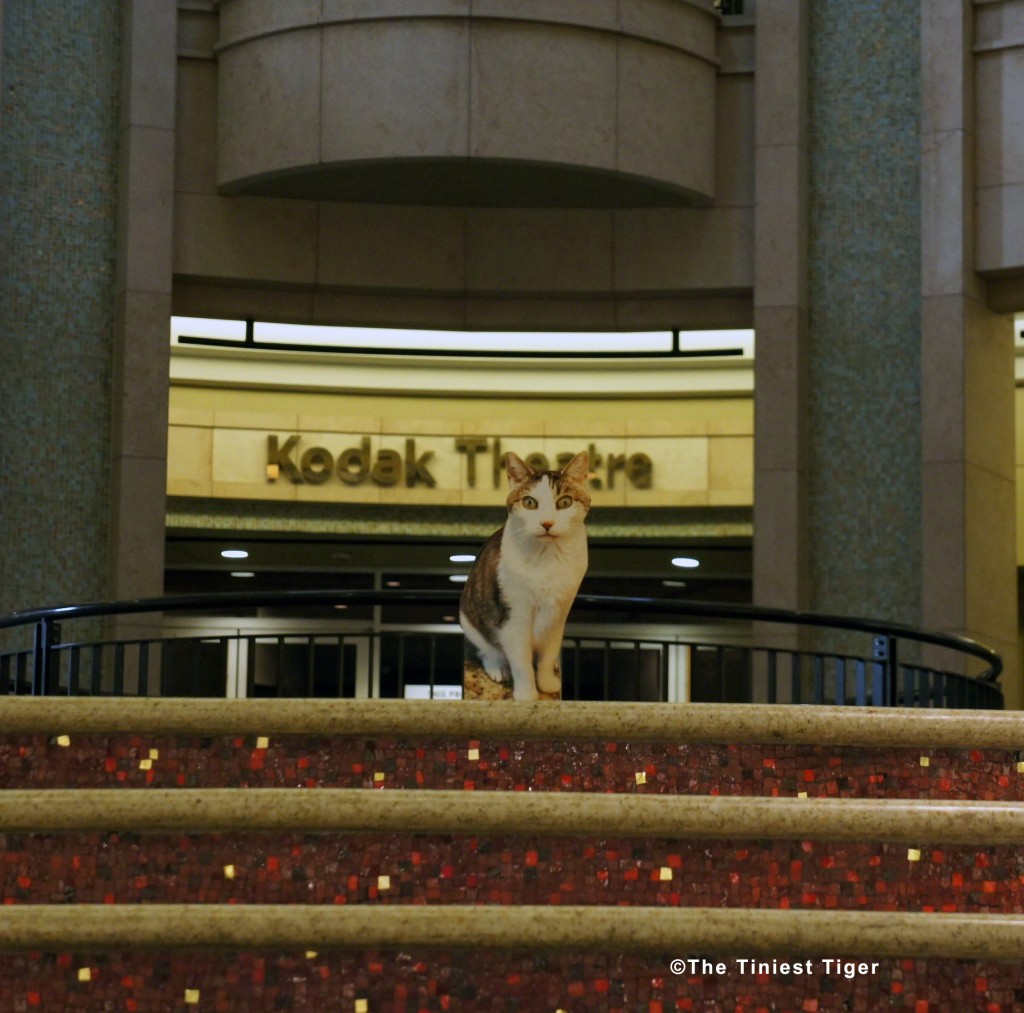 My Cat on the Red Carpet experience was exciting but also super packed full of activity. I only had a few spare moments on my recent trip to Beverly Hills, so I decided to stroll around with my press pass to take a peak behind the scenes at the Kodak Theatre.  It looked like everything was in order at the theater so I decided to head down to  the street
The Red Carpet Cat Walk Blog Tour!
Pounce over to your favorite blog to celebrate with your friends as we continue  the  Red Carpet Cat Event.  You won't want to miss out on your chance to win your very own  The Tiniest Tiger  Hipster Bag, the very same bag  that is in the 2012 Academy Awards Celebrity Gift SWAG.
And to make winning The Tiniest Tiger Hipster Bag even more exciting, the Hipster is filled with all kinds of feline fun from your favorite brands and bloggers! In fact over $242 of cat products and savings!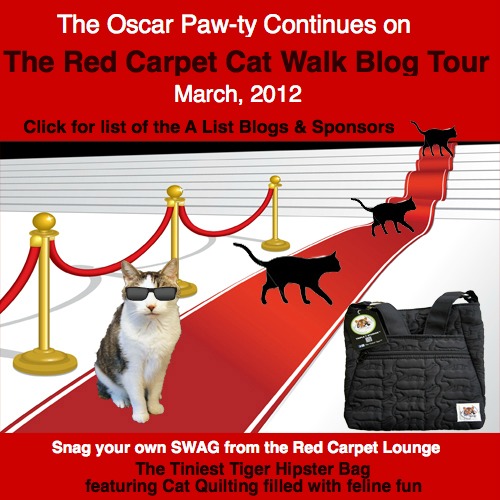 To see the entire list of Red Carpet Cat Walk Blogs pounce here!
The Party has begun at these VIP Sites.
I created this short video of how we created The Tiniest Tiger Hipster.
I hope you like the story.
Don't forget to RSVP for the #RedCarpetCat Twitter Event. Pounce Here!
Not on Twitter?  No Worries!!  The Red Carpet Cat Walk Blog Tour will keep the party going! Pounce Here for more information.
The  #RedCarpetCat Twitter Party is coming soon!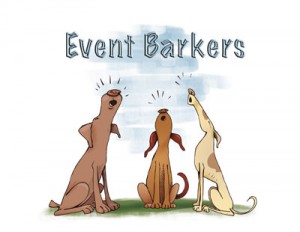 Event Barkers is hosting the party that takes place on Feb. 22 from 5:30-7pm Pacific time. We are super excited that Event Barkers is going to be keeping the party fun and moving because I might get distracted by the flash of the paparazzi while reporting to you live from the red carpet in Hollywood!!
I  will be attending the Secret Room Event  alongside Jackson Galaxy.  We will be tweeting live from the event as we meet and mingle with the stars.  YOU will have the chance to tweet with Jackson Galaxy, star of Animal Planet's "My Cat From Hell"  and  you never know who else might turn up to surprise all of us.
And to make it even more fun, you can win some of the $2800+ in prizes!
Event Barkers wants me to remind you to  make sure  you have RSVPd for this special event. It only takes a moment; just go to the RSVP post and add your Twitter handle. Event Barkers will be using that list to contact winners so you need to make sure you're on the list! (Hey, all good Hollywood parties have the list so here's your chance to be on one!)
We  put together  some great prizes that #RedCarpetCat partiers will be winning! In fact, to keep you rockin' we will be giving away a prize every 1o minutes!  Super Hurrah!
Taking center stage will be The Tiniest Tiger Hipster bag!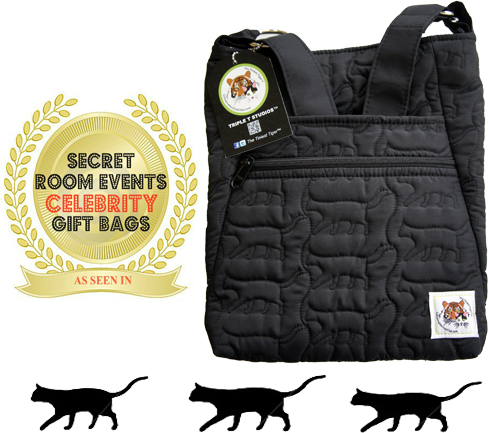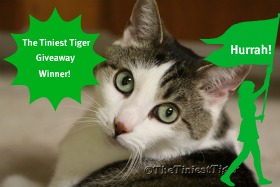 Super Hurrah and Congratulations to Barbara McIntosh the Winner of the Imperial Cat Hearts and Stripes Chaise Scratcher. Thank you everyone for participating and for being members of The Tiniest Tiger community.
I Would be "Lion" if I said I didn't
want you to be my Valentine!
I hope you want me to be your Valentine too!
Happy Valentine's Day!
xoxo  Gracey, The Tiniest Tiger
In honor of Valentines day and of both Lions and Lyin' Around,  I thought an Imperial Cat chaise lounge would be a perfect giveaway.
The Imperial Cat M.A.X. Hearts & Stripes Chaise Scratcher Giveaway!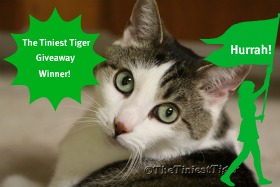 Super Hurrah and Congratulations to Elizabeth Flynn our winner of the Endangered Species Chocolate Giveaway!
Thank you for participating and for being members of  The Tiniest Tiger community.
Happy Super Sweet Saturday before Valentine's Day!
Bad Kitty, Lazy Leopard, and even Bossy Backyard Blue Jay agreed that we wanted to show appreciation for pet parents and what better way than with an  Endangered Species Chocolate Giveaway.
Endangered Species Chocolate company was created to spread awareness and make an impact on the growing number of plant and animal species disappearing from our Earth.   They began with a line of twelve all-natural chocolate bars that sold in small natural food stores across the northwest. Today, they are one of the leaders in natural and organic chocolate manufacturing.  They have more than 30 all-natural and organic products and their chocolates can be  found in large and small grocery stores throughout the United States and Canada.
About Endangered Species Chocolate
Endangered Species Chocolate is a mission-driven company that is passionate about chocolate and the environment.   We are fully committed to providing premium, all-natural, ethically traded, naturally shade grown chocolate products.  Endangered Species Chocolate confirms that all beans used in its products are purchased from family-owned properties where the income benefits the community.  10% of our net profits aredonated to fund species and habitat conservation efforts.  Savor chocolate.  Save our planet.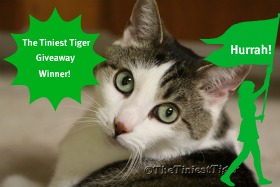 Super Hurrah and Congratulations to
Nancy Foulke, winner of the Cat Valentine's Pet Bundle of Love and
Jeanne Owens, winner of the Dog Valentine's Pet Bundle of Love!
Thank you to everyone for participating and for being a member of The Tiniest Tiger community.
Our friends at Hill's have put together two Valentine's Day gift baskets for readers of The Tiniest Tiger. And in the spirit of Valentine's Day, we are spreading the love because there is one for dog lovers and one for cat lovers. Super Hurrah!
Here is a listing of the contents:
[Read more…]
The green dense rain forests on the Indonesian island of Sumatra are the only place in the entire world where elephants, tigers, rhinos and orangutans live together.  But, since 1985, Sumatra has lost over half of its forest to the pulp and paper and palm oil industries. With only an estimated 400  Sumatran tigers left in the wild, we must all stand together to protect the last remaining habitat for our big cousins.
The World Wildlife Federation, (WWF) hunted down the connection between the United States toilet paper and tissue products and the destruction of tropical forests on the other side of the world.  What WWF found out is that the end products from the deforestation of the Sumatran forests are showing up on the United States supermarket shelves and in restaurants, hotels, schools and homes.
Cat and Leopard Don't See Shadow.  Ready for Spring!
It is Groundhog Day!
Earlier this morning Lazy Leopard and I had a chat with Punxsutawney Phil and he told us that  at 7:25 a.m. this very morning he did in fact see his own shadow and that means there will be 6 more weeks of winter.
If Phil 's forecast is correct, it would mean that the unseasonably mild weather  we have been experiencing would be coming to an end and the cold, snow and dark days of winter will be stopping by for a nice long visit.
As you can see in the image of Punxsutawney Phil below,  he looks quite serious about his prediction.
Lazy Leopard and I are willing to admit  we are not experienced shadow-seers like Phil, but we thought we would ask for a second opinion.  So, we checked in with Charles G. Hogg, better known as State Island Chuck, from the Staten Island Zoo.