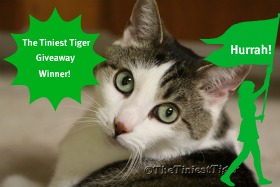 Congratulations and Super Hurrah to HArvey 2210, Batmans Mom, Monica H and Trish. You are the winners in our Fancy Feast Giveaway!
I have sent each of you an email to the address you posted with your comment. Please let me know where to send your Fancy Feast via USPS asap!
Is your Cat a  Connoisseur?
Fancy Feast is giving Friends of The Tiniest Tiger the opportunity to be among the first to let their finicky feline try the  new flavor in their Elegant Medley line.   The Yellowfin Tuna & Shrimp with Wild Rice in Gravy won't be available in stores until June 30, but you have a chance to try the new Tastemaker contest winning flavor nowl
You Can Win Free Fancy Feast for your Cats!
Yesterday, Fancy Feast gave away 17,500 cans via their Facebook page, and the cans flew off the page pretty fast. If you missed your chance, no worries because  the nice folks at Fancy Feast have given me 24 cans to share with you. So I thought I would split up the case and offer 4 Friends of The Tiniest Tiger the opportunity to win 6 cans!
How to Enter:
This contest is now closed.  Thank you for participating.  Stalk our page for another exciting giveaway.
Just leave a comment here below this post here on our The Tiniest Tiger's Conservation Cub Club. You can tell me whether or not your cat is a connoisseur , a finicky feline, or will eat anything put in front of them.  I consider myself somewhat finicky with a sensitive palate.
The Rules:
The contest is open until March 17 at midnight.  Please one comment per person. I will enter all names in to Randomizer.com. The winner will be notified by email or through facebook depending on the contact information you provide.  Make sure you are watching for an email from me. The subject line will say The Tiniest Tiger Fancy Feast Winner.   Void where prohibited by law.
Don't forget to participate in our Leaping Leprechaun giveaway too. Pounce here!
Fancy Feast  also gave me 6 cans of the new Elegant Medley flavor to try.
I will be sharing with cats in my neighborhood.
Leave your comment below this post!  Thank you for being a part of  The Tiniest Tiger community.